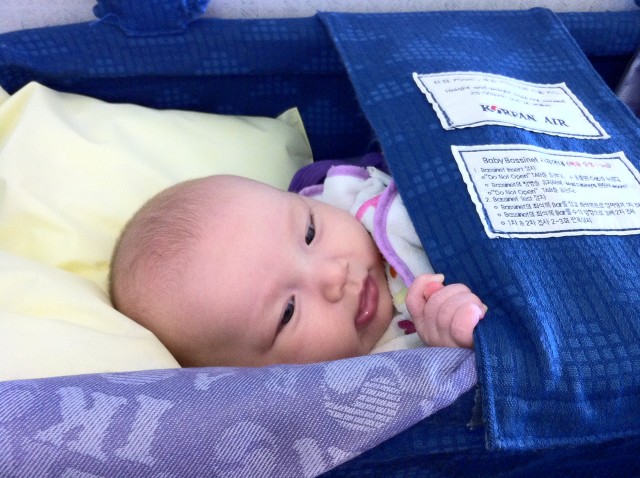 Baby in Korean Air bassinet
So today, I wanted to share my experience of traveling with an infant. Andy and I took Kiko to Korea, and honestly, it was a bad idea! I was deciding between leaving her with my mother, taking her or not going to Korea at all, but I decided to go and take Kiko with us because I just felt like I needed a vacation. Being pregnant for the past year limited my travel, and I wanted to go somewhere! Kiko had been a pretty good baby and easy to deal with, so I assumed everything would be fine. I was so wrong.
First of all, the plane ride was challenging – more challenging than I thought! Thank God it was only 1 hour and 40 minutes to Korea from Japan. Right before boarding, Kiko decided to go to bathroom so I had to run to the nearest bathroom to change her. Then I found out that her poop leaked all over her clothes. While changing her diaper and clothes, it got on to my clothes somehow, and I found myself wearing clothes with her poop all over the place. Of course, I was wearing a white pair of shorts that day! 🙁 So after cleaning her and myself, we finally boarded the plane, as we sat Kiko vomited all over the place. Ha.  She has amazing timing!?
During flights, especially international flights, I usually enjoy a drink or two. Of course that did not happen, because Kiko started to cry upon takeoff. Perhaps her ears hurt because of the altitude change. Or  maybe (far more likely)she was just having a temper tantrum. Either way, I was so embarrassed and felt sorry for the other passengers. Prior to having a baby, I was always annoyed by travelers with kids, and I would get mad, thinking "why can these parents manage their own children?!" But now, I'm the annoying parent I once despised…
Also, during the Korea trip, Kiko decided that she would no longer take her bottle. I'm not sure what happened, but I've read on babycenter.com that this kind of thing happens around 2-3 months old. At this age babies start becoming selective. It did not matter whether the contents of the bottle were pumped breast milk or formula. As soon as the bottle touched her mouth, she would scream!Why she chose the week of our trip for this I will never know.
I was so mad at her. I feel like having a child has given me all kinds of emotions that I had never experienced. I was mad at her for not taking the bottle, but at the same time, felt terrible and guilty for forcing her the drink from a bottle which she did not want. I was on the verge of giving up, but after some thought, Andy and I decided that Kiko must take the bottle because with my work and Andy's role in caring for the baby, I cannot be available her for breastfeeding 24/7. So… we started the war – We decided on the last night of the trip that the following day upon her waking up, we would not give Kiko the breast until she drank from the bottle. It took nearly 8 hours until Kiko started drinking from the bottle again, and when I saw her drinking from the bottle, I cried…
I almost went crazy listening to her temper tantrum screams during the day, and I was beyond angry. But during all of my anger, I felt so sad, guilty and embarrassed for having that kind of emotion toward my child. I just wished the war did not have to happen away from home during our trip!
Because of that, I could not really enjoy the trip and was relieved to be back home. It was nice to see the family, who were visiting from the U.S. for the Summer, which was the reason why we went there in the first place. Now I'm reconsidering taking Kiko to the U.S., because how can I manage a 15 hour plane ride with Kiko if I could not manage 2 hour plane ride!? Does anyone have any tips? Also what happens to a baby with jet lag?
I'll share some pictures of Korea in another post, and I promise it will be a more positive one!
And last but not least, I am so thankful that the baby seems to forget things so easily. She smiles at me as if she's forgotten that the war ever happened.