Shaking with excitement I am about to crack the Burdastyle sewing opus! You dream about days like this…I can only ask how, how did I get so lucky! Chie isn't here at the moment. She is out getting drunk and dancing on tables with some of her friends in Tokyo. That means I am going at this alone for the night. Let's begin the journey.
Page 20 (I like this book because there are many pictures, the type is large and it makes me feel like I am reading more pages than I actually am). "Your Sewing Machine" Let's kick this pig! Alison and Nora (The authors I think) have happy nostalgic memories of their sewing machines according to page 22. They have machines handed down from cute grandmothers covered with stickers and love. My memories of the sewing machine are of Chie yelling "You suck, what happened!?!?", I guess that's comparable. Gnarly, there are 2 kinds of stitches straight and zigzag, I would have assumed only 1. We have unfortunately, hit a problem…this book is now talking about maintenance. Sadly, I don't do maintenance very well…not at all really. Using WD-40 and untangling knots are Chie's jobs. Yes, I am a poor excuse for a husband. There is a section to ye ol book about procuring your very own magical sewing machine. The book recommends having a professional check the device before purchase, just to be safe. I didn't know the world had so many sewing machine con artists looking to rip you off that you need to employ a pro! You sewers live a crazy life.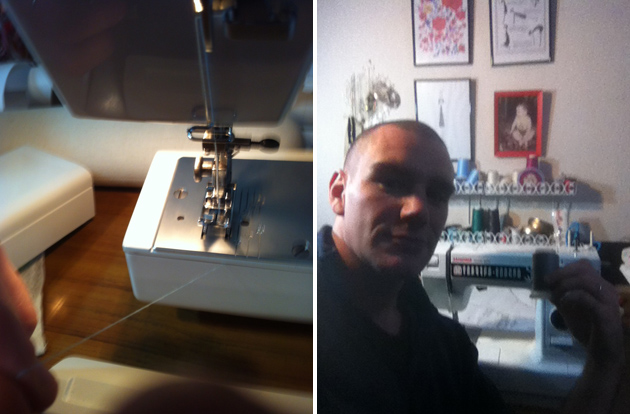 OK, actual sewing procedure 1 'Threading the Sewing Machine'! I am now sitting at Chie's glorious machine about to thread the needle…this is so exhilarating I can barely breathe. There are a ton of instructions for threading a needle, how frigging difficult can it be? It's been 20 minutes and I still can't find the bobbin… I need some comfort food. Damn straight! I found it finally! Now the bobbin has been fully bobbinized! I am onto threading my machine! Damnnnnnnnn Ittttttt. The thread never goes through the needle eye. It mocks you at every attempt. Thankfully after much swearing and crying, I threaded the needle. I thought all had been going well but I have no idea if I threaded this stupid bobbin and needle correctly. I only see 1 string and the according to the books picture I should see 2. How and why should there be 2? I really wish Chie were home.
Now I get to learn all about presser feet. Man, this is scintillating. Apparently the all-purpose foot is well, all-purpose, whereas the zipper foot is, shockingly, for zippers. I think that section was unnecessary. On to the wide world of needles. It seems that there is a sizing discrepancy in sewing. The damn Europeans use some kind of weird sewing metric system. Even more problematic are the Germans who sometimes add a letter "H" where numbers should be in their sewing schema! This is anarchy. I have now come to a section describing a ball-point vs sharp needle difference. It says the ball-point is rounder. If i stab myself with it, will it still hurt? Yes, in fact it does. It does not feel any "rounder". I need a band aid. Well, I have failed. I am looking at the sewing machine and although I have threaded both the needle and the bobbin, I am lead to believe something is wrong. Chie's machine started smoking when I pushed the peddle….Just kidding. But in all seriousness I am pretty sure something is wrong. i am definitely not in a physical, emotional or spiritual place were I feel ready or confident to sew anything, particularly without Chie's approval. I don't know what fabric I am allowed to creatively use anyway so I will wait for Chie or "The Warden", as I like to call her, to return home and fully check my work and give me the go signal for using the actual device. I'm a little sad and a little depressed at how long this took. I started at 7:30 and it is now 9. I read only 4 pages and still not entirely sure what a 'throat plate' is. I do not believe it takes Chie 1 1/2 to thread the sewing machine.
Related post:
Golden Gloves to Hemline: Pt. 1 Getting Started