Hello everyone! I'm Stacie, a DIY fashion blogger over at Stars for Streetlights, and I am so excited to be posting for Chie today while she is away! I have always loved making things and sewing ever since I was a little girl– and things haven't changed much now that I'm older. One of my favorite things to refashion has to be scarves.
During the day, I am a writer, blogger, and photographer over at Scarves Dot Net, and it is pretty much the best job ever. (Seriously, I get to think about scarves all day!) I'm always looking for new ways to tie, sew, craft, and wear scarves– and because the'yre essentially giant pieces of pretty fabric. 😉 Here are a few of my favorite DIY projects for scarves. 🙂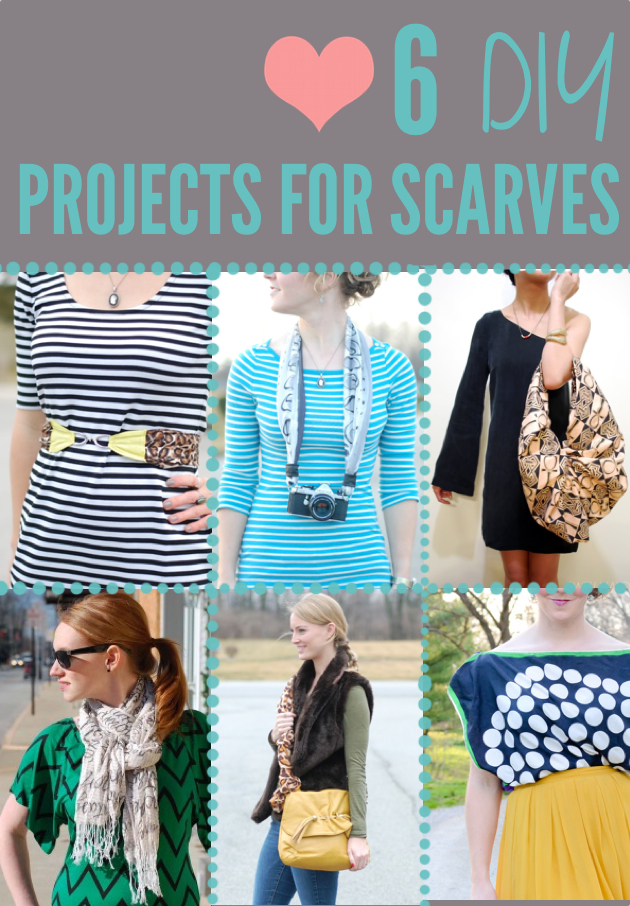 | | |
| --- | --- |
| | DIY Scarf Belt: Skinny scarves make wonderful belts if you have any sitting around. To make this DIY accessory, I used this leopard print scarf, but you can use any print to spice up an outfit. (I am a big fan of chevrons right now.) 🙂 |
| | DIY Scarf Camera Strap: I'm a huge photography nerd but I can never find a cute camera strap. (Does anyone else have that problem?!) Silk is one on of the strongest fibers in the world, so I decided to make a camera strap from a silk scarf. 🙂 |
| | DIY Scarf Bag: Need a quick bag on the go? Try making one out of a scarf! Aimee from Swellmayde uses a cute trick she found on a Hermes knotting card to make a chic and functional purse from a scarf. |
| | DIY Quote Scarf:Have a favorite quote that you'd like to carry with you all the time? Try writing it out on a scarf! My friend Maggie, wrote out her favorite Andy Warhol quotes on this scarf. (She had about 6 of them. She even tried to write in Andy Warhol's handwriting!) 🙂 |
| | Scarf Purse Strap: Have a broken or purse strap? Try using a scarf instead! This simple fix can give an old bag a longer life. 🙂 |
| | DIY Scarf Shirt: To make a simple and flowy scarf shirt, just gather two square scarves and stitch them together! |
If anyone has more DIY scarf ideas or any fresh scarf-tying tutorials, be sure to head over and check out our Scarves Dot Net "Submit" page! We'd love to feature any new approaches to scarves. And if you're ever looking for ways to tie a scarf, be sure to check out our "Knot Library" with tons of ideas!
I just want to say thank you again to Chie for letting me guest post today, it has been an honor! 😉