If you look through my
finished projects
, it is pretty obvious that I love dresses and skirts. I love making them and wearing them so much, but lately I've been finding myself attracted to pants as well. Also, after reading
this post
on frosting vs cake in your wardrobe, it made me think that I have too much frosting, not enough cake! It is just more fun to make frosting, and I tend to go to thrift shops for more basic pieces of clothing. I was thrilled when I found pairs of colored jeans in lavender and burgundy, originally from Uniqulo for 700 yen (8 bucks) each! I got them from a thrift store called "Second Street". I believe it is a chain in Japan. I've been wanting colored skinnies for a while. I was thinking about making
clover
pants from Colette Patterns (although I have to lengthen the pants as I detest cropped pants), but I bought two pants for the price I would pay for the pattern. Speaking of Colette Patterns, I absolutely adore all the new patterns they have, especially
Iris
!
Ginger
is working on the Iris pattern, and I'm excited to see the result. Another recent thrift purchase were 
these vintage yellow pants
 for 500 yen. They are high waisted and wide legged! I love them.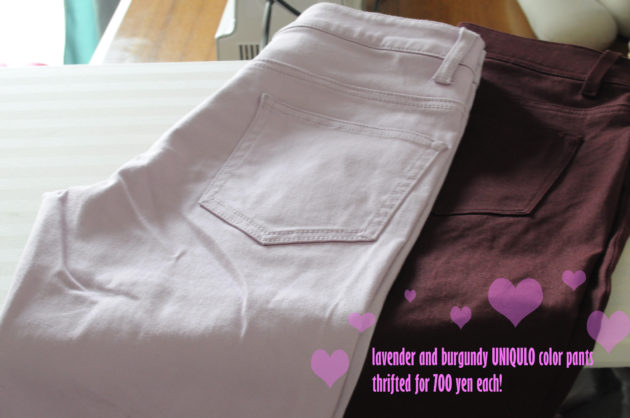 Here are some pretty photos that made me want to wear pants more...