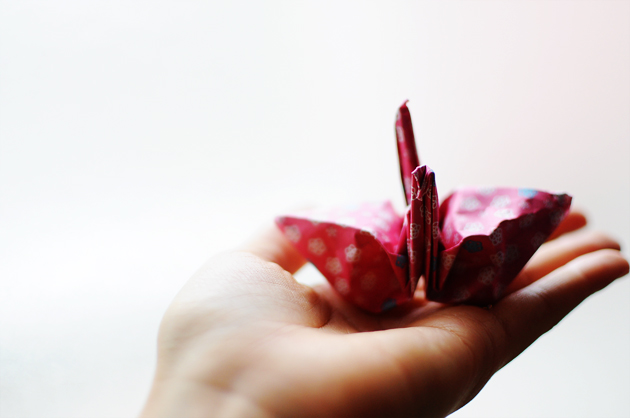 Today I wanted to show you a craft project I finished recently. When Kiko and I went to a mall the other day, they were giving out these paper origami cranes. They gave us three pretty cranes in pink and red; it was too cute to throw them out. I decided to enjoy them a bit longer by making them into a mobile for Kiko's nursery. Although I did not make these cranes, it is easy to find many different origami tutorials online (Youtube is great for that), and you can follow
this instruction
for cranes. There is a custom to bring a mobile made out of 1000 paper cranes for someone who is sick or is hospitalized, to wish them to be well and for a long life. The crane is good luck here in Japan.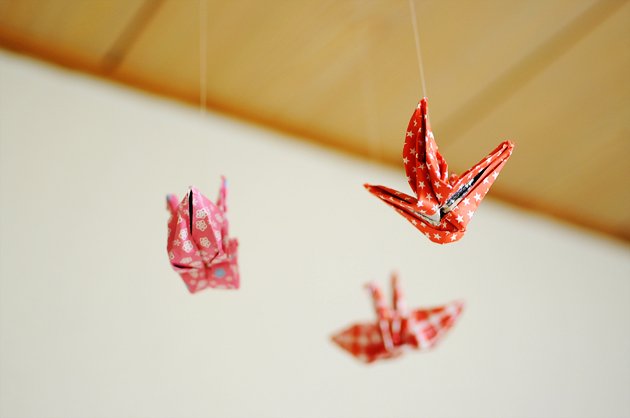 What you need:
- Thread
- Wire
- Pliers
- Origami cranes
First I made cut a wire of about 50cm, made three little circles by bending the wire. The circles are to be used as hooks to hang the cranes. Then I made the wire piece into a big circle as a base to hang all the cranes. It helps to have some kind of circle object as a guide to make this big circle. I used Andy's weight.
After that, I simply hung the cranes with a thread, and added another thread in order to hang the mobile from the ceiling.