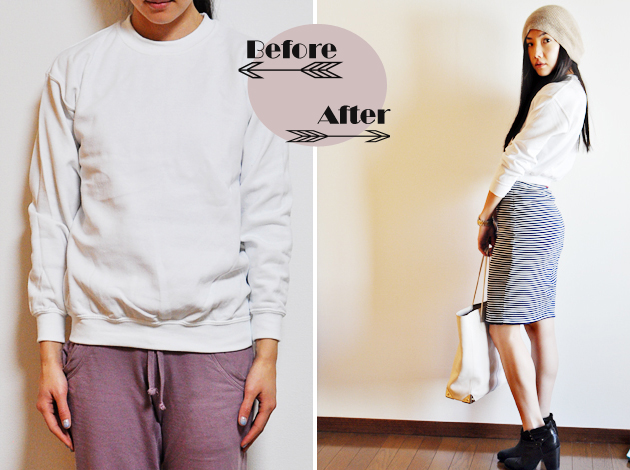 Hi everyone! I wanted to show my first DIY of 2014. I've mentioned the fashion blog, Karla's Closet in this blog a numerous time. I am obsessed with her style. She is just so….cool, someone that I would love to be fashio friends with. On top of that she has an amazing figure! She is my style icon. I saw she added a peep hole in her sweatshirt in this post, and since then, I have not been able to stop thinking about wearing sweatshirts. I had not owned a single  sweatshirt  previously (not sure why, I wear hoodies as roomwear), but I searched online for a cheap sweatshirt so I could recycle. I found this white sweatshirt from Rakuten for 500 yen. It's actually a child size, but I figured that they make sweatshirts oversized anyway, so it should be fine.
As you can see above, my "before" picture is rather sad, and unflattering. Here is what I did to make it better: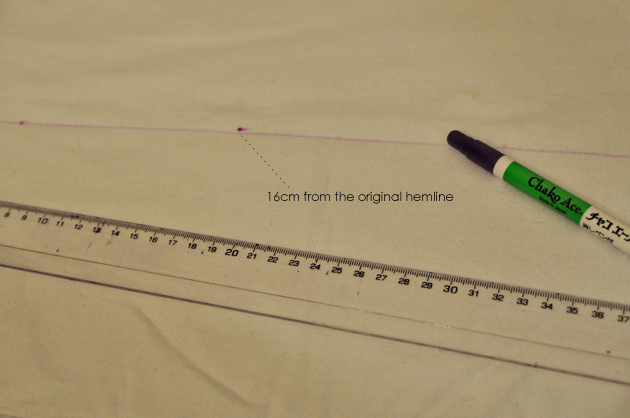 I wore the shirt in front of the mirror and figured out how much I wanted to shorten it. I ended up marking the line 16cm above the rib.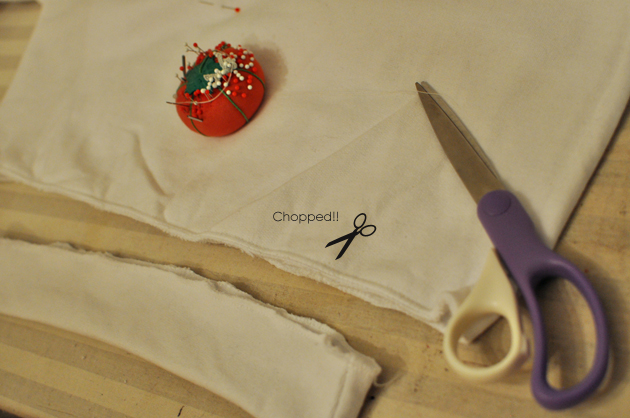 Chopped off the rib, and kept it since I wanted to attach it to the new hem line. Then I cut the shirt in the line I marked above.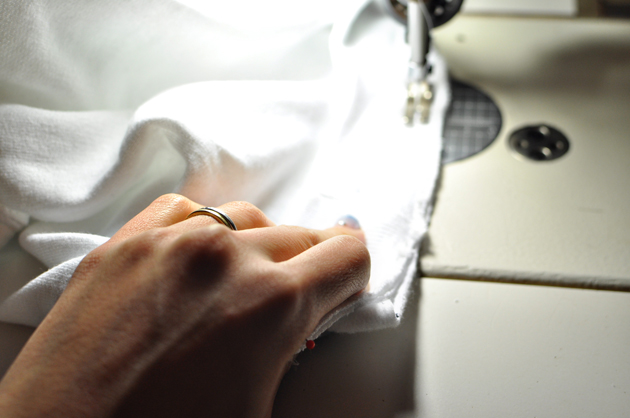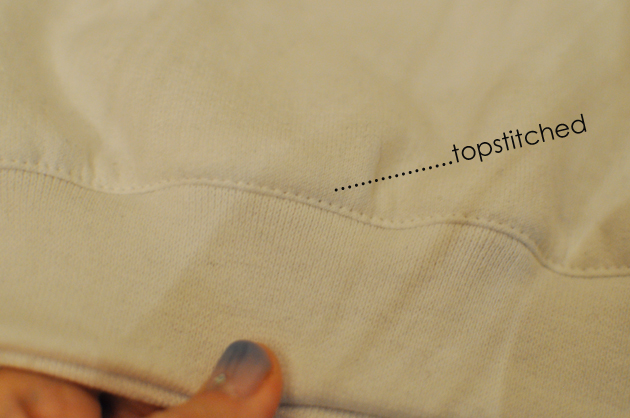 I re-attached the rib to the new hemline (make sure to pin the rib before sewing, and stretch out the rib as you sew, since the rib is shorter than the actual hemline). Then I overlocked the seam allowance and topstitched it from the front.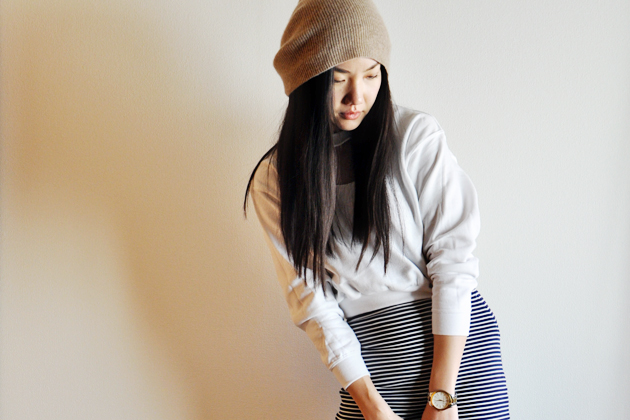 After that, I made the cutout detail in the neckline. It seems like Karla's version is just chopped off without finishing the seam allowances, but I was afraid that they will fray.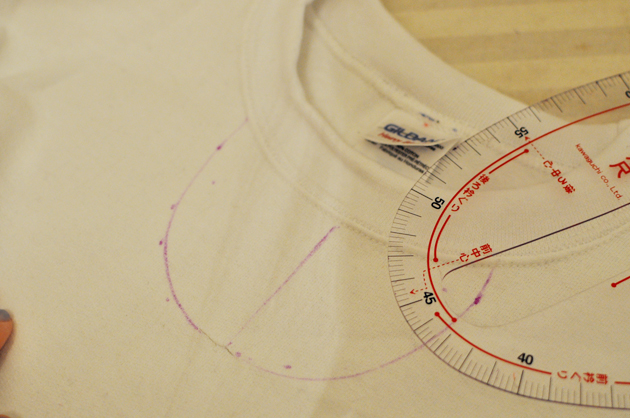 Marked new line with french curve…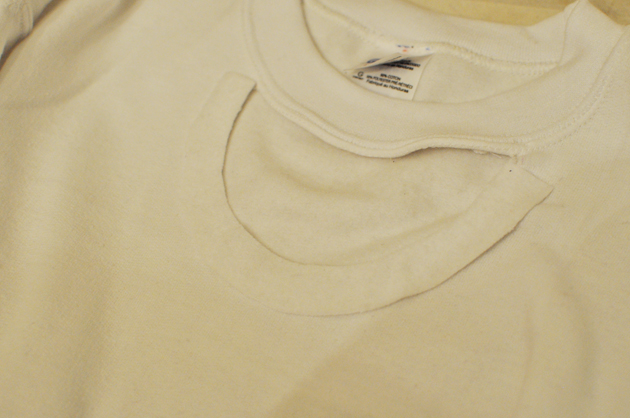 Attached the neckline facing and topstitched it.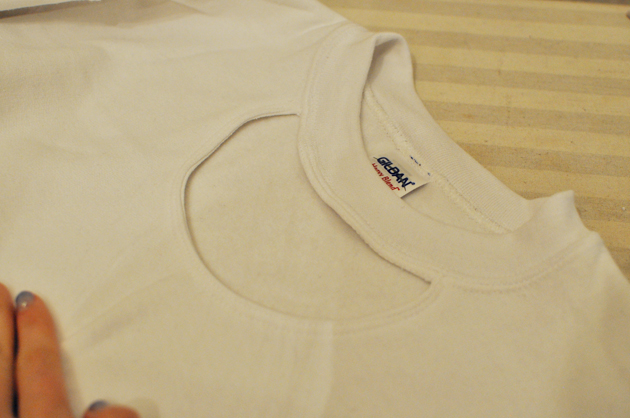 Voila! The only thing I DON'T like about this is that the neckline got stretched out as I finished the edges, and makes a weird curve. You can see it below.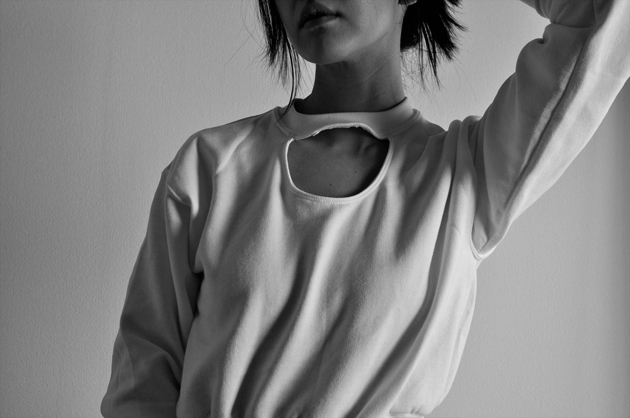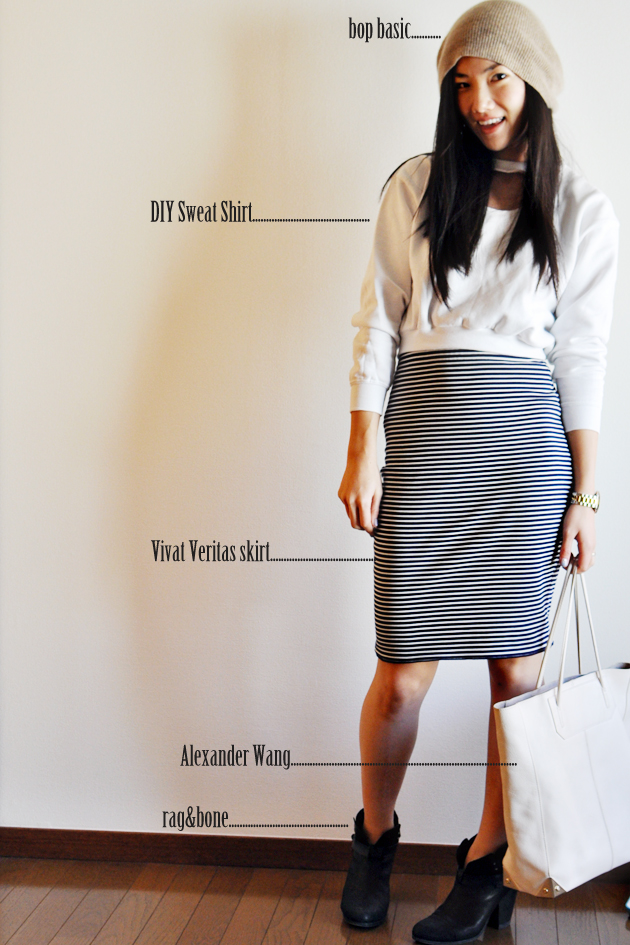 Overall, I'm pretty happy with this little DIY! I like to wear it with the sleeves rolled up and a high waisted skirt. By the way, I made this skirt recently too! Just a simple I-line skirt, made with a stretched knit. I lined it with the same fabric to seal all the edges so that the edges won't be stretched out.
Outfit details: Hat:Bop Basics, Sweatshirt: DIYed, Skirt: Made by me (similar here), Bag: Alexander Wang, Booties: Rag & Bone

{find me elsewhere: shop, facebook, etsy, twitter, pinterest, instagram}