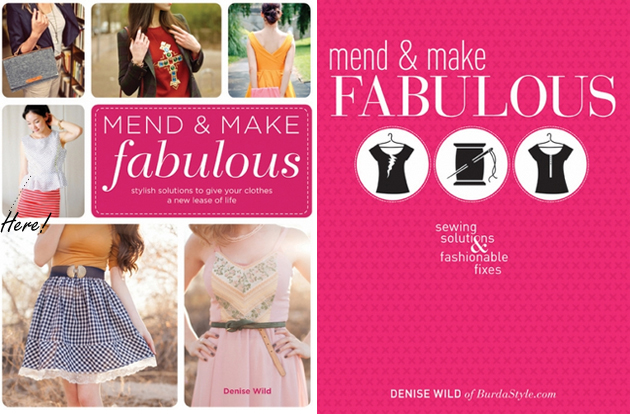 About a year ago, I contributed some photos of my peplum top to a book editor to be included in the upcoming book. Recently, I found out that it was included in the book, Mend and Make FABULOUS, written by Denise Wild of The Sewing Studio and BurdaStyle.
Here is a summary of the book:
Not only does it show you how to mend rips and make essential alterations, it gives you a host of techniques for "glamming" up your clothes, whether that tired little item at the back of your wardrobe or that vintage find that might have lost its lustre! Full of easy-to-follow instructions as well as stunning examples from all the other sewing mavens out there who are turning drab into fab! Published byInterweave in the North America and Search Press in the UK. 
– from Rotovision Blog
Denise Wild著、Mend and Make FABULOUSという本のカバーに私の作ったぺプラムトップの写真が採用されました♪
この本は、ソーイングやDIY好きの人のための本ですが、タイトルは訳すと、「繕って素敵なものに作り変えよう」みたいな感じかな?
英語のみで、アマゾンで購入できます。
写真を提供したのをすっかり忘れていて(笑)、今日採用されてしかも本も発売されていると聞いて、嬉しかったです。
{find me elsewhere: shop, facebook, etsy, twitter, pinterest}