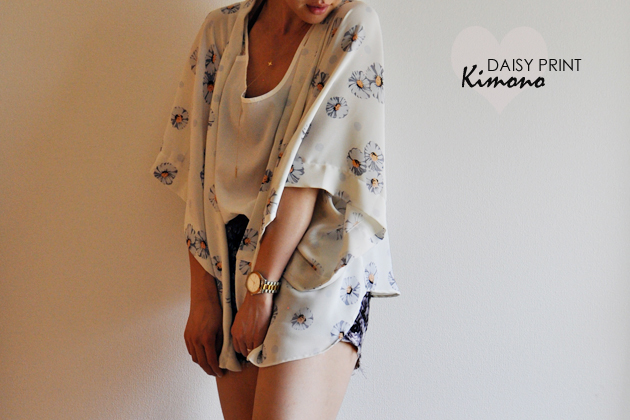 Summer is officially here! It is so hot out, all I want to wear is jean cut-offs and tank tops. Although it's melting hot outside, when you go to the mall or restaurant, I find myself being freezing with strong AC air. I was looking for something breezy as a cover-up and when I saw this pretty butterfly kimono, I thought this is it! I made the pattern out of something I already have – this sheer beach cover-up. I updated it by shortening the length and changing up the collar.
The fabric is from Nippori. I happened to come across with this pretty daisy print on the sales rack and ended up taking it all home. The fabric content is polyester, and it drapes it very well.
It was very quick to make! I like that. I want my in-between projects to be quick and glorifying:) Is anyone interested in tutorial for this? Please comment down below if you are.
So now to outfit details – The loose tank is from forever 21 about years ago. I got it off the sales rack for very cheap, but since it is so versatile, I keep reaching for it in the closet. The shorts were actually high waisted jeans, but the fit was not great perhaps because it is 100% cotton. I bought them from Urban Outfitters on sale for 10 dollars. As I wore them, they became loose and looked like mom jeans, so I decided to make them into a cut-offs. I wore them and marked the line to cut with a pen. Then I cut them off, sewed the sides so that they wouldn't fall apart. After that, I threw them in to the washing machine to let it do its job to make the hem look destroyed.
The necklace is from gorjana, and the wach is from Michael Kors.
この前日暮里に行ったときに見つけたデイジーのお花の生地で、着物カーディガンを作ってみました。
こういう、簡単に短時間で作って、楽しめるもの大好き。
ほとんど直線縫いです。型紙も、前、袖、後ろがすべて続きになっているものと、襟用の細長い布の2つのみ。
ビーチにも持っていけるし、ちょっと冷房で寒い時にも羽織れるので、他にも色々な布で作ってみようと思います♪

{find me elsewhere: shop, facebook, etsy, twitter, pinterest, instagram}