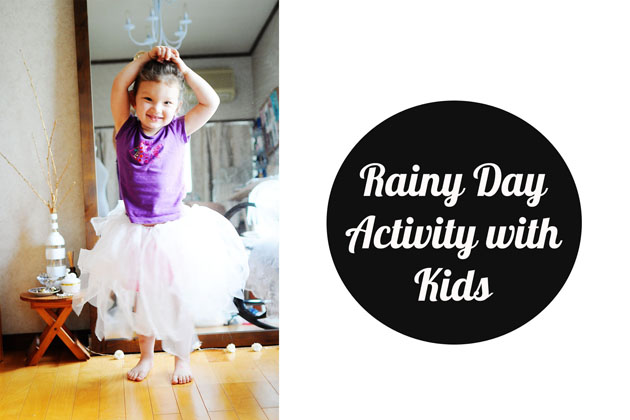 The weather in Tokyo has been moody lately. We've had some rainy days so Kiko and I worked on an easy craft projects when we could not go to the park to play. It is super easy and all you need is an elastic band and left over fabrics. I had some fabrics left from making this dress, so I cut a little slit along the grain line every three inches so Kiko can rip the fabric to make strings and tie it around the elastic band. The fabric does not have to be organza, any fabrics that are laying around are fine.
Here is how –
What you need:
– Elastic band, cut in the length of your child's waiste
– Organza, or any fabrics of your choice
– Scissors
How to:
Cut the organza strips in 3 inches width and 2x or what the skirt length should be. Have your child tie the stripes to the elastics. Repeat the same about 20 times, and you've made the cute organza skirt!
She loved being in my sewing room and  crafting together. I made a short video of the activity if you want to check it out. I want to make more video posts in the future, so if you have any suggestions, please let me know! My youtube channel is here.
最近お天気が悪くて子供と外で遊べない日があったので、簡単なクラフトを一緒にしました。
ゴムを子供のウエストの長さに切って結び、スカート丈の2倍の長さの布を何枚も切って、ゴムに結び付けていきます。
結びつけるところは子供にやってもらって、20枚ぐらい結べたらスカートの出来上がり!
プリンセスみたいって喜んでいました♪

 {find me elsewhere: shop, facebook, etsy, twitter, pinterest}