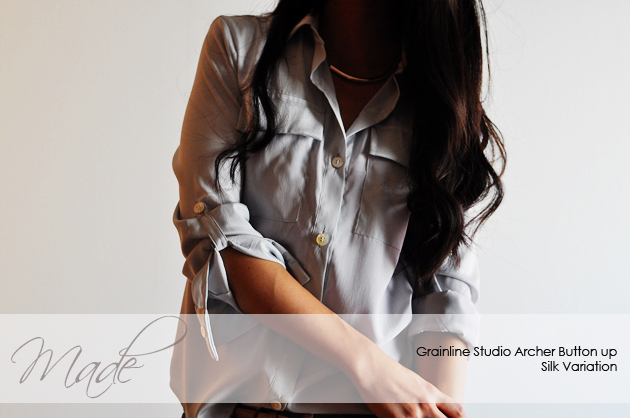 My second try on Grainline Studio Archer Button up shirt! I made the first one in chiffon polyester and was pretty happy with it. It was actually a wearable muslin to prepare for this silk shirt. My attempt to recreate this Equipment shirt without paying $300.
First, this was the most expensive fabric I bought for myself! I buy nice fabrics for bridal customers but I tend to go to sales rack for my own sewing… I ordered it online from Hideki for 2.5 meters, and it cost 5000 yen (50 USD). Thankfully I had my credit card points saved up so I got it for free more or less. The fabric is silk crape de chine in blue gray. I ordered a sample before purchasing. The store lets you order up to 10 samples but I think it is only available to Japan domestic customers. The color I ordered is now sold out but they still have it in pink and gray here.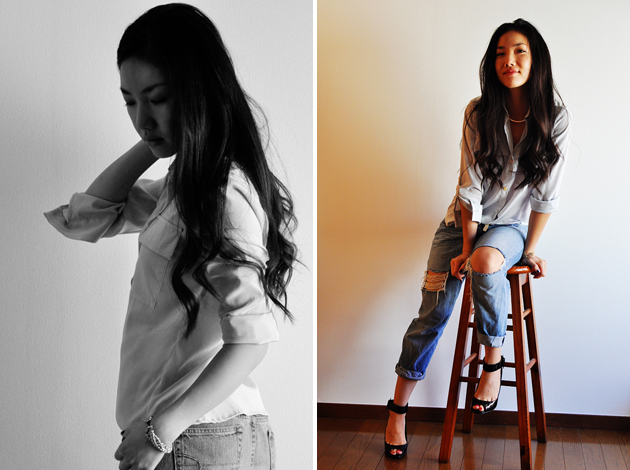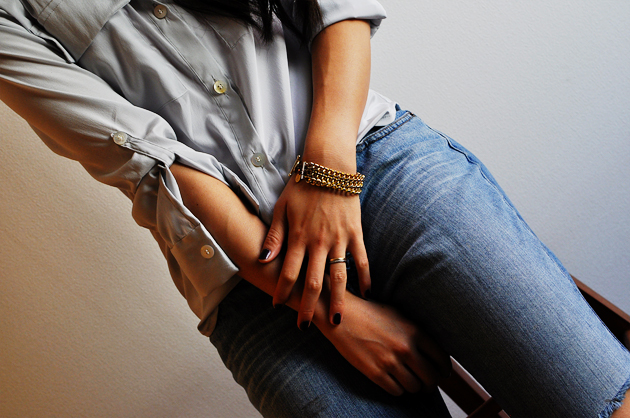 I made two modifications to the pattern.
1) add the pocket tab. When you look at this Equipment silk shirt, you can see that there are square pockets with tab on both sides. I drafted the pattern for the tab based on a Japanese sewing book all about pockets. It is pretty easy. The key to it is to add about 4mm on the width of the pocket tab, so that it sits slightly wider than the actual pocket.
2) add sleeve tabs (inspired by Sophie's shirt!).
I like to roll up the sleeves. For fabrics like chiffon or silk crape de chine, it is hard to keep the roll up sleeves stayed since the fabric is slippery. That's something I realized after wearing my previous shirt for a few times. I made the tabs based on the store bought shirt I have, but it turned out the width was a bit too narrow for the buttons I used. It was too late to fix it and not that noticeable so I did not fix it.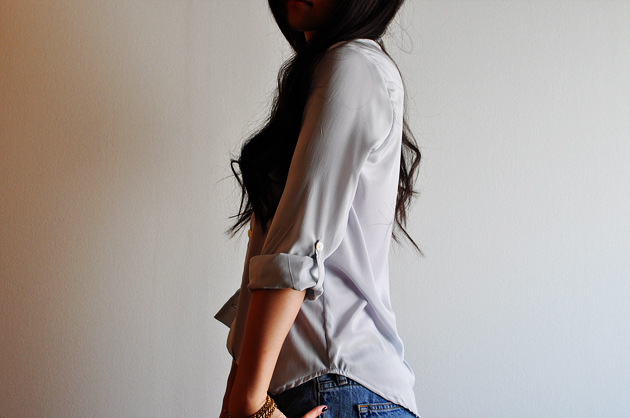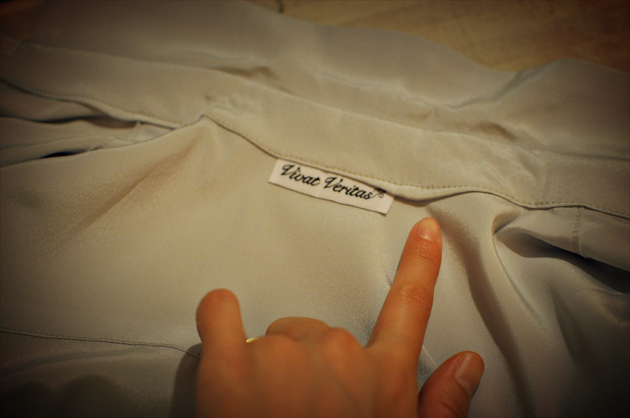 I always have hard time when I fold the facings under and topstitch in place from the right side of the garment. I hate the suprise of uneven hem or the hem not being caught. I had to unstitch and fix that.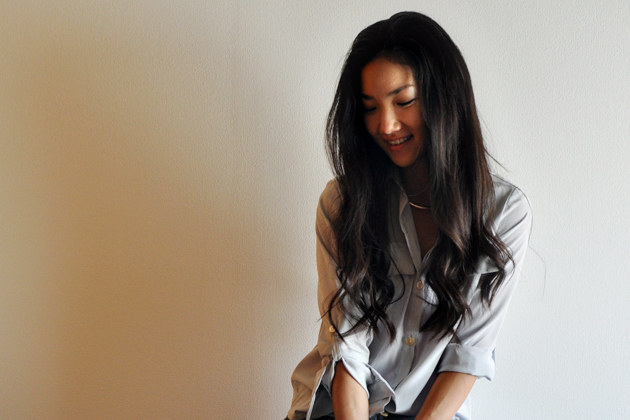 So my question now is…how do you keep the silk shirt without a stain under armpits? I've seen one idea on Pinterest, where you attach panty liners on the shirt to prevent a stain. Although it might work just fine, that's not the most sexy thing. When I wore this shirt, I just wore a long sleeve undershirt and used a lot of anti-perspirin (something I stock up when I go to the U.S.! Evidence here), but that means I can only wear this shirt in the winter. Any suggestions?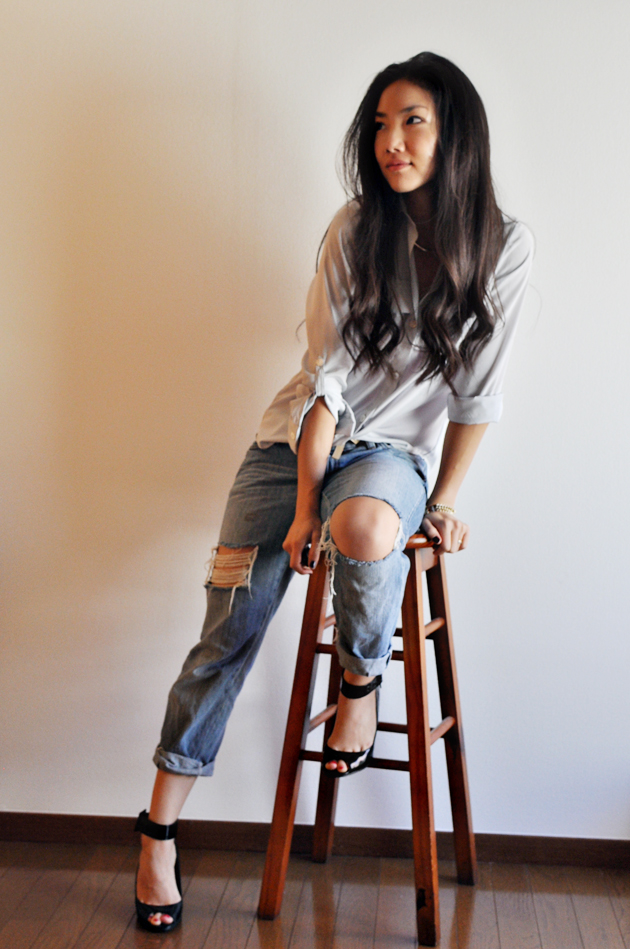 Details | pattern: Grainline Archer Button Up | fabric: silk crape de chine from Hideki | Size: 2 | Modification: added pocket tabs and sleeve tabs |Interface: light weight fusible stretch interface
Outfit details | Shirt made by me, denim DIYed (blogged here), heels from Steven Madden.
シルクのシャツ、作りました。
Equipmentというブランドのシルクシャツが欲しかったのですが、とってもお高いので、自分で作ってみました。
生地はヨーロッパ服地のひできという楽天ショップで買ったシルクデシン。
柔らかくて、熱を保持するので、あったかいです。
デニムは390マートで買ったものを自分でリメイク♪

{find me elsewhere: shop, facebook, etsy, twitter, pinterest, instagram}