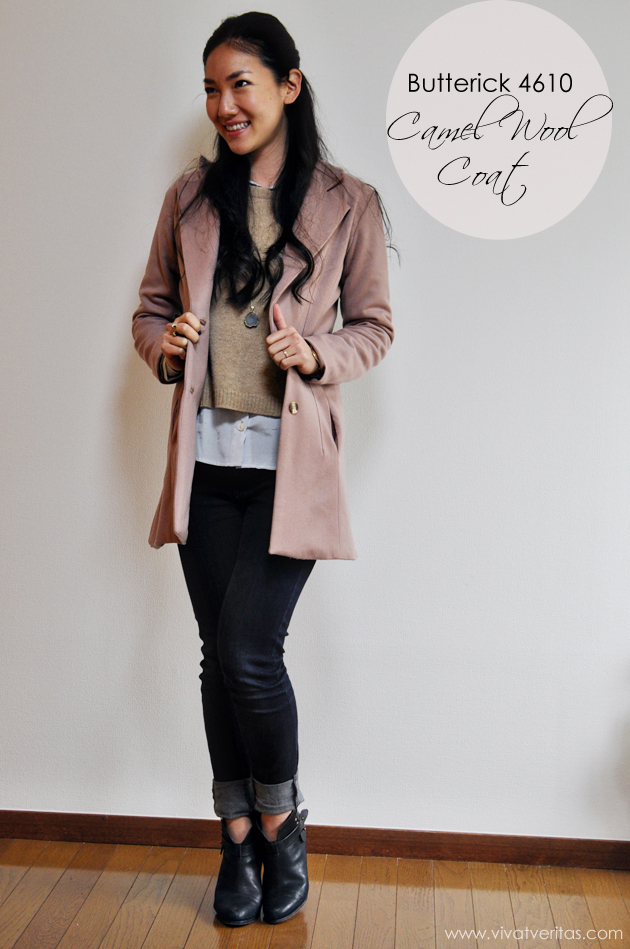 Now this year's coat sewing is done! I love my new coat. This is a bit lighter than the coat I made last year since the fabric is thinner. It is still warm enough if you layer some clothes and I think I'll be able to survive the Tokyo winter just fine.
After making two muslins (one of which is wearable), this coat came out pretty quick. I enjoyed working with wool. I get a great joy out of fusing the wool! That sounds so weird but if you sew, I'm sure you understand.
If you are interested in making a similar coat, here are the facts:
Pattern: Butterick B 4610
Size: I blended the size 6 and 12.
Adjustment: Skipped the patch pockets and added the inseam pocket between front panel and side front panel. I also lengthened the jacket by 23 cm below the waist line. The front hem is cornered, instead of round in the original pattern or my pink jacket. Finally, I did the narrow shoulder adjustment by 1cm each side.
Fabric: camel wool fabric. The exact content is unknown since it was from the sale's section.
Lining: polyester satin in matching camel color.
What I would have done differently: Add the side pockets in between front and back side panels, instead of between front panel and side front panel. When I button up the coat, the pockets open up in a weird way. Or I would add a welt pockets across the front and side front panels. Another thing is the length. I was able to extend the original pattern length by only 23cm since I had a limited fabric, but I would have liked knee length coat.
Outfit details | Shirt: made by me (Grainline Studio Archer Button up), Sweater: thrifted, Jeans: Uniqlo, Necklace: Moose and Nigel, Booties: Rag and Bone Harrow Booties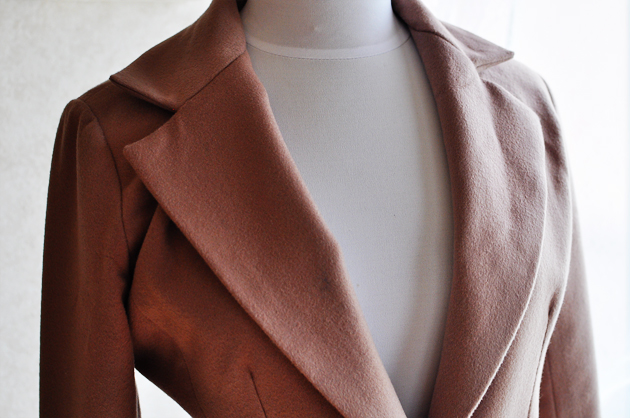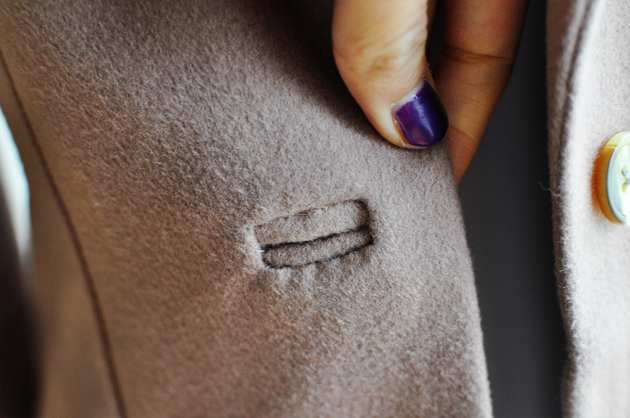 Bound button holes! I followed this tutorial.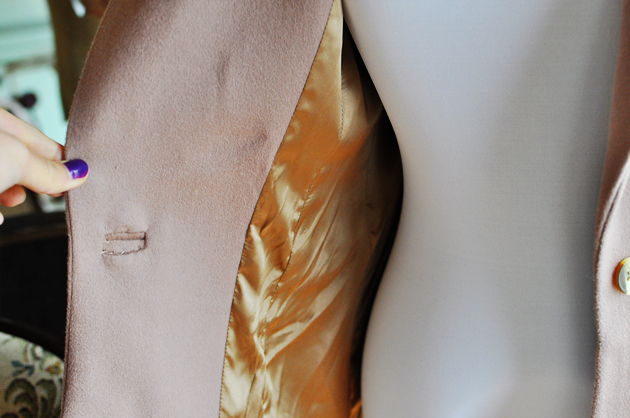 Here is what the inside of the coat looks like.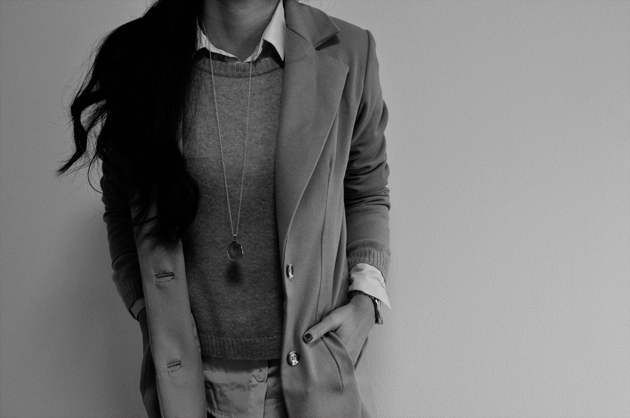 I'll be making the most out of this coat this winter! I like that it goes well with my skin color and hair color. I tend to wear black and gray a lot in the winter, and my face looked so dull. I didn't know why until I read Sonja's comment on my pink jacket post about the correlation between hair color and the clothes color. Since my hair is very dark, when I wear dark colors, I look like someone from Adam's family.
♡Check out the muslin for this coat // Inspiration post for the coat♡
今年の冬のコート出来上がりました♪
前回作ったピンクのジャケットと同じ型紙を使い、さらに丈を5センチ伸ばして作りました。
本当は膝丈コートにしたかったのですが、セールで買ったこのキャメル色のウール、150センチ幅で1.5メートルしかなかったので、5センチ伸ばしてぎりぎりでした。
結果は大満足♪少しウールが薄手なので、袖をくしゅくしゅと巻くって、ホワイトジーンズなどはけば春先にも行けそうです。
次は、ダッフルコート縫ってみたいな。


{find me elsewhere: shop, facebook, etsy, twitter, pinterest, instagram}