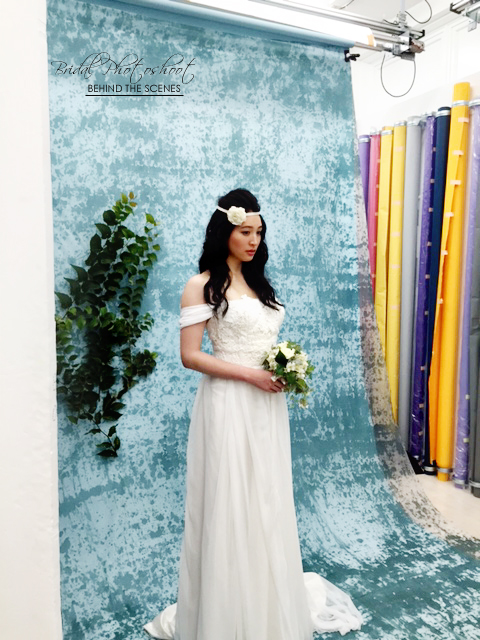 I follow Once Wed obsessively and share their posts on my weekly wedding inspiration posts on the VV facebook page. I saw this post on Botanical Wedding Flower Inspiration followed by DIY Wedding Arch and thought this was definitely going to be incorporated in my next photoshoot idea. I shared the idea with a photographer Mr. Nishihara (he has shot so many of my lookbooks, few examples here and here) and he brought this backdrop that looks very much similar to the one they used in Once Wed. The problem was how to find the branches. I stopped in a flower shop called Aoyama Flowers and found some cool branches but they cost 1600 yen (about 15 USD) each. I would have needed at least 4 branches to make it look like something substantial in the background and it was more than I wanted to pay. The shoot day was rainy and windy. As I walked from the station to the photo studio, I found some broken branches on the street, waiting for me to pick up. I pinned the branches to the backdrop with safty pins and voila! Botanical wedding backdrop was ready:)
The photographer is Nobuyuki Nishihara, model is Mio Shigematsu, make up by Ayumi Hanaki.
The dress was made with leftover fabric from this boho wedding dress I made for a customer.  The skirt is made out of soft chiffon with sweep length train, and the off the shoulder sleeves completes the bohemian bride look.
I'm wearing my Grainline Archer shirt dress here.
最近行った撮影の背景写真です。
ボタニカル+ボヘミアンな写真にしたかったのですが、後ろの木(枝?)の調達が大変でした。
青山フラワーだと1本1600円もして買えず、結局駅付近を雨のなかふらふらしていたらこんな折れた枝を発見したのでお持ち帰り。
ピンで固定して、結構雰囲気出ました!