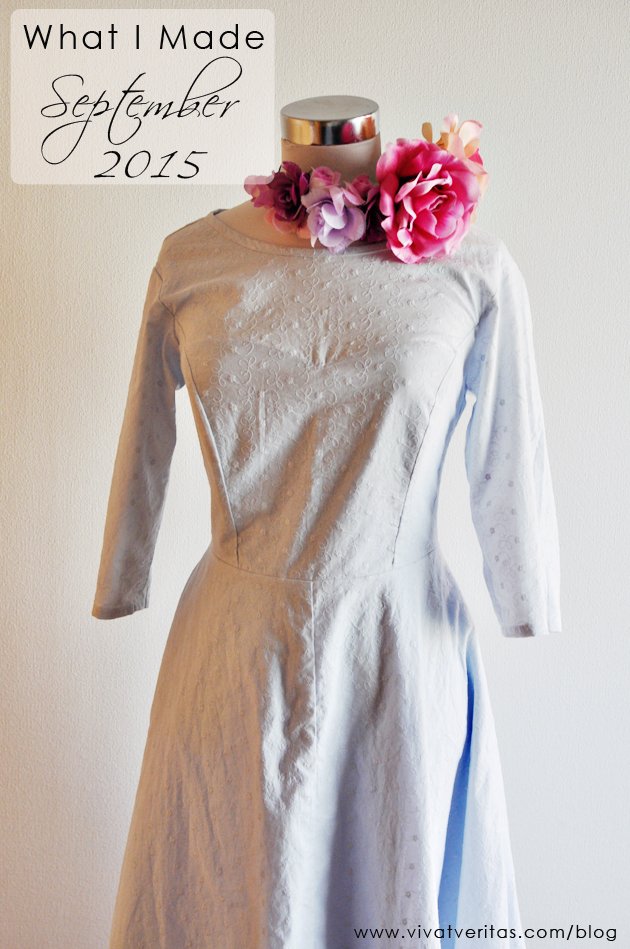 Here is a round-up of random stuff I made in the month of September. My August version is here. I was away for the first two weeks of September, so by the time I came back to Japan, I missed sewing. As soon as I came back, I got back to sewing every night. Looking back, I think I made a fair amount of stuff considering I was gone for half the month. Next month, I want to start sewing more for myself – I'm thinking bootcut flannel pants, finishing up the Merckwaerdigh bra in sea foam, and start on Deer and Doe Pavot Jacket (thank you Inna for the pattern!).
Cotton lace casual wedding dress in light blue. A customer from Etsy wanted this dress in light blue for her October wedding, so I found this pretty cotton lace from a shop in Kyoto. It's light-weight and makes it unique and unconventional for her special day.
I sent the dress with my shop card and thank you card I got from Japanese fashion illustrator, Junichi Nakahara's shop in Hiroo. Love his illustrations!
2. Blousons, skirt and dress. This was interesting to sew as the patterns were shaped in a way that I would never thought to draft them. The bottom part of the skirt can be separated with a zipper in the middle, and there are shorts underneath.
Blouson with mesh lining. The mesh lining gives it a sporty feel and the pocket on the right side has a unique triangular shape.
Another blouson in quilted fabric. The seams are finished with bias strips.
3. Stretch lace off-the-shoulder top, something similar to the one I made last month.
4. Satin bridal gown. I want one for myself! 5. I refashioned an old maxi dress that didn't fit me in the bust are to maxi skirt. The fabric is cotton lawn and light weight, so it fit well in my suitcase for the trip. I simply cut the top part off and added elastic. Also added a slit on the side. 6. Lastly, another Watson! This is my second favorite Watson after my black one (I also made it in dot print and another racer back variations). The wide bra band makes it very comfortable to wear and the color white matches almost anything in my wardrobe. What have you sewn lately?
9月に作ったもの、色々です。
ドレスやらローブやら、ブルゾンもいくつか作りました。
自分用にはブラとマキシスカートを。
10月は秋冬物を作り始めたいな。