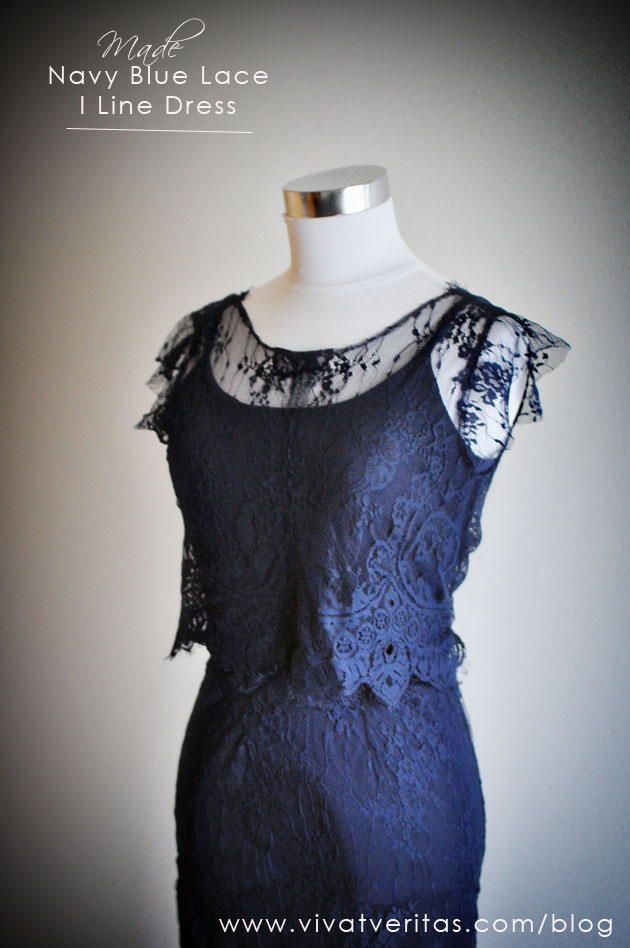 In November, I attended two weddings. This meant I had an excuse to make myself a new dress! I was browsing through etsy and came across  Fabric Bistro, a fabric shop based in California with a collection of great lace fabrics. Good lace fabrics are hard to find in Japan. Nippori is not a good place to go for quality lace.  Iwai lace has beautiful French lace but, very expensive. Fabric Bistro is great, except that it is hard to sort through the more than 4000 items in their shop! 
I imagined my dress to be like this one; long sleeve, I-line skirt using scallop at dress hem. The problem I had was the lack of fabric. I ordered 1.75 yards, but since the fabric width was rather narrow, I did not have enough fabric for the long sleeves.
I went ahead and started cutting the fabric without a pattern. I just used my measurements and adjusted as I went along. There were some hiccups – the dress is so hard to walk in, especially going up the stairs. I did not add a slit or vent in skirt back because I feared that it would ruin the scallop lace design. Being uncomfortable at the wedding for a day was something I was willing to deal with:)
I wanted to place the scallop in a way that would show off the lace pattern, so I used it for skirt hem and back V neckline. The front waist line is not connected with a seamline to use the scallop as well. I added a hidden button and a loop in center front around waistline so that the front would not keep opening. Back waistline is connected together and elastic band was inserted for cinched waist. I'm not a huge fan of sleeves but for Japanese weddings, it is taboo to reveal too much skin as a guest, so I added small cap sleeves.
I made a slip to wear underneath with four way stretch fabric. I am happy with the decision not to line the lace fabric, but to add a slip because yon switch the look around depending on what color of slip you wear. I might make a slip in nude color to really show off the navy blue lace in the future.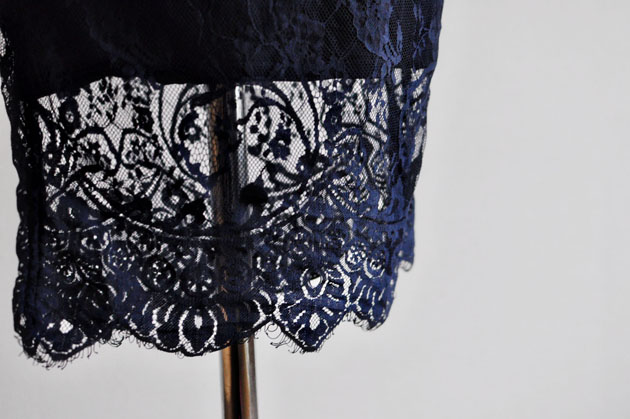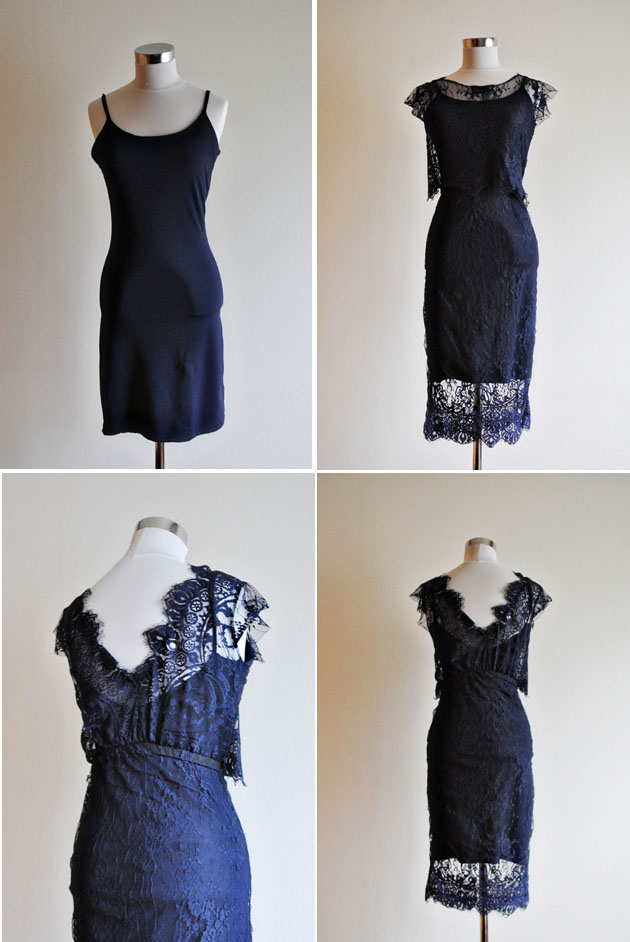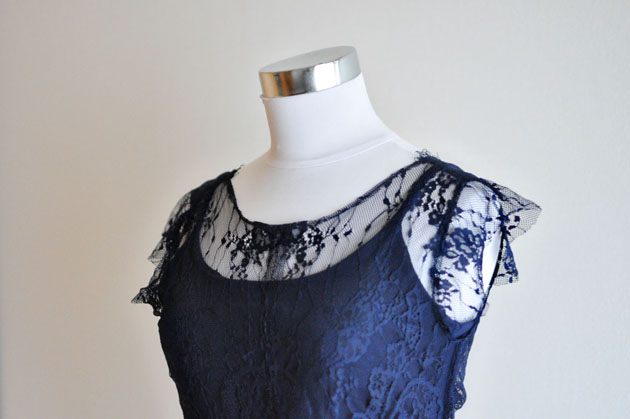 Here is a photo from the wedding – I made Kiko's dress too! She helped me design it. Will be posting about it soon.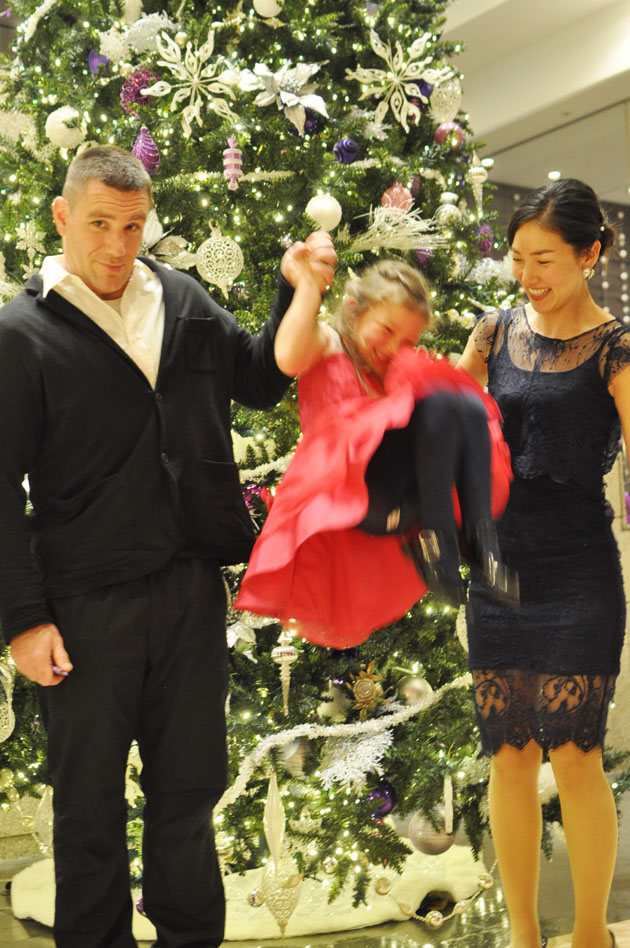 With my sister and her husband. The wedding was a lot of fun!
P.S. Here is the dress I made for the last wedding I attended.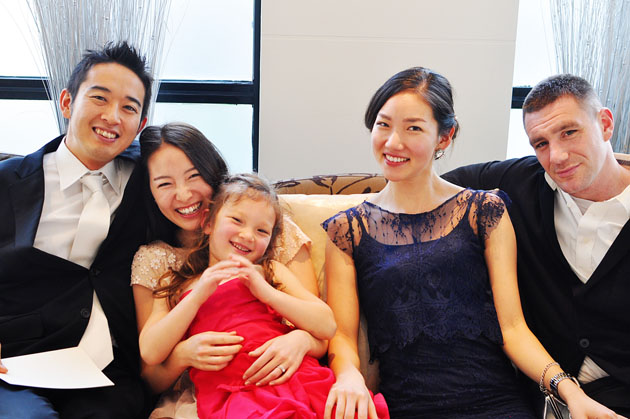 11月は2回結婚式にお呼ばれしていたので、自分用ドレスを作りました。
生地はカリフォルニアのレースを豊富に扱っている生地屋さんからお取り寄せしました。
日本で質の良いレースを見つけるのはなかなか難しいです。
少なくとも、日暮里ではなかなか見つからないと思います。残念ながら。
自分のサイズに合わせて、型紙なしで作りました。袖は、本当はノースリーブが良かったけど、結婚式だということで控えめなキャップスリーブに。
このドレス、中に着るスリップの色によって雰囲気が変えられるんです。
今回は同色のネイビーで作ったけれど、ベージュのスリップにして、レースの柄を引き立たせてもとてもステキだと思います。