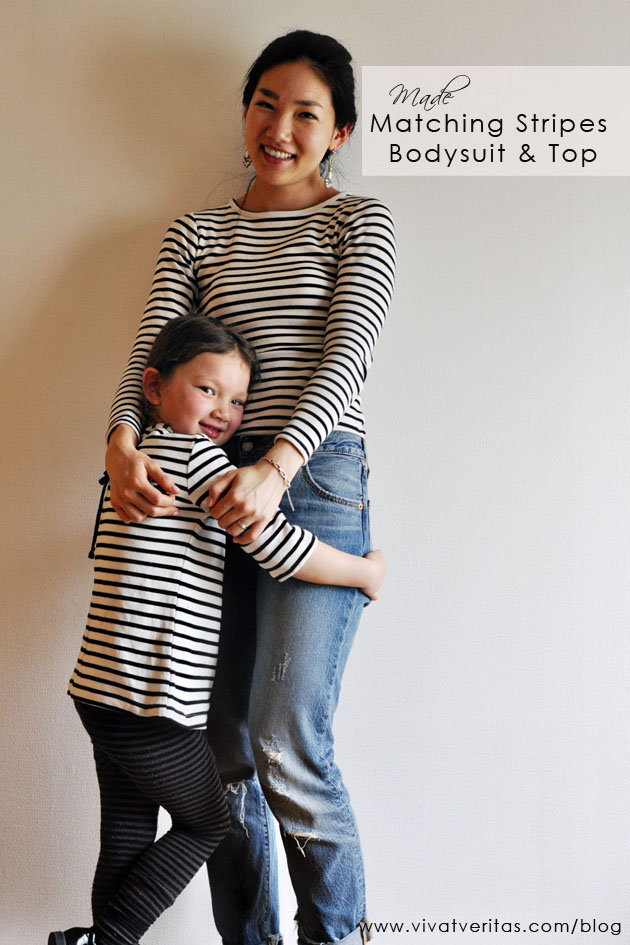 Spring has finally come! I am so happy not to be bundled up with scarves, hats and all kinds of layers. My first Spring made item is this stripe bodysuit. I have been wanting to make a bodysuit for myself ever since Closet Case Files released the Nettie pattern. But instead of buying the pattern, I self-drafted it. I thought why bother to buy a pattern, print it out and put together the 20+ pages if it is just a top and underwear connected together. I was wrong. I quickly found out that a bodysuit pattern is much harder to draft than I expected. The top long-T part was ok; I wish I made the shoulder wider and armhole a bit bigger, but nothing terrible. The underwear part was the problem. If you make it too loose, it will not look right and will lose the bodysuit fit. I think the main attraction of a bodysuit is that you have a clean waistline. It looks less fussy than tucking in a shirt since bodysuit holds it down with snaps at the crotch.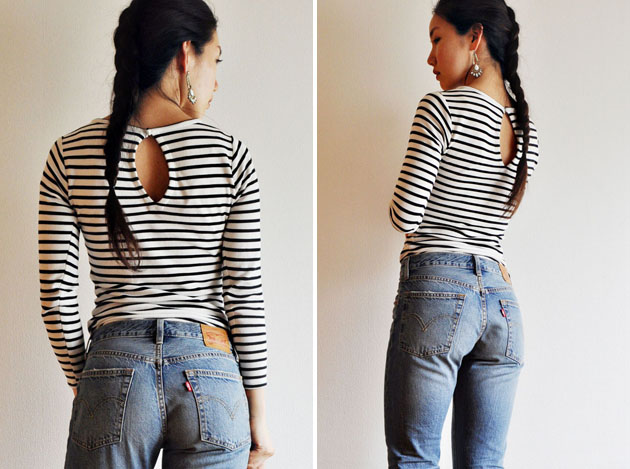 Top: Fabric is from Tomato knit section, Jeans: Levis 501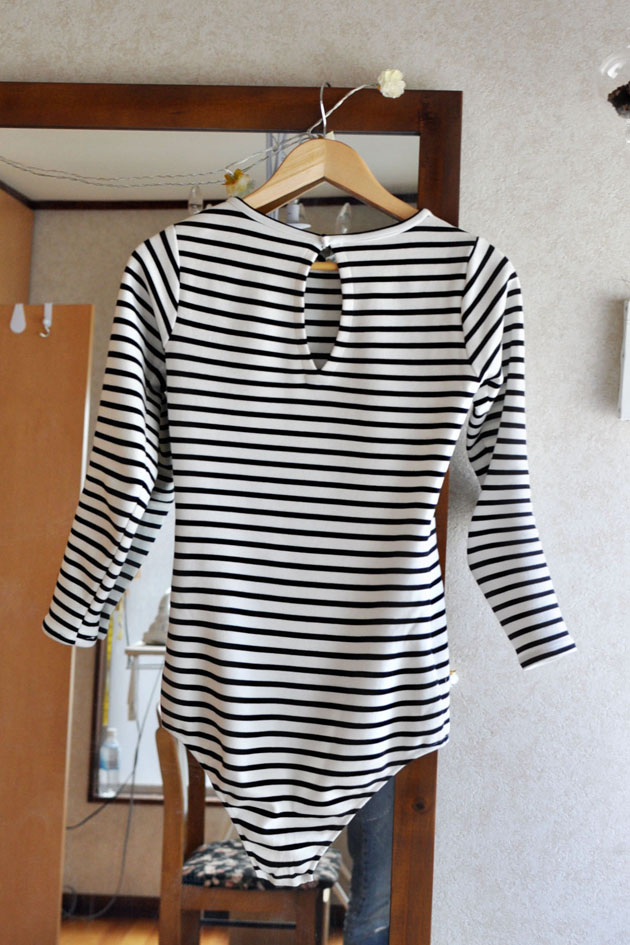 Initially, I made the bodysuit with full butt coverage like the above picture. When I tried it on, the panty line showed when I wore fitted skinny jeans, so I had to modify the bottom part to make it like a thong. I don't really like wearing a thong so I want to know if there is any solution for a full butt coverage bodysuit that won't show a line? Or should I just accept the fact that the line will show when worn with tight bottom and pair it with loose fitted skirt?
I have a mixed feeling about this bodysuit. Although I love the stripes (literally matches with pretty much everything in my closet!) and how French it looks, every time I go to the bathroom and have to remove the crotch snaps, I feel a bit dumb. Kiko commented, "mommy you look like a baby!" refereeing to a baby romper. Next time I make a bodysuit, I will certainly be using someone else's patterns, like Nettie or Kommatia.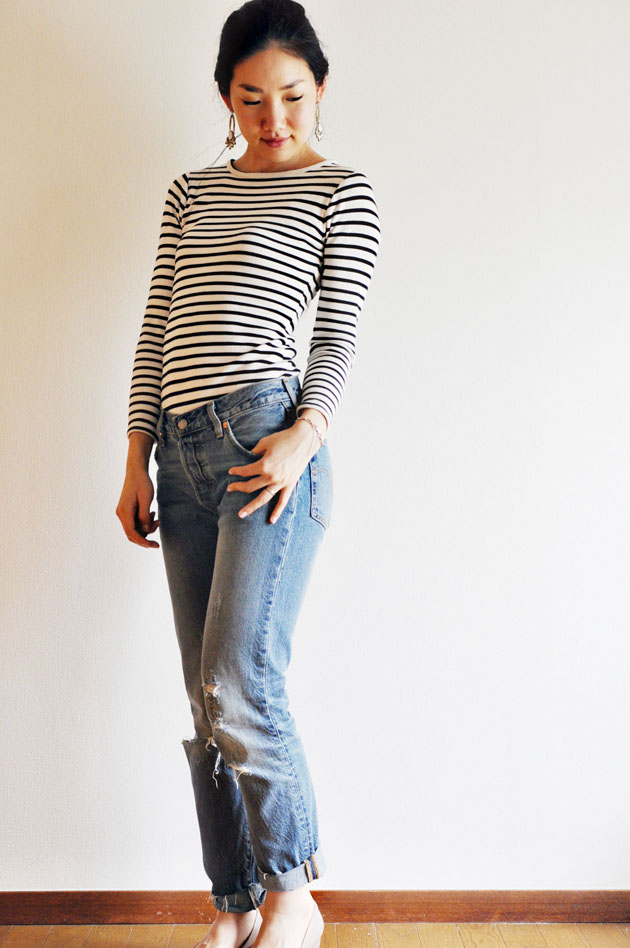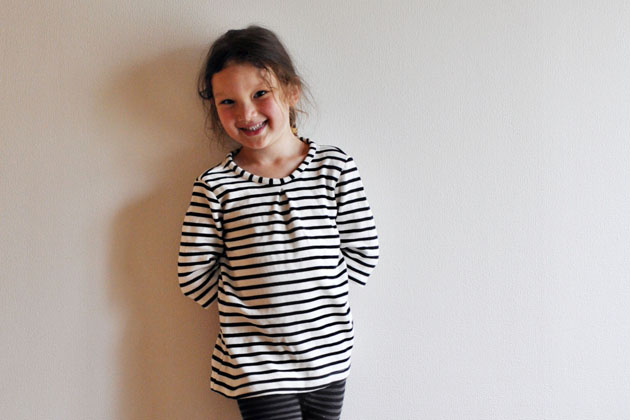 There is not much I need to mention about Kiko's top. I made it with leftover fabric. The pattern is from a Japanese book, titled "Yuki Araki's Girl's Clothes (セレクト版 荒木由紀の女の子のお洋服), same as this panda dress. I had to shorten the sleeves and hem because of the lack of fabric. 
ボーダーのボディスーツを作りました。
ボディスーツは以前から作りたくて、暇さえあればと、うずうずしていたのですが・・・
意外と型紙作りが難しい!
ロンTの型紙と、パンツの型紙をつなげればいいんじゃないかと思っていましたが、うまい具合におなか回りをピタッとさせて、か、きつきつにならないように布の収縮具合を考慮して作るのは難しかったです。
自分で作った型紙は、いろいろ修正したい点がありすぎて、今後同じ型紙で作ることはないと思います。
市販の型紙でどうなるのか試してみたい・・・
ボディスーツの良いところは、Tシャツタックインと違っておなか回りがもたつかないことと、
腹巻効果で温かいことだと思うのですが、トイレに行くたびにぱっちんはずして、つけて、ってちょっと間抜けです笑