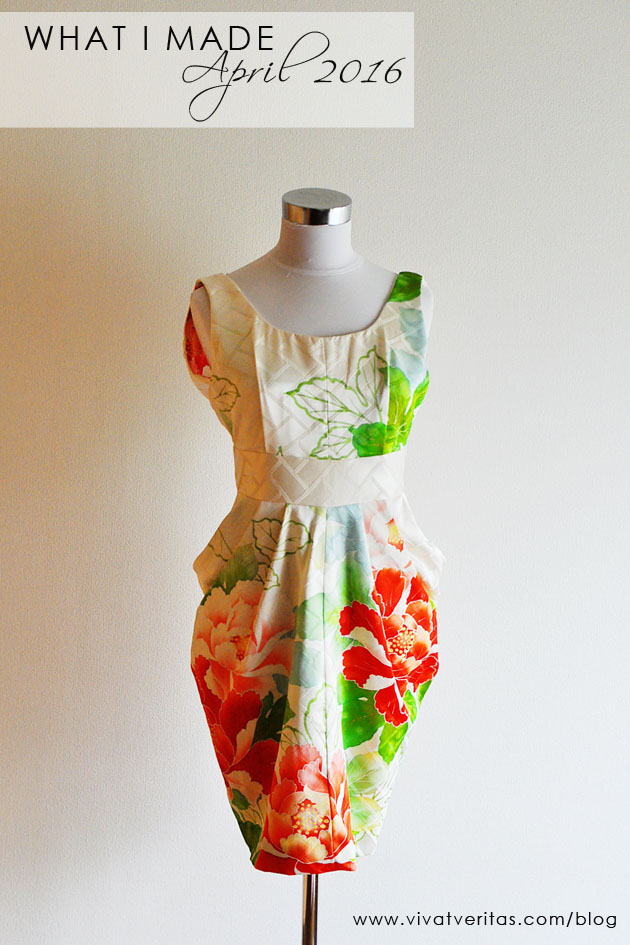 Here is a round up of some random sewing I've done over the past few months. I am pretty quick to update these for my instagram account, but the photos in SLR sit longer, waiting to be blogged.
Cream color kimono dress. I've gained some experience refashioning kimono fabrics over the past year (see here and tips on sewing kimono fabric), but this was my first time using real kimono instead of a roll, which is called "tanmono" in Japanese. I found it easier to use kimono despite the fact that you have to pick the seams. The already-made kimono has the pattern matching done for you, so it was quicker to figure out which patterns go to which part of the dress. Unpicking kimono seams was an interesting experience. Although most kimonos are sewn all by hand, I was surprised how strong the seams are. It seems like they use good thread. I am guessing they use silk thread. Looking inside the hand-sewn kimono was like looking into a treasure chest for a sewing geek like me.2. Orange Kimono Dress. The pattern is the same as the cream dress. The drapes in skirt adds an interesting twist for a simple I line dress like this. 3. Navy blue lace dress with a keyhole back modification. A customer asked more coverage than the original V-back version, so I suggested a subtle keyhole opening with a small button closure. The waist elastic is twisted in the second picture, but rest assured, I fixed it before shipping it to a customer! 4. Another lace dress. Gray lace dress is lined with a contrasting pale pink fabric to show off the lace pattern. The neckline and armholes are finished with bias binding and stitched inward of the garment by hand. I love to add some couture details for a simple dress like this. 5. Lastly, here is what I made for a photo shoot back in Winter. Dark red corduroy dress with leather floral applique. I had a few broken needles while sewing leather appliques…I usually sew thin fabrics like organza and silk, so I am not used to adjusting my Juki for a thick fabric setting. Any advice in sewing leather?
The fabric is the same as this skirt. 
I have a few items being put together now so I can update my closet for the warmer seasons! Like this white lace dress and pleated stripes midi skirt…More on my instagram.
P.S. Check out the random things I made in November 2015, September 2015, and August 2015.
最近作ったもの色々。
着物のリメイクドレスや、レースのワンピースなどを作りました。
着物のリメイクは、今までは反物から洋服のデザインに仕立て直しはしたことがあったのですが、
既存の着物からのリメイクは初めてでした。
やってみて分かったのは、反物からよりも、出来てある着物からリメイクした方が簡単だということ。
既存の着物は柄合わせが済んでいるので、糸をほどかなくてはならなくても、そんなに大変ではありませんでした。
春には自分用にボーダーのミディ丈のスカートや、
カジュアルにもドレスアップにも使えるジョッパーズなんかを作ろうと計画中。
随時instagramにもアップしていきます。