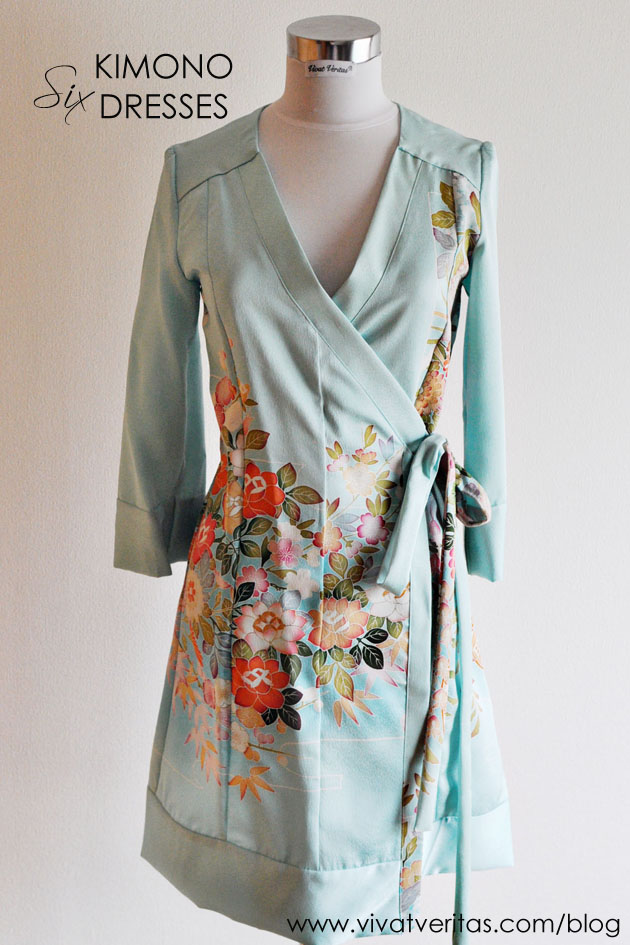 The more I work with Kimono fabric, the more comfortable and the faster I get with it. Practice makes perfect! This mint green one was particularly fun since the colors are so vibrant. I had a roll of kimono fabric (tanmono) to start with. First, I look through meters of fabric to see where the prints are and try to find the matching print. Then I connected the matching print just like you match stripes or plaid. The width of the kimono fabrics are usually narrow like 36-38cm (more here) so depending on the pattern you are working with, you first have to connect the fabrics to figure out the fabric width. Once I have the width I want, I think of the print placement. Should the main print be in front? back? skirt area? You might be limited with the options depending on how the print is placed or shape of the pattern pieces. I try to mix up the print area and solid color area so that the dress does not look too busy or borning.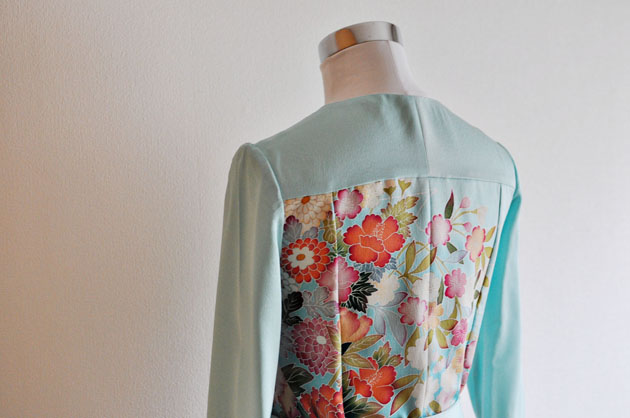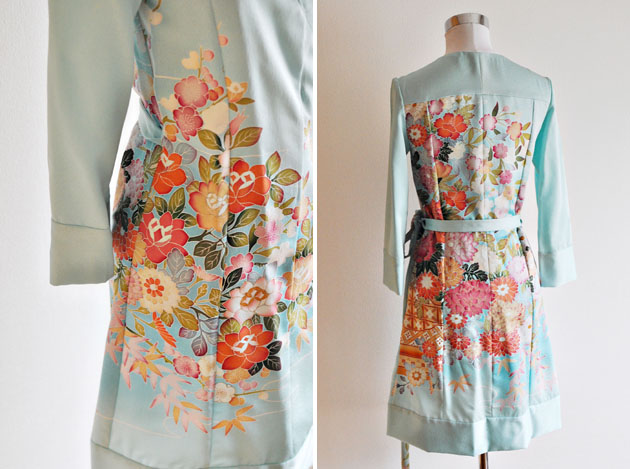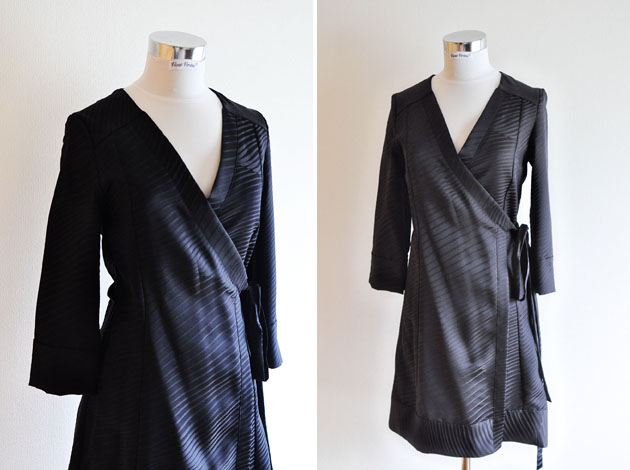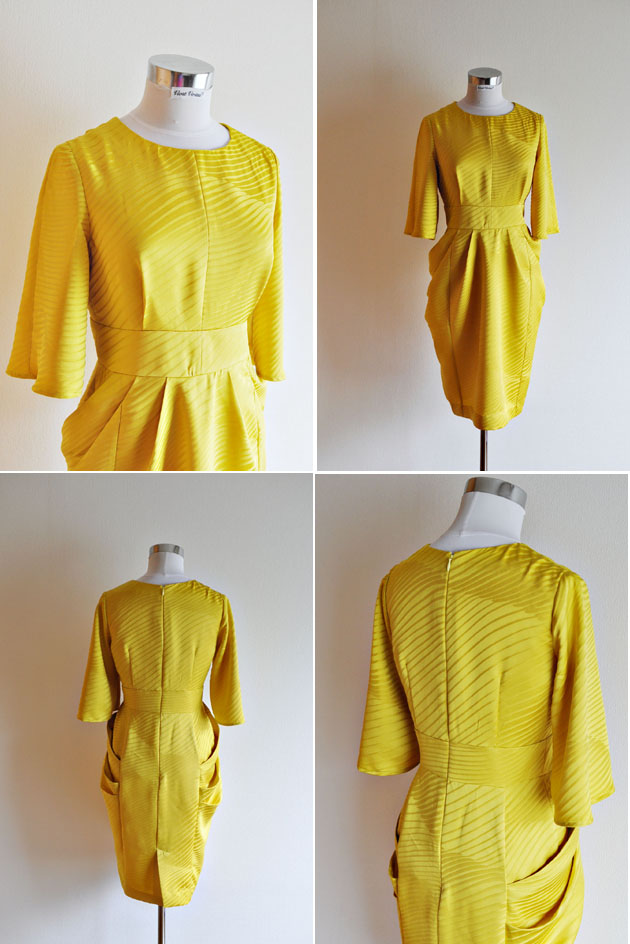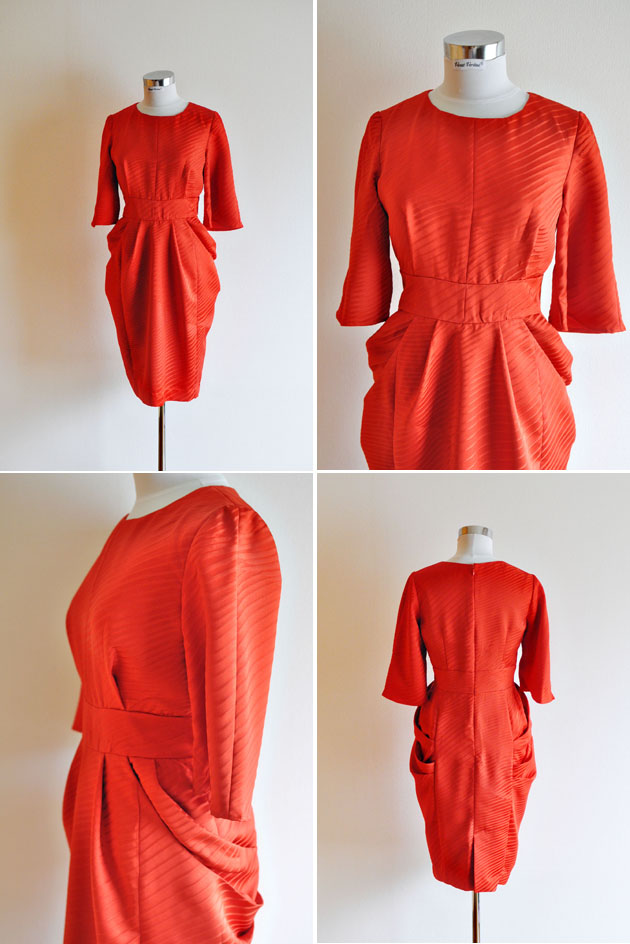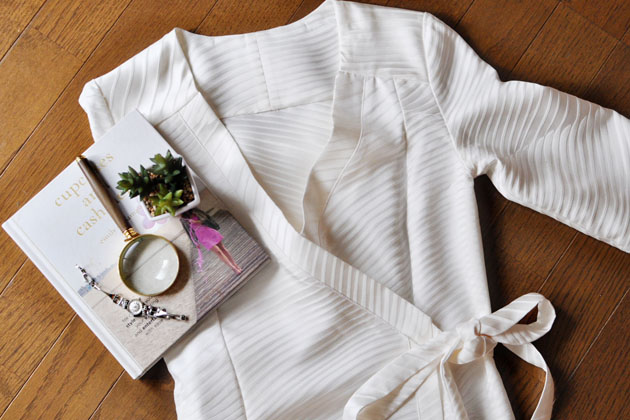 These solid color dresses were much easier required less thinking. Still, there was some stripes going on so I cut carefully not to disturb the stripes.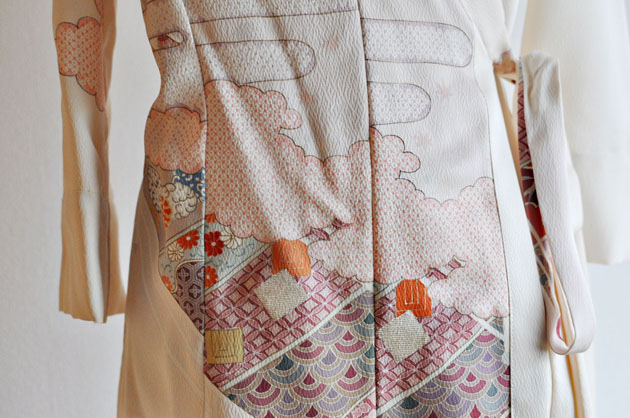 Of all six dresses, I am most drawn to this cream color one. The silk is so soft and drapes beautifully. For this one, I could not find the perfect print match, but still went for similar print so that you can see the continuity. You can see the picture above that the pink (orange?) clouds matches but the purple cloud right above does not. Sometimes you just have to make the decision based on which mismatch is less noticable. You can see more of my kimono upcycling projects here.
反物からモダンなワンピースにリメイクしました。
反物は生地の幅が狭い(大体36~38㎝程度)ので、洋裁に使う際には色々工夫が必要になります。
特に柄が入ったものは、出来るだけ柄合わせをして、できないものはなるべく柄が合ってないのが目立たないようにします。
柄合わせは大変ですが、綺麗な着物の柄を楽しみながら仕事をするのは製作の醍醐味でもあります。
一番の個人的なお気に入りは下記の写真のクリーム色のワンピース。
柔らかいシルク生地で、流れるような質感がカシュクールスタイルにぴったりです。