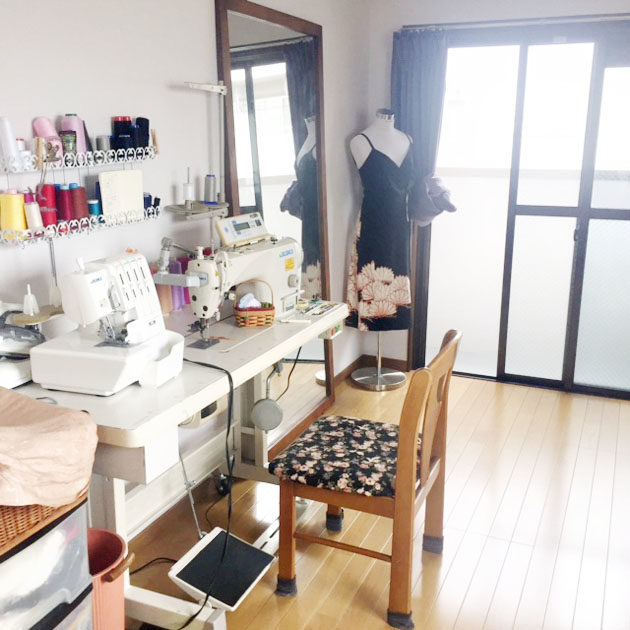 We recently moved! Our new place is in Kiyosumi Shirakawa, not too far from our last place in Kiba. The new place is a bit smaller, and has much less storage space. I am usually good at sorting and throwing out excess stuff but it is a different story when it comes to sewing supplies and patterns. I had hard time deciding what to take and what not to take. Even supplies like buttons, I had to stop and think, "will I regret throwing this out?" I had about 6 boxes full of fabrics, threads, pattern files on top of three sewing machines including one industrial machine. Thankfully we had a mover who helped carry the sewing machine that weighted more than 80kg(!) up to fifth floor without an elevator.
In the current house I have one tall locker and three clear plastic drawers to fit everything from the built in closet I had previously. It is amazing how much stuff I accumulated in the past few years. I had to say good buy to a lot of fabric left overs that are less than 1m (let's face it, what kind of clothes can you really make with 50cm of chiffon?), sewing patterns that I've sewn once for myself and hadn't touched for a few years. I had so much that I began forgetting that I have some left overs and would end up buying new ones so I think it was a good move to just say good bye. Also I reviewed many self drafted patterns from years ago and chucked them because they were not well-drafted or the styles are out-dated. I realized as long as I have a basic bodice block that is well-drafted, you can create most styles.
The move was long (took 9 hours) but I'm thrilled with our new place! It's in a fun neighborhood with many small businesses and I'm looking forward to get involved.
最近引っ越しました。
以前のアトリエとは程遠くない、清澄白河です。
縫物をやっているとなんと物が多いことか・・・!
パッキングをしていて唖然としました。
出てくる出てくる使わない型紙や余り布。つい使うから。。。と取っておいてしまうのですが、実際のところ、あるのを忘れていて新しいものを買うことが多いことに気づいて、さよならしました。
今回はロッカー1つと3段の引き出しのみに全てを収納しなければいけないので色々工夫しました。
引き続きソーイングレッスンも行っているので是非遊びにきてください。


Find me elsewhere: