Winter 10 x 10 Challenge Day 1-5
Check out my 10 picks in my previous blog post!
---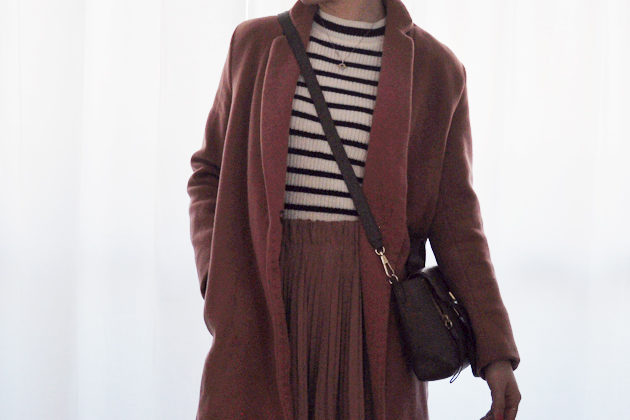 Day 1:
January 21, 2018
GU stripe knit + pleated midi skirt + Zara boots + chester coat (self made)
The pleated skirt used to be a dress that my sister bought in Taiwan. I wore that as a dress for a couple of Summers and then decided to cut and add elastic band at waist to turn it into a midi skirt. I thought I would get more wear out of it this way. Now it's no longer a Summer dress, but a skirt that works in Winter as well with tights and boots underneath. For the outer, I'm wearing my pink chester coat I made a few years ago with 3.1 Phillip Lim pashli mini satchel. Today I'm just out and about with my family. I'm glad I wore flat boots since I ended up walking 10km. I know I am not supposed to buy any clothes during this challenge, but I could not resist picking up bright red leather gloves I found in Asakusa on sale while I was on the walk!.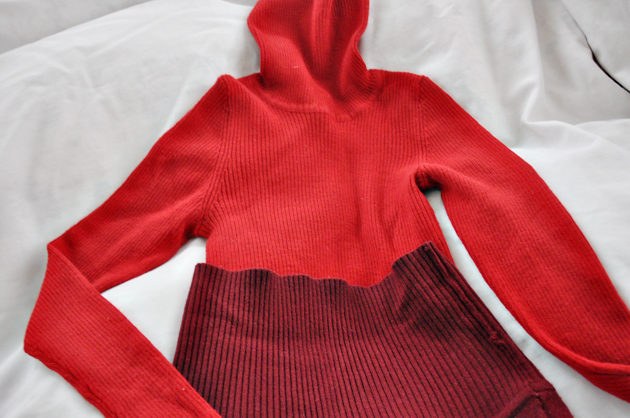 Day 2:
January 22, 2018
Red turtle neck sweater + dark red fitted maxi skirt + rain boots (not included in my pick) + gown coat (self made)
It snowed today! It's the first snow day in Tokyo this Winter. The news were all over this snow, and people in Tokyo were not prepared for it. It might sound silly for someone who lives in Toronto or Boston, but with 20cm of snow, trains stopped, news warnings were everywhere and planes were canceled. I had to pull out my rain boots instead of my two picks of shoes for this challenge since it was an emergency! Despite the weather, I enjoyed this one tone color outfit (red + red) and was warm and cozy with knit skirt and leggings under neath.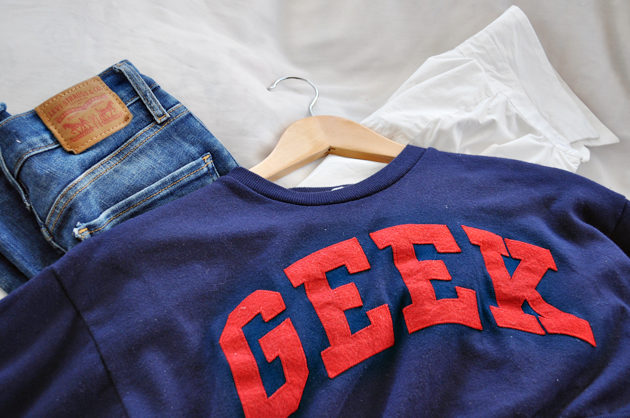 Day 3:
January 23, 2018
GEEK sweatshirt + white button up (self made) + Levi's mile high super skinny jeans
I love this sweatshirt! I found it at a local thrift shop for mere 100 yen. It's fashionably short, and matches well laying with button up. My daughter commented "mommy your sweatshirt is so short!". Just realized that four of my 10 items in this challenge were picked up at a thrift shop. My tips at choosing right stuff at thrift shop is 1. try on always 2. check the shop often. Even if it is 100 yen, if the fit is not right (or something can be adjusted if you sew), it's not worth the space in your closet, so always try on. Also if you check the shop often, more chances that you to come across with something amazing.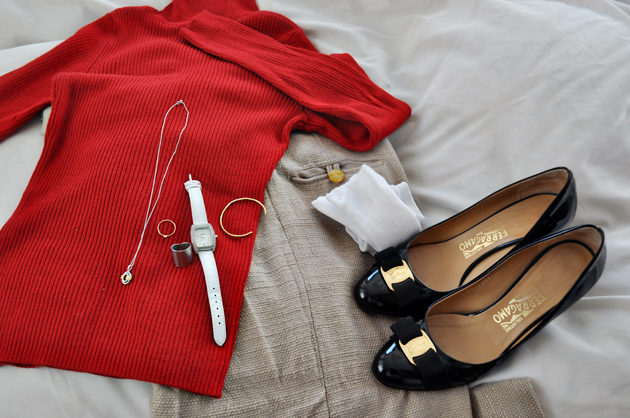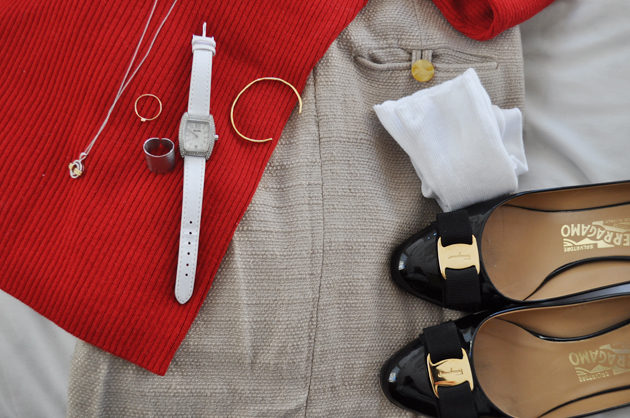 Day 4:
January 24, 2018
Red turtle neck + tweed wide legged pants (self made) + white socks + Salvatore Ferragamo erice 70mm pumps
I'm cheating today because I'm wearing shoes that are not in 10 x 10 challenge, which were white sneakers and long boots. Today I had a hair appointment. I haven't had a hair cut for five months so I wanted to dress up a bit for going to a salon. It's still too cold to wear pumps on bear foot so I paired them with white socks. I read this Japanese style book called "how to dress stylishly and stay warm(my English translation)" by Aliko Yamamoto. One of the tips she demonstrates in her book is to incorporate white socks to prolong the life of pumps wearing through out the Winter. I like the look of socks + pumps. It's something new which I haven't tried so it feels refreshing. Anyway, next time I do the 10 x 10 challenge, I want to exclude outers and shoes in the count of 10, so I can have more varieties in the outfit. Shoes can make or break the outfit. I am a bit sad that I'm deprived of the shoe choices during this 10 days.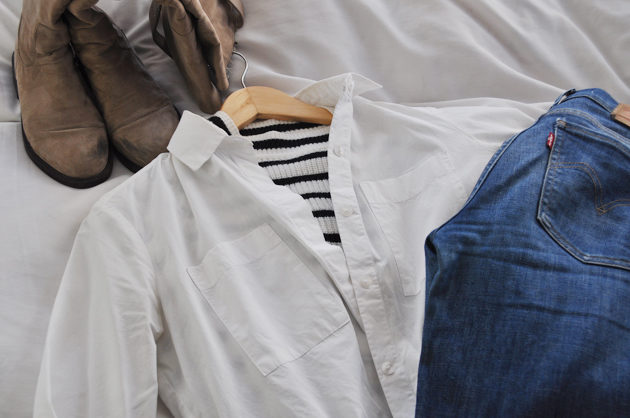 Day 5:
January 25, 2018
GU stripe knit + white button up (worn over the knit)+ Levi's skinny jeans + Zara boots + gown coat
Today was frigid. It's close to 0 Celsius in Tokyo and feels like the real winter is here. I'm bundled up with hat, scarf and two pairs of gloves (!). I bike to my kids' daycares and I need many layers to protect myself from cold wind.
Some thoughts on the Archer button up: I think it's great pattern for a shirt you would wear underneath sweater or sweatshirt. It's structured since the top of the shoulder meets your true shoulders. However recent trendy styles are baggy with dropped shoulders as if you are wearing your boyfriend's shirt. I feel like this white button up needs a bit of update. I want more loose style so it looks more like 2018. Do you have any such pattern recommendations?