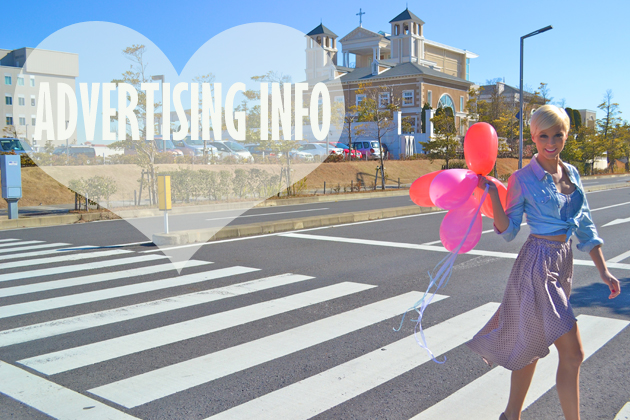 The Vivat Veritas Blog is a mixture of sewing, crafting, fashion, life style, motherhood and life in Japan. I love sharing my sewing experience, my life in Japan with my husband, our ever morphing experiences as parents to our daughter Kiko, and of course, Vivat Veritas design updates.
Current Statistics: Vivat Veritas Blog currently averages more than 30,000 page views each month. Vivat Veritas Blog readers love fashion, D.I.Y., and sewing.
Advertising Options: 
Banner ads: We currently offer banner ads in different sizes.
Big – 250×250
Medium – 250×100
Small – 125×75
We are happy to create a custom package for you with discounts when booking multiple months. You can also reserve future months. Sponsors will be handpicked and will be chosen based on their compatibility with Vivat Veritas Blog readers' interests.
All sponsors will have their ad featured in the right hand column for the duration of the month, renewed in the beginning of each month.
After payment, please email us your ad button to chie@vivatveritas.com.
Big 250×250 $20
Medium 250×100 $15
Small 125×75 $10
Sponsored Giveaway: If you are interested in booking a giveaway, please email vivatveritasshop@gmail.com
Offer Special Discount or Promos: You can offer a discount or promotional code along with your spotlight to better increase traffic to your store.
Collaboration:
I love to collaborate with photographers, stylists, models and fashion bloggers for interesting projects! Please contact vivatveritasshop@gmail.com with any ideas!
Guest Bloggers:
Do you have a cool DIY idea or sewing tutorial? If so, I'd love to have you guest posts here at Vivat Veritas Blog! Contact me with your ideas.
Sewing Pattern or Product Review:
I would be thrilled to test your pdf sewing pattern or product and review it on Vivat Veritas Blog for $50. This cost includes all the required materials and my time sewing it up and writing the post. If you are a fabric shop or manufacturer of sewing tools or notions, please feel free to contact me. I'm happy to accept supplies for use on blog projects and will mention your shop. Thank you!