One of the fun things about sewing is that you are forced to face with unexpected challenges whenever you make a new things. It might be the same dress you've made a few times before, but if the fabric is different, it reacts differently. This is how I felt after finishing this peplum top!
I recently finished a three-way wedding dress for an October bride. We decided to use this beautiful gold lace (it is called crimp lace (クリンプレース) in Japanese).  One addition to the main wedding dress is the peplum top that can be worn on top of the dress for the reception to change the look a bit. It looks like the lace motif is embroidered with gold thread on cream color organza fabric. The fabric is gorgeous, and it was worth spending the money, considering the finished result. The bride went with gold, but Okadaya also has it in white, which is also beautiful for traditional wedding dress look.
Initially, I finished the neckline of this peplum top with a strip of fabric cut on bias with the same lace. You can see the "before" pictures below.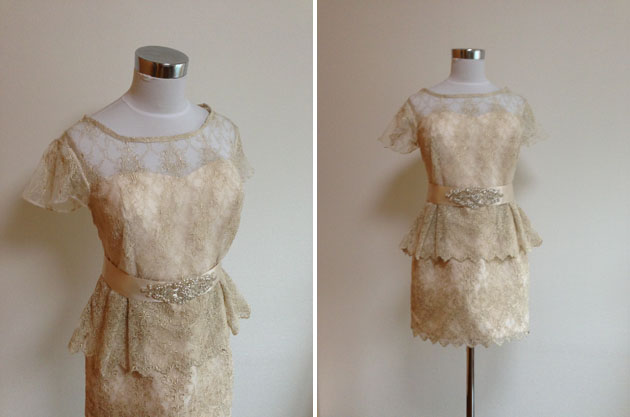 It seems like the neckline stands out quite a bit, right? I talked with the bride and she agreed. The neckline gives more of a sporty vibe for a rather delicate top.
So here is how I changed up.
1. Instead of bias strip, use facings cut in a solid color organza
I used off-white color polyester organza fabric (left over from this skirt's insertion) and cut the facings, front and back. Depending on what sheer fabric you are using, perhaps you can use chiffon or tulle as well. For my lace, organza fit perfectly. I did not finish the lower end of facings for the fear of making the seam allowances stood out.
2. Using a clear thread, catch stitch the facings down on the lace fabric
Clear thread came in handy when sewing couture dresses. I use it for sewing tulle fabrics together if I fear that the seam allowances will be see though, and also use it for attaching lace on veil. I also used it for hand sewing these satin flowers.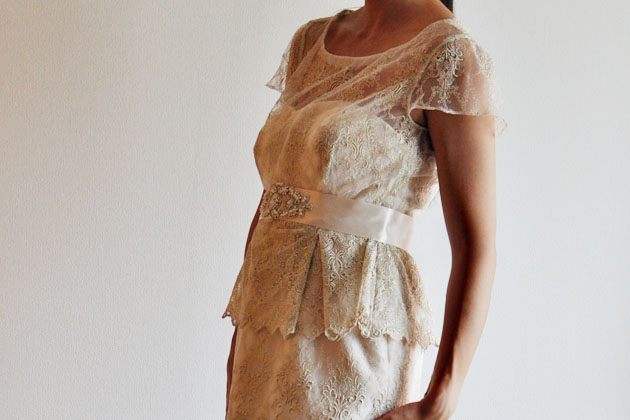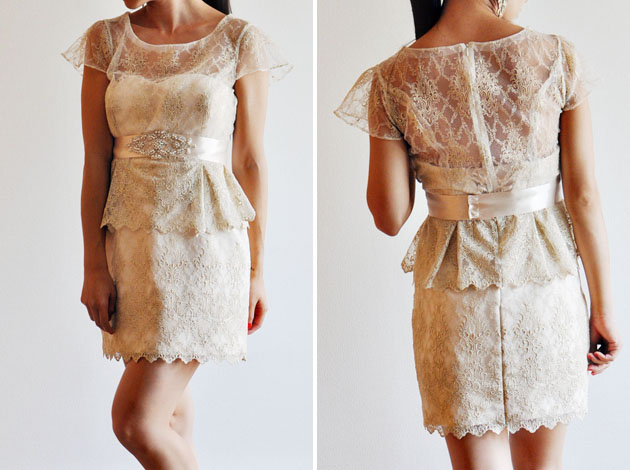 Look how much difference it made! Now the top looks more delicate and dainty. Do you have a favorite way to finish a sheer neckline?
最近仕上げたレースのぺプラムトップスです。
ゴールドのクリンプレースで、10月に挙式予定の花嫁様のためにお仕立てしました。
生地は、お値段が張るだけあって、本当に素敵!
刺繍のひとつひとつがデリケートで、綺麗です。
ただ、透ける生地のため、ネックラインをどのように仕上げるかに悩みました。
最初は同じレースをバイアスにカットしたもので仕上げたのですが、ネックラインが目立つ気がしたので、
なるべく目立たないように同色無地のオーガンジーを使い、透明の糸を使って作り直しました。

{find me elsewhere: shop, facebook, etsy, twitter, pinterest, instagram}