I'm excited to show you some recent work I've been doing for a client. It is common to wear more than one dress at wedding in Japan. You wear one white wedding dress to walk the aisle and for the reception. After, you switch it up to what we call "color dress". The color scheme can be anything…..except for something like an animal print, which makes you imagine dead animal and is against Japanese wedding custom. I have seen red, pink, gold, blue…pretty much every color in the past. I personally like all white for weddings, since I feel like it is the unique privilege of the bride on that day, but it's not my wedding!
So the client ordered lavender purple. Usually I go to Nippori to buy fabrics, but for this dress, I ordered everything from Ogawamine. I have some sample fabric sheets from them and ordering everything in matching color was easy. I ordered satin, tulle, organza and taffeta lining in the same color by phone. Much quicker than running around Nippori to find fabrics!
Here are some inspirational images and my sketch presented to the client. The original inspirational dress seems to have three layers of skirt; satin, tulle and asymmetric organza pieces, draped from bodice.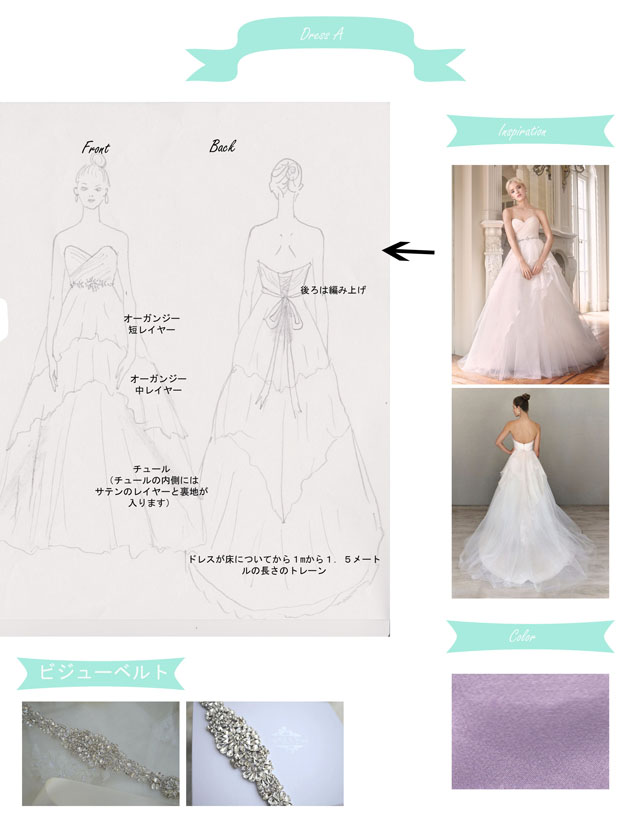 I made the bodice and satin skirt as usual – satin underlined with muslin for bodice, and organza for skirt. I chose organza for underlining for skirt instead of cotton muslin so the muslin won't weight down the strapless dress. After that, I draped organza from the neckline, pinning small tucks along the way. Once pinned in the places I want, I hand sewed the tucks together.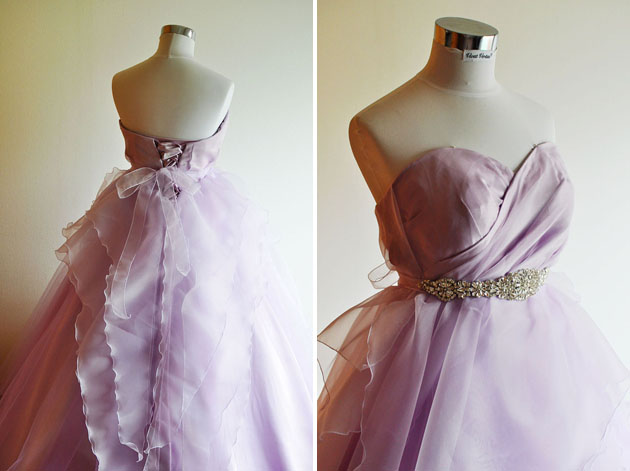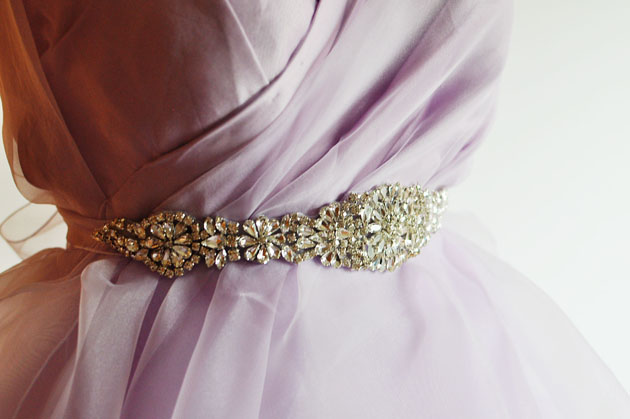 The bridal belt was purchased from Crystal and Pearl Bridal on etsy, and I added the organza ribbon that matches with the dress color.
It was a fun project to make! What do you think of non-white wedding dresses?
ラベンダー色のカラードレスをお作りしました。
優しいラベンダー色が可愛いです。
私は自分のウェディングではお色直しをしなかったのですが、もしするならうすーいラベンダーとか水色とか、白に近い色を選んだかな、と思います。
オーガンジーのスカートは羽のような形でいくつかついているので歩くとふわふわ動きます。
森の中の前撮りなんかに着てほしい!ドレスです。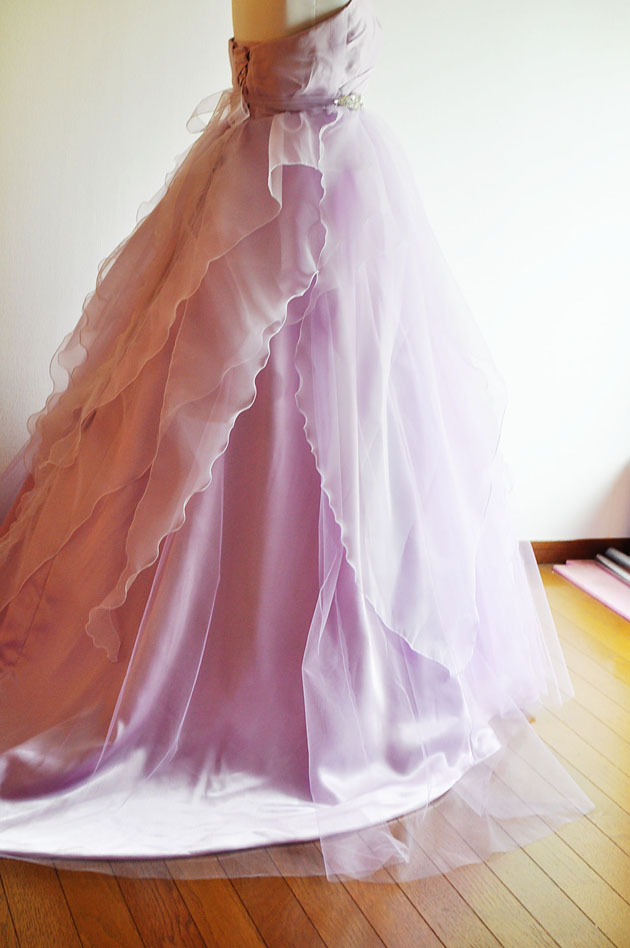 Here is a short video of the dress! ドレスの詳細動画です。
♥ 東京木場のアトリエVivat Veritas | 完全オーダーメイド | 花嫁様おひとりおひとりに合わせてお作りします!
♥ ドレスのリメイクも賜ります。
♥ お問い合わせはこちら
♥無料相談ご予約はこちら