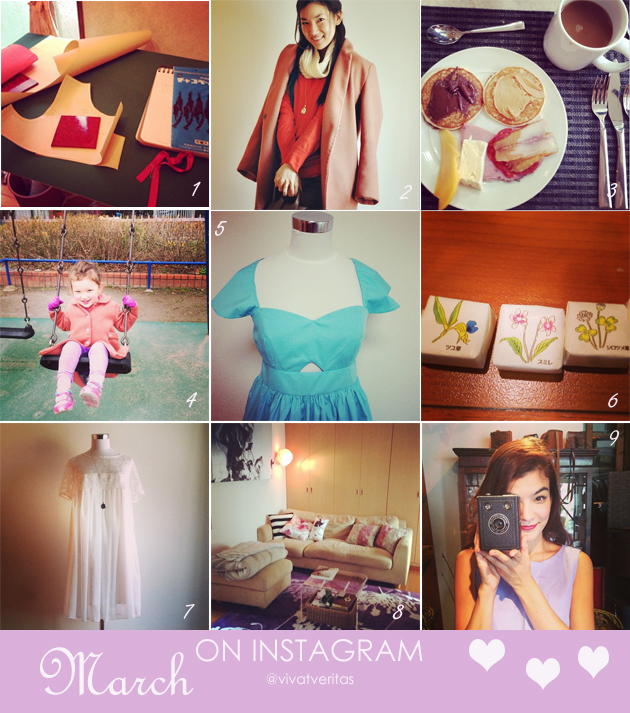 I have been slow in updating my blog, but I often update Instagram. Also I find many amazing handmade sellers or entrepreneurs sharing their behind the scene photos or their products, and I can kill hours browsing through! When I am on the train, I am either on Instagram or Pinterest.
Here are my March moments:
1. It has been a busy month sewing! I try to come up with a sewing schedule at the beginning of the month, and stick with it. As I finish a project or task, I get cross it off the to-do list, and I get the greatest joy out of that simple slash mark.
2. Made myself this pink coat and have worn it a lot already. Blogged here.
3. Andy and I went to Ho Chi Min city for a mini vacation to celebrate our wedding anniversary. I love all-you-can-eat hotel breakfast.
4. My late afternoon is usually spent with Kiko at a park. I made her a matching pink coat.
5. Bridesmaid dress in Tiffany blue. It's available in 40 different colors.
6. Cutest cube sugar I came across at a restaurant in Ochanomizu.
7. Boho-inspired lace & chiffon dress for a lovely bride.
8. I'm almost done decorating our living room! I bought myself first "art" as my early 30th birthday gift. It is titled "water in ink" and from BoConcept, Denish furniture company.
9. We had a photoshoot at an antique studio in Shibuya. It is a shop, but you can also rent the studio space. Also everything up there are for sale. If you are into antique, you would love this cute studio (unikk).
Find me @vivatveritas.


 {find me elsewhere: shop, facebook, etsy, twitter, pinterest}