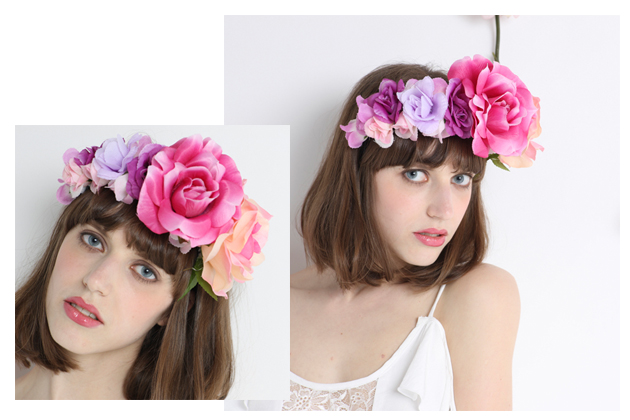 When did you learn to sew?

I've always liked crafting. Growing up, my mother was a huge influence on me in that department. But, I did not start sewing clothes until early 2008. My best friend lent me a sewing machine so I could make some pillow cases and other odds and ends. One day I stumbled upon the

BurdaStyle

website, and I was hooked! The first time I sewed a piece of clothing for myself it took forever. I made many mistakes and the result was wearable but not wonderful. Undeterred, I kept sewing more and more and got better at it. I eventually reached a point where I had sewn more than I could possibly wear on my own so I decided to open up a

shop

. I am not professionally trained but self-taught using online sources and books. I've written more about it

here

.

What kind of sewing machine do you use?

I use a secondhand industrial sewing machine, Juki DDL-9000SS. It is a straight lock-stitch machine, with direct drive, servo motor and automatic thread cutter. I wrote a review

here

. Before that, I used a Janome Thread Banger and Juki overlocker.

What does Vivat Veritas mean? Where did that come from?

When I decided to open up a

shop

on etsy, I needed some kind of store name. I decided to steal the name from a tattoo my husband has on his arm. The tattoois a picture of a boxer named Jack Johnson and it has the logo Vivat Veritas scrolled under neath. That Latin saying is on the Duncan(our last name) family crest and it means "Let truth prevail" in Latin.

Do you make environmentally friendly clothing?

At this point I have not ventured into that area of fashion yet. It is certainly a growing market globally and something I would like to implement as I learn how best to do so.

How long have you been sewing?

I've been sewing since I was a child, but I did not start making clothes until 2008. It all started very unintentionally. I borrowed a friend's sewing machine to make a pillow case. From that I caught the sewing bug and the rest is history.

What/who are you inspirations?

Anything surrounding me, family, the city (Tokyo), books and fabrics.Many times I will need to actually touch the fabrics before I start generating my ideas. I am very tactile in all areas of my life so this is just an extension of that.

Do you design your own clothes?

Yes! I love making my own clothes and wearing them.

Do you use patterns, create you own, or none at all?

I make the patterns for the clothes I sell on shop. I draft the vast majority myself. Of course, when I first started out, I hadn't the slightest idea of pattern drafting. That was an education in and of itself. God bless the internet. that was one of those areas that through the use of internet sources I was really able to develop the necessary skills I otherwise would not have had. I also enjoy sewing using commercial patterns. Whenever I use commercial patterns, I link to the pattern in the blog post.

What made you decide to start making and selling clothes online?

As I mentioned before I borrowed a sewing machine for the sole purpose of making a pillow case. Through inadvertent circumstance I was able to hold onto that borrowed sewing machine for a while. Little by little I got into sewing and over the course of a couple of months started making clothes. Soon this hobby became a daily activity and so found that I had made more clothes than I was able to wear myself. So a friend recommended I start selling them online. It was a battle to actually get me to give it a try but slowly my husband was able to convince that it was worth a shot. So, I did.

Can I post your photo on my blog/website?

Yes, but please credit the photo with a link back to me. Please write a caption under the picture "photo via

Vivat Veritas

" or something similar. Please DO NOT use my photos for commercial purposes.

Can I post one of your tutorials on my blog?

If you would like to feature one of my tutorials or projects, I'm thrilled! Please use up to two images, and link back to

Vivat Veritas

. Please do not post the entire

tutorial

including the step-by-step instructions. Tutorials are for personal (non-commercial) use only. If you have any questions, please contact me.

What kind of camera do you use?

I primarily use a Nikon D5000 with a 35mm 1.8/f lense. I also use an 18-55mm lense occasionally. Most photos on my blog are taken by me using tripod and timer since Andy hates taking photos!

Which fabric shops do you recommend in Japan?

I usually go to a section of Tokyo named Nippori. Nippori is known as the place to buy fabric in Tokyo and there are tons of wholesale fabric shops. My favorites are

Tomato

and

Zakzak

. I've made a short video about them here (

part 1

&

part 2

). I also go to

Yuzawaya

and

Okadaya

. These are chain fabric stores found almost anywhere in Japan. They are more expensive than the wholesale shops in Nippori, but the layout is really nice and you can find all kinds of notions and art supplies as well. I often get my supplies online, and have written some posts

here

and

here

. I also find

this post

at Tokyo Craft Guide helpful.

I live in Japan and love sewing but don't have a sewing machine. What should I do?

I recommend visiting a sewing share office called

Coromoza

. You can rent the sewing space by the hour.

What kind of photo software do you use?

I use photoshop CS2. I love using Photoshop actions to edit my photos. My favorites are from the Pioneer Woman (

set 1 and 2

).



WANNA KNOW MORE?
Feel free to get in touch with me to ask any additional questions you might have!
GET IN TOUCH