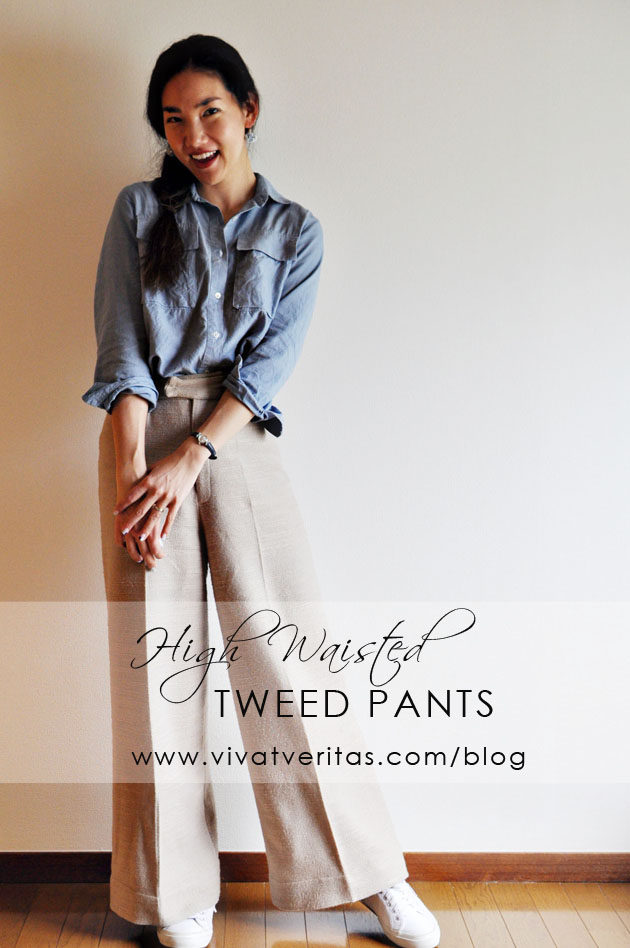 Near my house, there is a craft shop called mano creare. It is owned by Okadaya, but tailored more for moms. They curate their stuff so as to attract moms who make kids' bags and lunch box covers for preschool. Most of what they have is cotton with cars, buses or ballerina prints but, occasionally I can find more exciting treasures. I found this beige tweed on the end of the winter sale rack for just 900 yen for 1.5 meters. The fabric has a wide width, approximately about 145cm so I immediately thought of making a pair or wide legged trousers. The fabric has nice weight and have slight sheen to it.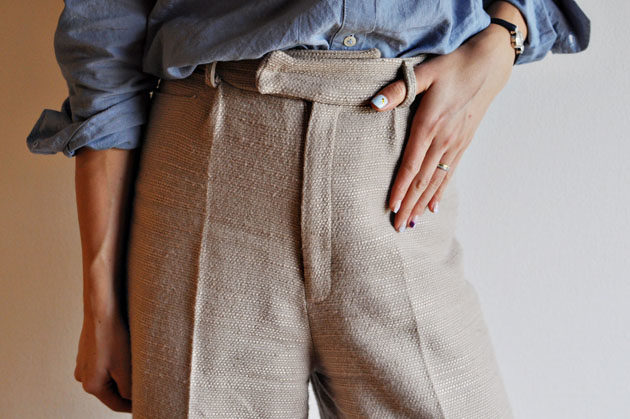 I have drafted a high waisted pants pattern and have been modifying over the past few months. It started when I made these shorts and I loved the fit. It sits on natural waist, covers the belly part with the front tucks and the back accentuate the waist and butt. So I used the variation of it to make these jumpsuit for a customer, wool top and pants set for myself(which are yet to be blogged), and these pants.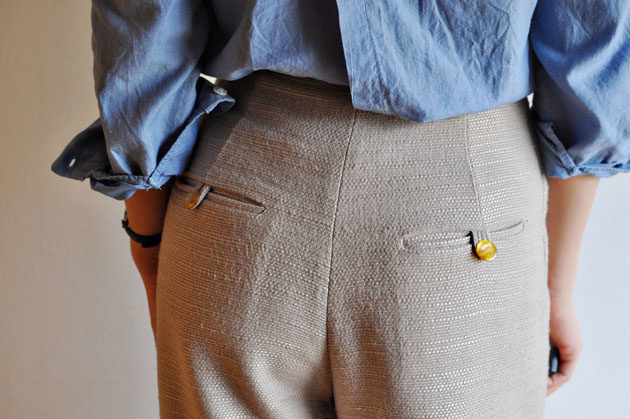 I added back pockets which are never going to be used but it is a nice detail. The buttons are a gift from my friend, who found many vintage buttons at a flea market in England.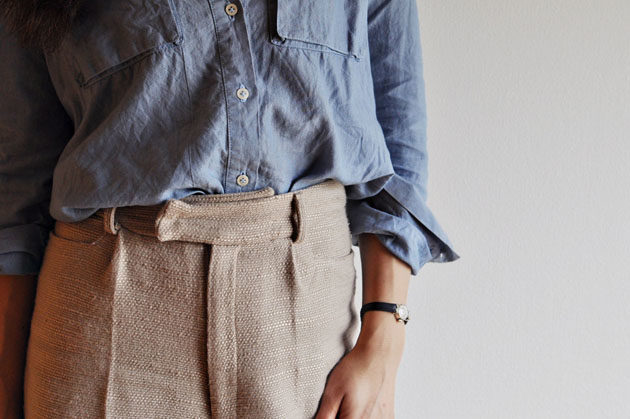 I also made the front pockets, but it was not until I finished that I realized the design flaw. Since the pants are high waisted, they should have been placed on the side, from about five centimeters from the waistline so you can stick your hands in. Turned out I have four pockets that I won't be really be using.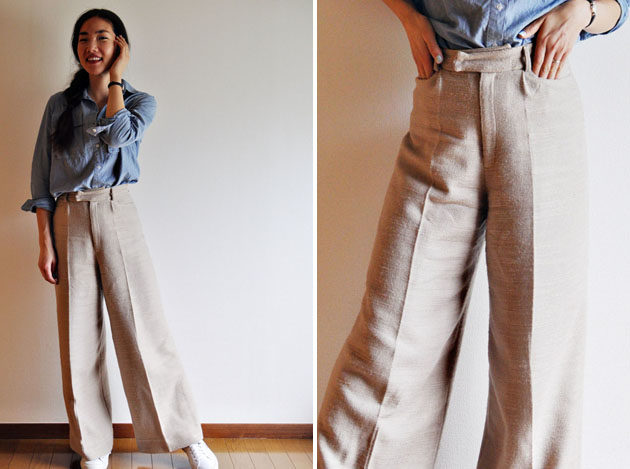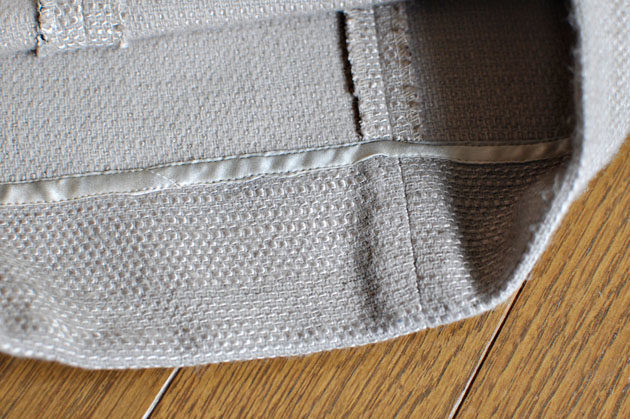 The hem is wrapped with beige silk satin bias strips (left over from this dress). These hidden details are nice! Nobody will look at it or notice it but it's ok. It satisfied the maker's ego.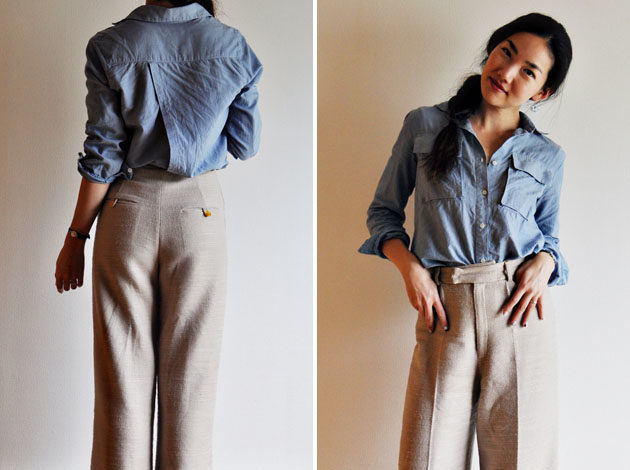 Worn with crossover back chambray shirt (blogged here) and Superga sneakers. I've also worn them with stripe shirt. Wide leggs are nice so I can wear leggings and long socks inside to keep warm.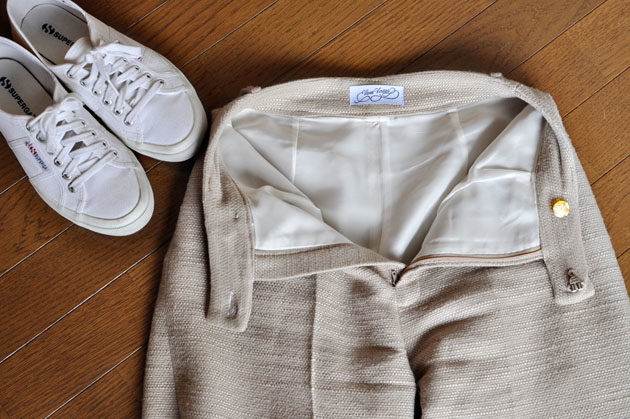 I am satisfied with the end result and already started thinking of making another pair for warmer season. Maybe in bright red linen with cropped hem?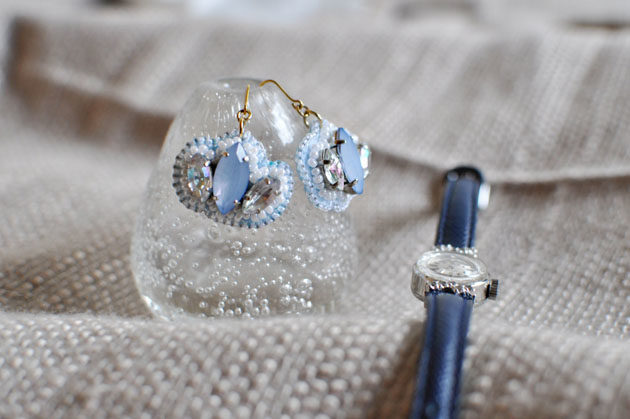 These earrings are also my recent make. I took a jewelry making workshop. The group get together once a month to make different jewelry and the fee is usually 1,000 yen.
最近作ったツイードパンツ。
型紙は自分で作りました。
ハイウエストでフロントにはタックでスタイルが良く見えるような型紙作りを心掛けました。
ショートパンツバージョンはこちらで販売しています。
生地は近くのmano creareで。セールで1.5mカットを900円でゲット!
ワイドパンツは中に色々着こめていいですね。
最近は寒くてスキニー+セーターでありがちコーデになってましたが、ワイドパンツをワードローブに投入して、少し変化が楽しめそう。


Find me elsewhere: