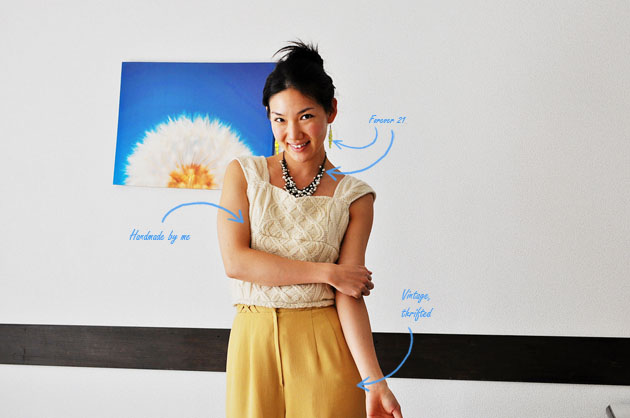 Here is my latest DIY project – Too bad I forgot to take the "before" picture of the ugly sweater I recycled. I found the sweater for 100 yen at a nearby thrift shop last year. I bought it to chop up and remake something completely different, but didn't get to it last winter. This sweater was so chunky and taking too much space my tiny closet and it started to get on my nerves. So putting other projects aside, I tackled the big sweater remake last week.
To be honest, the outcome of this knit camisole is not my most favorite. It was hard to sew this thick knit and it created a lot of fuzz around my sewing machine. I could not really decide on the length of this top, so I went for a bit longer than this bustier length, which made it hard to find a bottom to pair with..Only super high waisted pants or skirts can be worn with this top without showing my belly button.
I used the same pattern as this bustier, and eliminated the back button closure because the knit has a lot of stretch. I lined the entire thing with a cotton jersey. The knit is 100% wool and it scratches my skin, so the lining was a necessity. I added an elastic band all around the hem because the knit stretched out a bit while I was sewing.

Related posts: