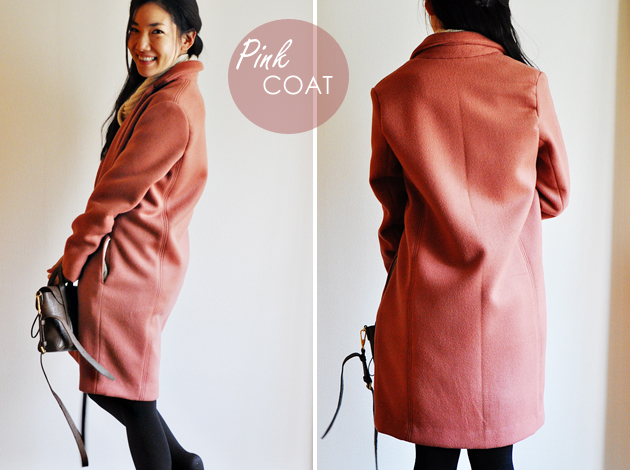 As I blogged here and here, I was making myself BurdaStyle Wool Long Coat 08/2012#101B this year. Finally the coat is completed! Actually I was done about a month or two ago..Just did not have a chance to take pictures and blog. I am very pleased with this coat. I've warn it many times, and it has helped me survived this winter which was unusually cold for Tokyo.
I love:
– the boxy men's wear inspired silhouette
– it covers my body down to my knees, and is double breasted front style which keeps me warm
– the pink color! It is easier for people to find me in a crowd of gray and black coats
– silk lining. It is very warm and luxurious. It was worth the money for the fabric!
I am not so crazy about:
– the sleeve insertion. Can you see the wrinkle around the armhole in my back view picture above?
– the shoulder width of the coat patterns. They were very wide, and I had to take in about 5 inches! Next time I sew this coat, I would do a narrow shoulder adjustment before I start sewing.
Overall, I am happy with the result. I bought three meters of this wool fabric, and used two meters for the coat. I also made a coat for Kiko with the rest of the fabric. Kiko's coat is done, I just need to take pictures! It is super cute, I can't wait to show it here.
今年はピンクのチェスターコートを自分用に作りました。布は日暮里で1m300円だったウール、裏地はシルクサテンです(こっちは高かった!)。でも奮発して裏地シルクにして正解でした。滑りがいいし、とにかく自分の体温を保持してくれるから、あったかいです。なんか高級感があって、腕を通すたびに幸せな気分になります笑
3m買ったウール、1m余ったので娘にもコート作りました。
こちらは丸襟がかわいいお嬢様コート。お揃いはちょっと恥ずかしいけど、「Mommy made it!」と言ってもらえてうれしいです。
去年はこのコート作りました。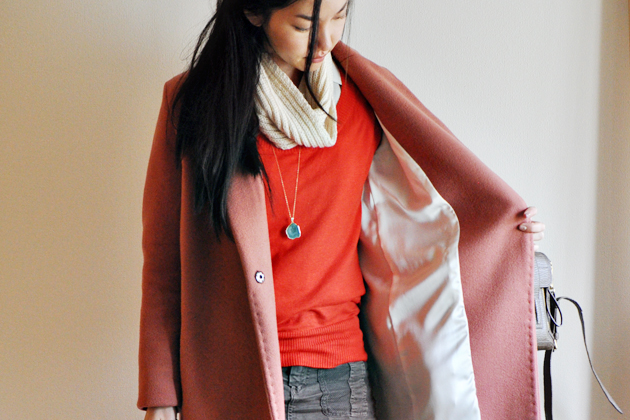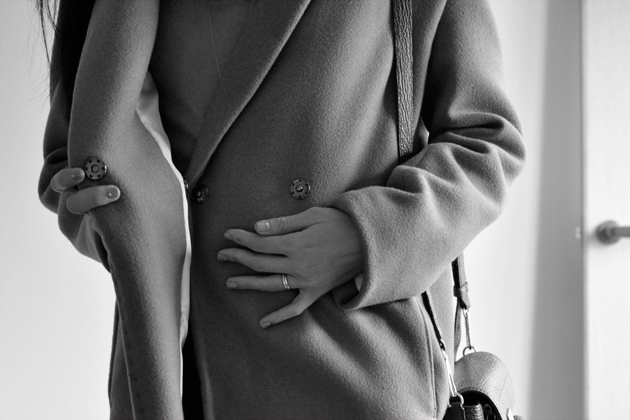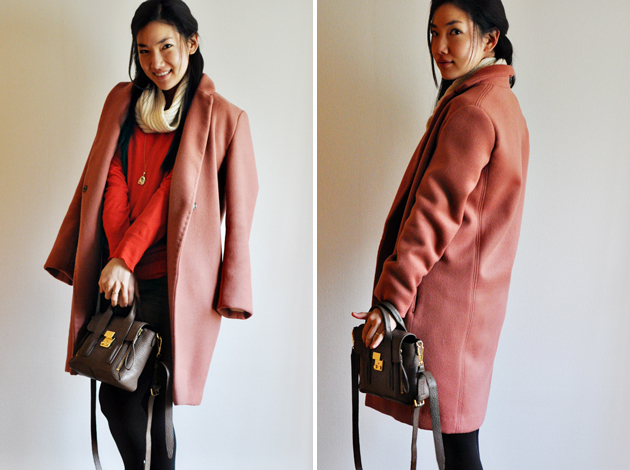 Worn with forever21 sweater, Moose and Nigel pendant and 3.1 Philip Lim Pashli Mini Bag

{find me elsewhere: shop, facebook, etsy, twitter, pinterest, instagram}