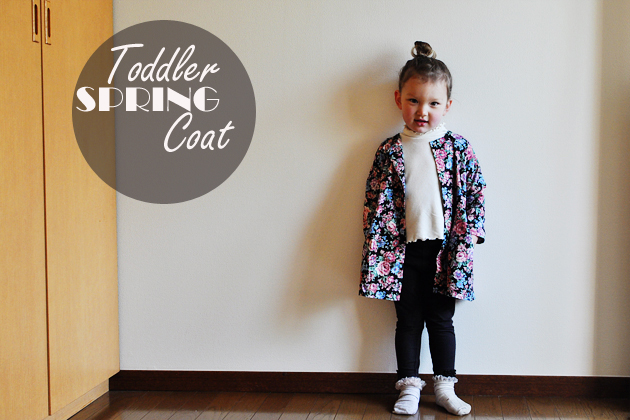 The first year I lived in Philadelphia, I was surprised that the Summer came right after the Winter. There were multiple days of 40 degrees and all of the sudden, the temperature rose up to 80s and everyone starts wearing t-shirt and flipflops. As I love hot weather, I did not mind having Summer and skipping Spring. However in Japan, we have a rather prolonged Spring, where the temperature goes back and forth which makes me wonder every morning what in the world I should wear. I've learned to have multiple layers for Spring season in Japan, so I can take off one layer when I am dying of heat and humidity in a train, and put it back on for chilly night.
Be that as it may, I thought perhaps Kiko could benefit from light weight Spring coat. I was very pleased by the winter coat I made for her, I decided to make another one with the same pattern. I made a few adjustments this time –
♡ Added in seam pockets on the side, however, the pocket openings were too small for her hands!
♡ I did not add the round collar like the coat, and instead, left as no-collar coat.
♡ No lining.
I completely forgot that the seam allowances were not included in the pattern. As with many Japanese patterns, you have to add your own seam allowances when you cut out the patterns. One reader commented in the past that she does not add seam allowances to the paper pattern, but to add it while cutting the pieces out of the fabric. I tried that for her coat and it was very easy to do. I completely forgot to add the seam allowances on the go this time though. So the coat ended up a size smaller than the last one, but it worked out alright since the fabric is not bulky and there is no lining.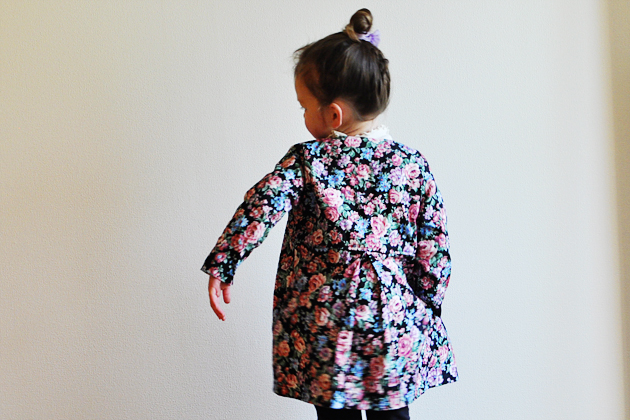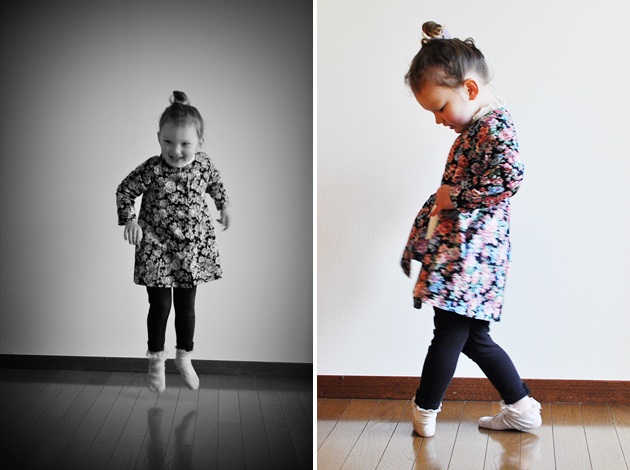 I did not make her many clothes at all when she was a baby since we were lucky to have people giving us clothes as gifts or hand-me-downs. Also as a baby, Kiko could not care less what she wore. Now that she talks, it is more fun (or frustrating at times) to see her reaction to the clothes I make for her. Last time was a big success since she is into pink, but this time, she was not so crazy about it. It was a good opportunity to teach her to appreciate the gifts she is given even if she does not like it.
ピンクのコートと同じ型紙を使って、娘にスプリングコートを作りました。
今回は丸襟はつけず、ノーカラーコートにして。
花柄に丸襟はくどいかな、と思ったのもあったので。
あとはサイドにポケットを付け、裏地はなしにしました。
前はスナップボタン仕上げにしたので、自分でもぱちん、ぱちん、て着れます。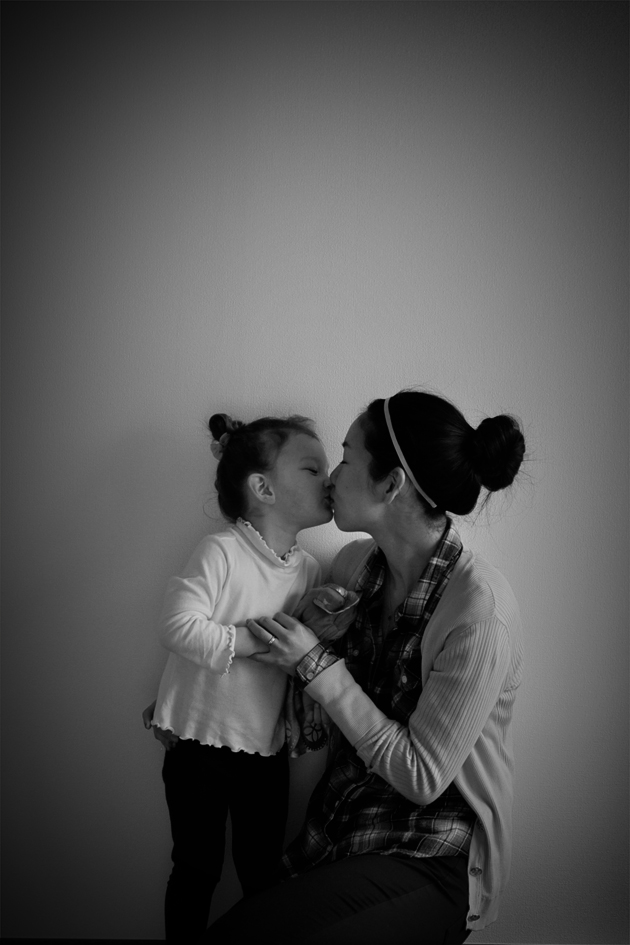 {find me elsewhere: shop, facebook, etsy, twitter, pinterest, instagram}