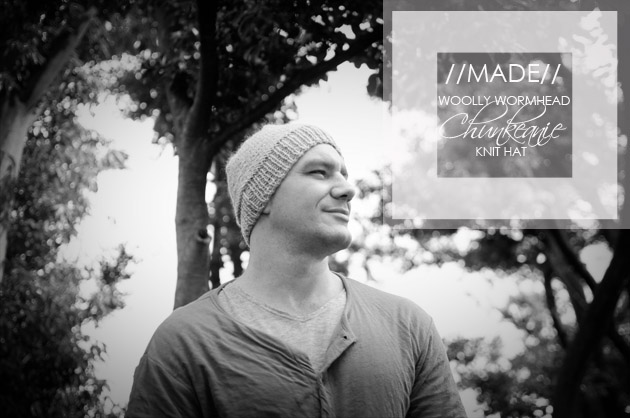 As a sewer, I had stayed away from knitting. I thought knitting was not productive, as it takes hours to complete one project, whereas you can sew up a piece of clothes in a few hours, especially for easy items like a t-shirt or a simple top. If it takes 6, 7 hours to knit up a simple hat, it makes more sense to buy one!? But my friend gave me a book on knitting in exchange for a can of pumpkin (bought during my recent Hawaii trip since they don't sell a can of pumpkin in Japan..You have to mash them yourself) recently, and convinced me that I should knit. So when I picked up three balls of wool yarns for this simple knit hat project, I wasn't the most excited. However, when I started the simple motion of knit, purl, knit, purl while watching the Tudors, I was hooked. Something about the simple repetition was so soothing.
Another reason why I had stayed away from knitting was because the knitting patterns confused me. For instance, the pattern I used, Chunkeanie by Woolly Wormhead read, "Rnd 1: *ssk, P16, k2tog; rpt from * to end [72 sts]". I had no idea what it meant. Learning English was enough for me and I wasn't ready to learn another language. Thankfully, we have a wonderful thing called Google and by just searching "ssk knitting", I was able to find videos on youtube to explain what I should do.
I made the largest size in the pattern (the one starts from 80 stitches), and it fit Andy's head perfectly. Every winter, he wears the ugliest black rib knit hat. I don't even know where he found it. He said it wasn't particularly comfortable so he agreed to let me replace his hat with this new one.
This was my first time knitting circle in DPNs. The end stitches are a bit loose, but it ended up being not noticable since the whole hat stretches out when you wear it.
I'm knitting another one for my friend, and thinking of embellishing the hat with some Swarovski crystals. After that, I might try Benton sweater by Brookyn Tweed. Jen's version looks so good.
今年初の編み物完成品です。
Woolly Wormheadというサイトの、Chunkeanieという無料型紙を使って作りました。
使用したのは、100%ウールの、100均の毛糸。1個半使いました。
サイズはいちばん大きいサイズを作って、旦那にぴったりでした。


{find me elsewhere: shop, facebook, etsy, twitter, pinterest, instagram}