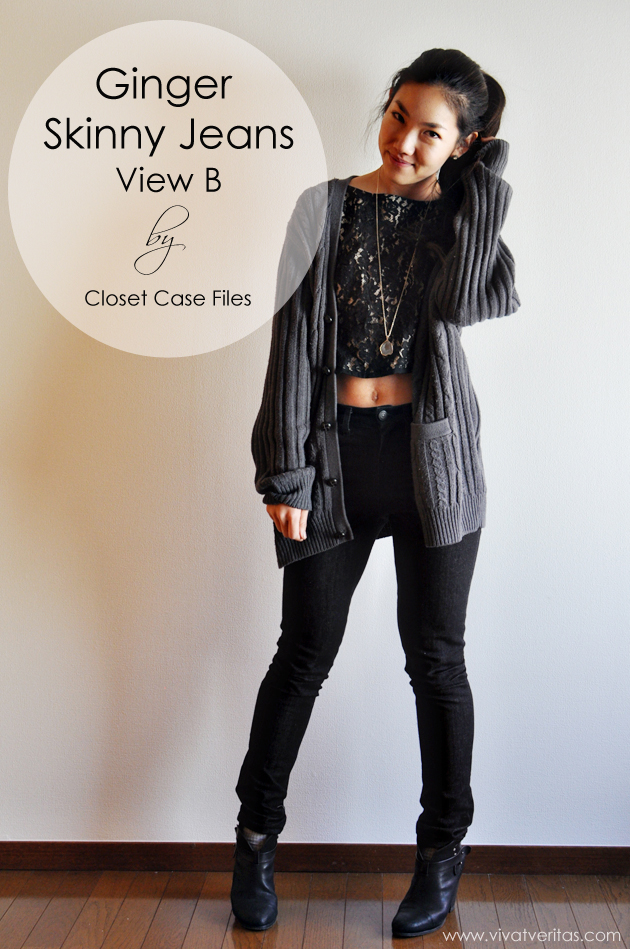 My first handmade jeans (Ginger Skinny Jeans View B from Closet Case Files) are complete! After about 10 hours of sewing and battling with the machines, they are finally done and they are wearable. Pretty good for the first try and considering that I didn't make a muslin! The sewing of the jeans would have gone smoother if I could have gotten the thread tension right with #20 jeans thread. I just could not make that work in my industrial Juki sewing machine or Janome home sewing machine (I use Thread Banger). The only way it worked was to use the regular thread on top and jeans thread on bobbin for my Juki, and the opposite for Janome. It was really a goofy way of sewing and it took forever since I had to change thread constantly.
Size: According to the measurement chart, my waist was size 4 and hip was 6. I merged two sizes when cutting out the patterns, but after basting the pants together, butt area felt a but loose so I recut the pattern to size 4 all together. After installing pockets and fly zip front though, size 4 felt a bit too tight. Maybe because of all the additional layer of pockets and front. So I sew the waist with 5/8″ seam allowances and hip and all the leg parts with 3/8″ seam allowances.
I have store bought jeans that fit in the hip area fine but the waist is too wide, so I can't wear them without a belt. These Ginger jeans seem to work really well and the sizes in waist and hip are perfect.
Fabric
: I wish I had chosen a fabric with more stretch. Mine is a black denim with 98% cotton and 2% polyurethane. It was labeled as "stretch denim" but the stretch is very minimal. One down side of ordering fabrics online is you can't actually touch and feel the fabric. I ordered
stretch twill
with 5% stretch, and am hoping that will work better for this patterns.
Installing rivets
: I bought black rivets to match the black jean button, but I could not make them work. I'm sure I annoyed our neighbors with my knocking and smashing sound late at night. I'm thinking of bringing them and my jeans to
Okadaya
, where I bought the rivets and ask them to install them.
Pattern modification:
None. I am surprised how well it fits without any modification.
Modifications to make in the future:
1. Shorten the length of the jeans by 3cm so that the hem of the jeans hit the ankle. I like the slightly cropped length. Right now it scrunches up at the ankle a bit. I'm sure the patterns meant to do it or not. I'm not terribly tall so it might be just my legs are shorter than normal. I'm 5'4″.
2. Either raise the pocket placement up to 1-2cm or shorten the pocket length by 1-2cm. I feel like the pockets extend too long (down till the end of my butt cheeks). It would look cleaner with shorter back pockets.
This blog
says the same thing.
3. I'm not sure if you can tell by the pictures, but my fly front does not lay completely flat. Perhaps change the button hole placement? There is a room for improvement.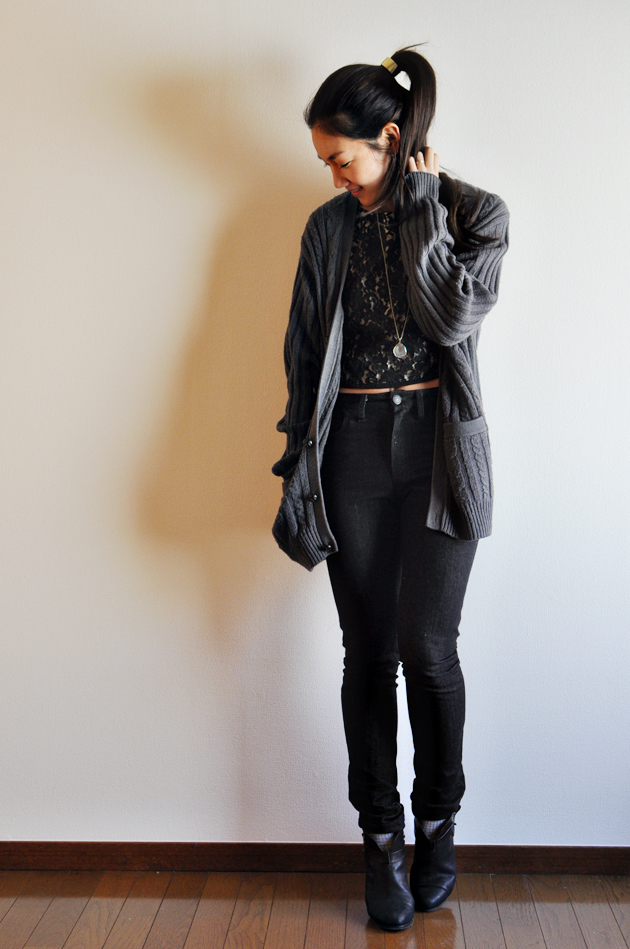 I wore this outfit to my friend's birthday party last weekend. We went to a restaurant in Ginza called Lavarock (ラヴァロック). It was a lovely place and we ended up staying for three hours. Unfortunately, after eating a burger, I was uncomfortable sitting with these jeans on since the fabric is not so stretchy. I had to keep changing my leg position and kept kicking the birthday girl who sat in front of me. I'm hoping that overtime, the denim will get softer.
Outfit details | cropped top and jeans made by me,Cardigan from Andy's grandpa, Rag and Bone Harrow Booties.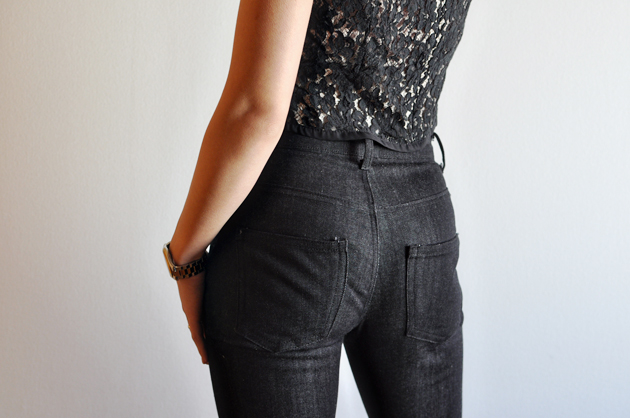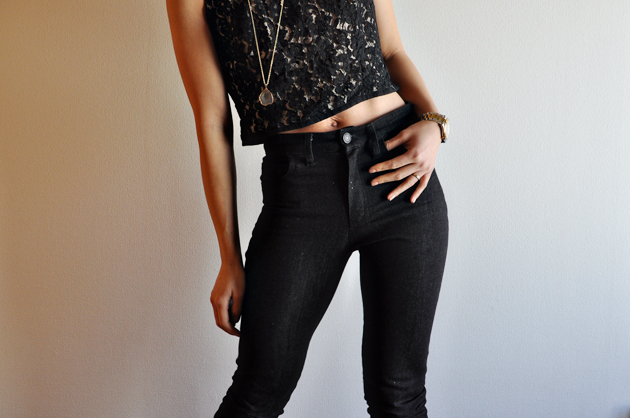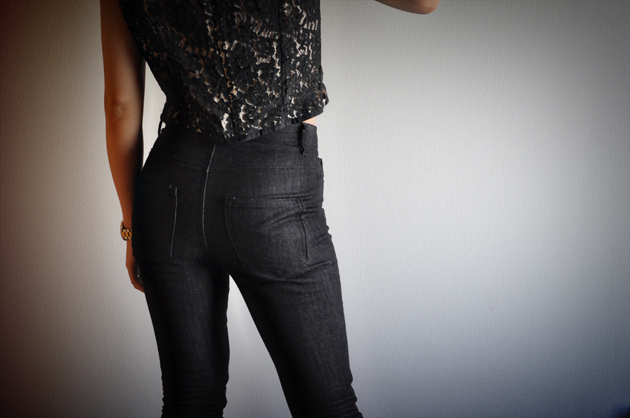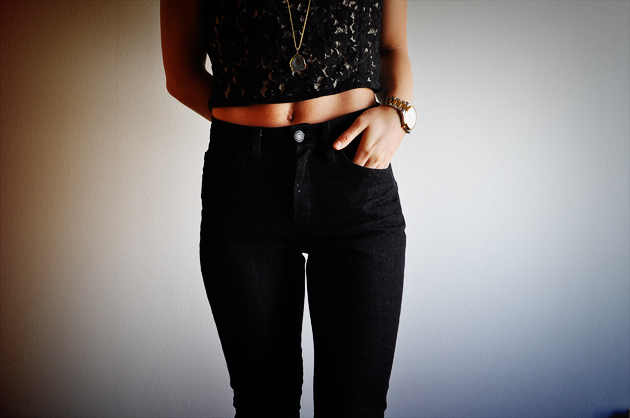 洋裁を始めてから8年近く経っていますが、初めてジーンズを作りました。
パターンはインディーデザイナーのCloset Case FilesのGingerというもののViewB。
ハイウエストのスキニージーンズです。
サイズは4。
工業用ミシン、家庭用ミシン、ロックミシンの3つのミシンを使って作りました。
生地が、2%ポリウレタンが入ったストレッチデニムだったのですが、この型紙にはちょっと硬すぎたかなと反省。
立っているときはいいのですが、座ったり、足を曲げたりすると、ちょっと苦しい・・・
次回は5%ポリウレタンが入った白のコットンツイルで作ろうと思っています。

{find me elsewhere: shop, facebook, etsy, twitter, pinterest, instagram}