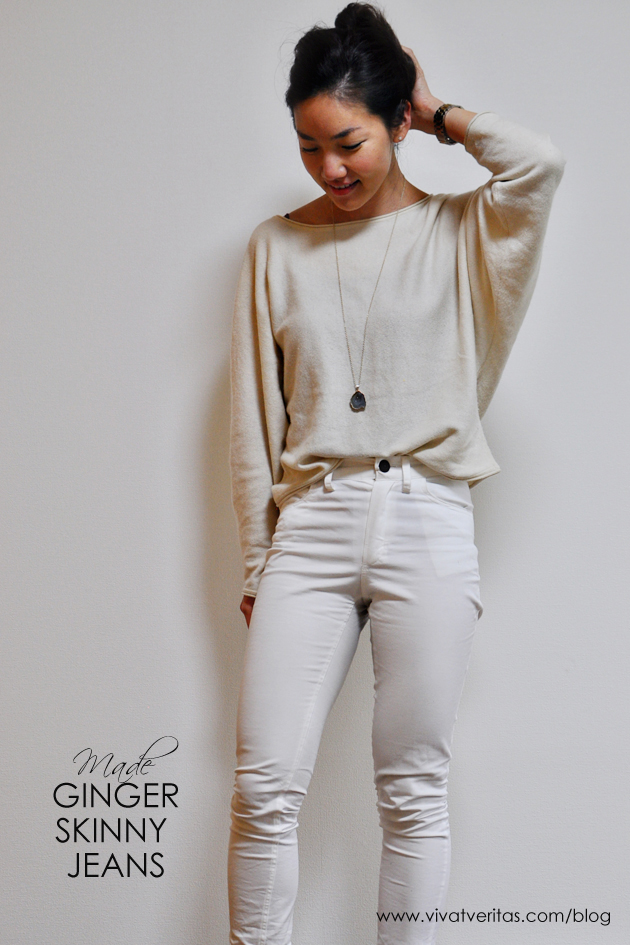 I want to show you my second attempt at making skinny jeans (Ginger Skinny Jeans View B from Closet Case Files)! This time the sewing was much quicker than the first time. Mostly because I did not bother to change the thread to a top stitching thread. Since the fabric I used was stretch twill instead of denim, it was much easier to sew. No broken needles this time!
I'm pleased with the result and have worn them a bunch of times already. We will see how long these pair will last as I have had to replace my white skinnies almost every year in the past due to stain and stretch. I already made a mistake of riding Andy's rode bike with these and got oil stain on one leg… Bleach killed most of the stain but I hate having to care for the perfect whiteness.
Here is my mood board for the white jeans.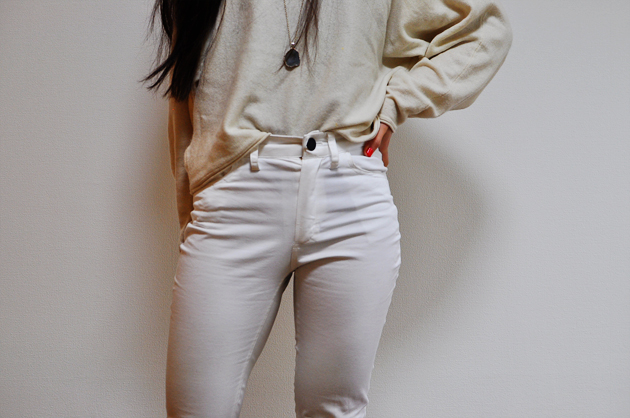 Size: Previously, I cut size 4 in waist and 6 in hip, but ended up re-cutting the fabrics in size 4 all together. So this time again, I made size 4 with 5/8″ seam allowances as the pattern instructions suggest.
Fabric
: I used 5% stretch twill in white. I bought it on Rakuten,
here
(Japanese only). It is definitely thinner than regular denim fabric and the stretch denim I used for
my first Ginger jeans
. I think these pants will be great for Spring, but am not sure if I can survive winter.
Modifications: There are a few modifications I made this time.
1. Shorten the length of the jeans by 3cm. It worked out great for 5'4″ myself. I might shorten my next pair even further to make them a cropped length.
2. I raised the pocket placement up for 1 cm and shortened the pocket length by 1cm. I like the result much better than my last pocket placement on
these
.
Cons: Do you see the fly front is slightly tilted on the left side? I have no idea why it happened and it bothers me greatly.
Here is an embarrassing butt shot… But you can see how well these jeans fit me.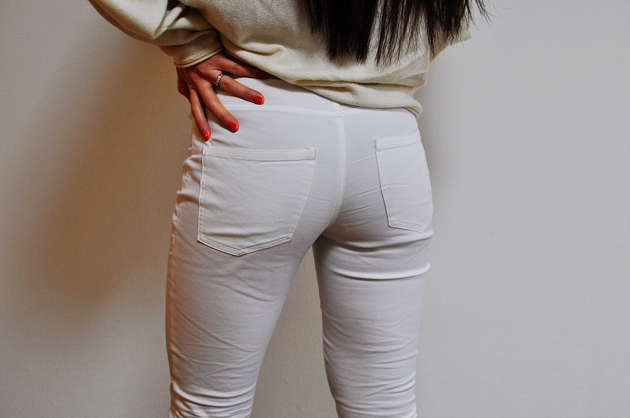 So what's next? I am thinking of making military skinnies with khaki stretch twill like this and this, by adding big pockets with tabs on the side and ankle zippers.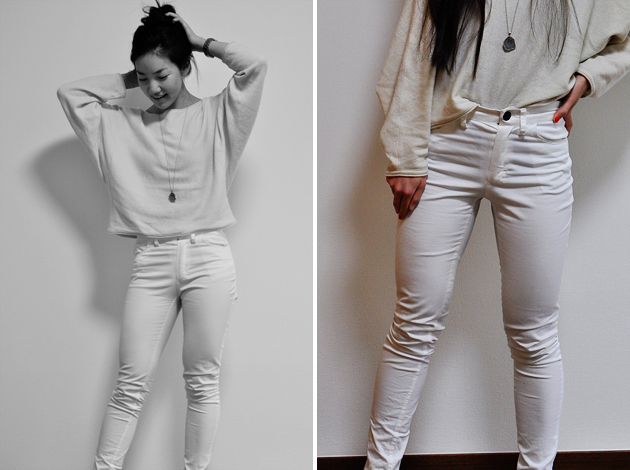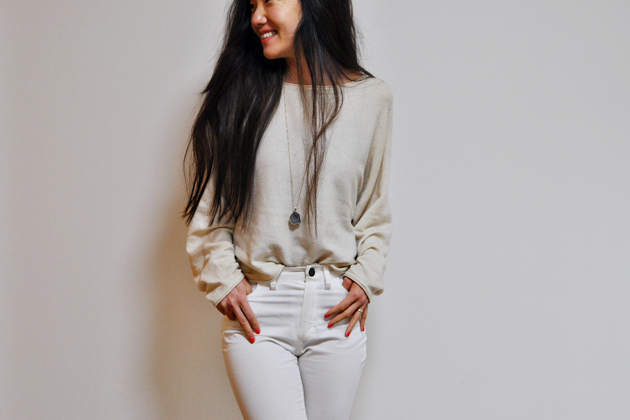 ホワイトジーンズを作りました。
生地は楽天で買ったストレッチツイル。
薄手ですが、パンツが見えるほど薄手でもなく、良い生地です。
パターンは使うのが2度目のCloset Case FilesのGinger JeansのView B。
2度目なので、スムーズに作れました。
丈は3cmほど短くして、後ろのポケットの位置を1cmぐらい上げました。
春に活躍しそうなホワイト、作って良かった♡