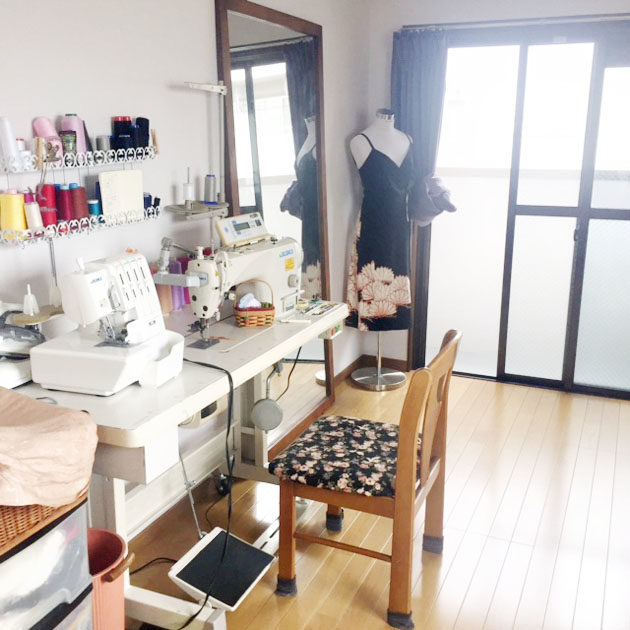 Over this past year, I started sending out a monthly newsletter. It includes highlight of my blog posts, favorite links and short messages. I thought compiling all my "favorite links" of the year might be fun, so here they are! Most of them are sewing-related, and some are small business tips and blogging tips. Enjoy!
January
♥ Beginning of the year calls for a new calendar! This super cool washi tape that turns any notebook into a calendar.
♥ I love reading Brooks Anne's journey of making a custom made dress.
♥ Great article on While She Naps about slow growth and the internet gold rush. I believe most good things in life are built slowly overtime.
♥ Love every thing this girl does. This wrap dress (actually separates that looks like a dress) would be a perfect addition for the Spring wardrobe!
♥ Great tips by Maddie on how to travel with your sewing machine.
February
♥ This is great for lingerie sewers – 4 Sets of 12 mm Rose Gold Rings & Sliders for £3.50. Want!
♥ Simple guide to creating an online course.
♥ Just added this Nimbus extension for my Google Chrome to take a screenshot of a whole webpage, not just the visible part. Very useful!
♥ With Canva, it is easy to design facebook page cover photo or event invitation. I like the fact that you can pay as you go ($1 per design)
♥ I watched BuzzFeed women attempted to make their own dresses. It reminded me of the first time I made myself a top (Almost 10 years ago).
♥ How to be More Consistent at Blogging. Always my goal.
♥ Sewing tip: Use graph paper to copy a commercial pattern. The grid is helpful in keeping the grain line straight.
March
April
♥ My friend from Philly sent me a brochure from the exhibition of 1960s Paris Fashion at FIT. I searched online, and found a recap of the exhibit. It's great!
♥ EASIEST way to sew a ruffle. This is amazing. Just watch it!
♥ Bridal gown new trend – "barely there" dress!
♥ I was curious as to how actors fake accents as I watched Damian Lewis acts an American billionaire in Billions. Here is the answer.
May
♥ 7 Questions to ask for a minimalist business owner via Amy Lynn Andrews.
♥ Love this free pattern – Unicorn Key Tag. Great as a gift.
♥ How to on making a mitered cornered welt pocket flap via Thread.
June
♥ Love this DIY linen jumpsuit!
♥ Have you had trouble turning a spaghetti strap inside out? Try this trick on how to sew spaghetti straps using cord.
♥ Lessons from 7 Years of Blogging by A Pair and a Spare. Looking back, I started blogging around the same time and followed her blog since 7 years ago. Her site is somewhere I still visit on regular bases. I think she has stayed true to her style and did not sell out to sponsors or was less obnoxious about the sponsored posts. Read her tips!
♥ Fun youtube video by with Wendy on How to Buy Fabric.
♥ What to do when you are feeling blah about everything.
September
♥ This girl's patch pocket coat is so cute! Thinking of making this for Kiko this winter.
♥ Four rulers that I covet.
♥ Sashiko embroidery tutorial with free patterns!
♥ Honest opinion essay by the owner of Design*Sponge about the state of blog. Interesting.
♥ Pinterest hashtag tips.
♥ Quick tips for round hem. Would look great for a wool skirt.
October
♥ I love this top. I would love to make it in neutral colors like black, gray and white. This would be something I would actually wear every day.
♥ This gave me a chuckle…How I Grew My Instagram Following from 430 to 433 in One Month!
♥ How to Sew Velvet like a Pro – via Threads
♥ How a Cashmerette sewing pattern is developed from start to finish. Inspiring!

November
♥ My six-year-old daughter is really into crafting now. This "make your own button" project seems like a fun project to do with kids.
♥ I don't quilt but this is an interesting article on how to buy quilting fabric wholesale.
♥ How to plan your blog content via a Pair and a Spare. Better blog content planning is in my to-do list for 2018!
♥ This button hole attachment for industrial sewing machine is on my wish list! I use Juki D9000. I love the machine but one disadvantage is that it only sews straight lines, so I have to pull out my old home sewing machine to do my button holes. The attachment will solve the problem!
♥ Wedding dress designer, Brooks Ann uses use fusible interfacing to make the sheer flower print pop, making it more opeque.
December
♥ Free snuggly slipper boots patterns via Tilly and the Buttons. Great as a handmade Christmas gift!
♥ Another Christmas gift idea you can make in a big batch for coffee lovers.
♥ 20 reflection questions you can ask yourself to say goodbye to the year 2017.
♥ Fun video showing how Christian Dior is training its next generation of craftsman.
♥ This article includes good tips on sewing french seams for chiffon…sew with the tissue paper!
Join
Join VV mailing list to have fun sewing related links delivered to your inbox!