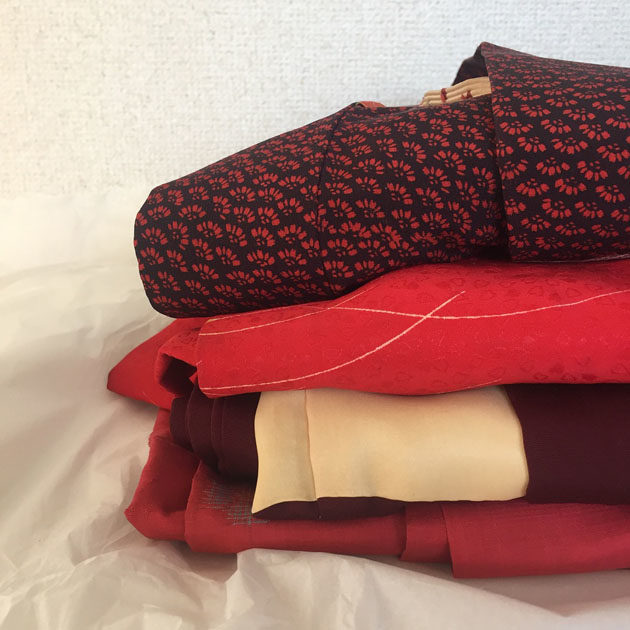 Hi everyone! I recently bought a few silk kimonos using an app called "Mercari". It is an app where you can buy and sell pretty much anything, new, or second hand! I picked up three kimono jackets (shorter length than regular kimono) from one seller for an amazing price, so wanted to show what I got in mail. She even included a fourth one as a thank you gift. Since they are jackets, I have less fabric to work with when upcycling it, but I was able to get one camisole style wrap dress from one kimono jacket.
Since the app is in Japanese, and lots of sellers don't post listings in English, it might be difficult to shop from overseas. But if you are in Japan and can get some Japanese language help, it is a good place to score kimonos for a reasonable price. I usually search by "着物(kimono)" and "正絹(silk)", and sort by price. Some price includes shipping fee and some don't, but usually sellers are willing to negotiate those terms, which is another fun part of shopping on Mercari.
Hope you enjoy the video!
Watch video here
Table of contents
0:00 Intro
0:34 Red kimono dress
0:58 Where I bought these kimonos
2:28 Crane print kimono jacket
3:53 Red bean color kimono jacket
5:45 Cotton fuschia pink kimono jacket (free gift from the seller!)
Resource list
Mercari (the app I used to buy the kimonos)
Red kimono dress
Shop here
Crane print kimono jacket Red bean color kimono jacketCotton fuschia pink kimono jacket
Watch
Watch more sewing related videos!