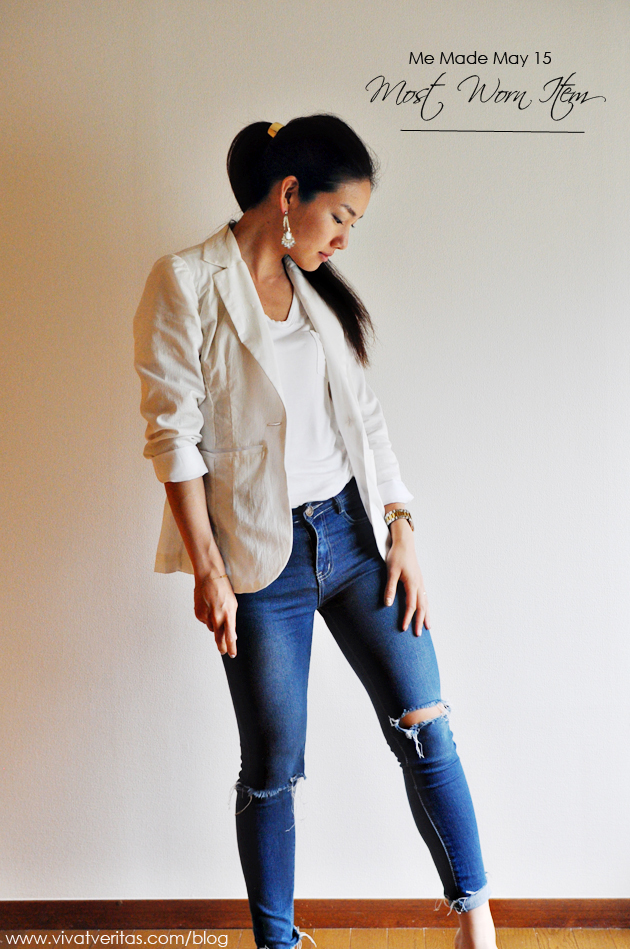 Sometimes when I am in the midst of sewing, I doubt that I will love what I'm making or actually wear it. There is a gap between the ideal creation you are aiming for and what you end up making. I spent a few nights making this jacket and at the end, I totally hated the experience. The fabric was given to me by a friend, and it feels like men's shirting fabric. As soon as I cut the fabric for this jacket I thought the fabric and patterns didn't match. I finished making this in mid March or so and it sat in my closet without being worn until recently.
I was presently surprised by how much I like this number, now the weather is warmed up enough for me to wear it. I still think the fabric was not best suited for the pattern, but I love anything white and the light weight jacket is so useful during this season when it's still a bit chilly outside with just a t-shirt at night and early morning. This turned out to be the most worn item for
Me Made May 15
!
Speaking of MMM15, I pledged, and have been incorporating at least one handmade clothes a day so far. I'm so proud of myself for making my own wardrobe! In the past seven years of my sewing life, I've accumulated enough clothes for myself to wear something every day.
The hardest part of MMM I found was to take pictures of my outfit daily. Most of the time I'm not in the mood for being photographed or I don't take enough selfies… I have a big mirror in my sewing room, but if I take a selfie in front of that mirror, you will end up seeing all the mess I'm working on in the background, so the photos are not going to be pretty… I admire those of you who post MMM photos on instagram everyday.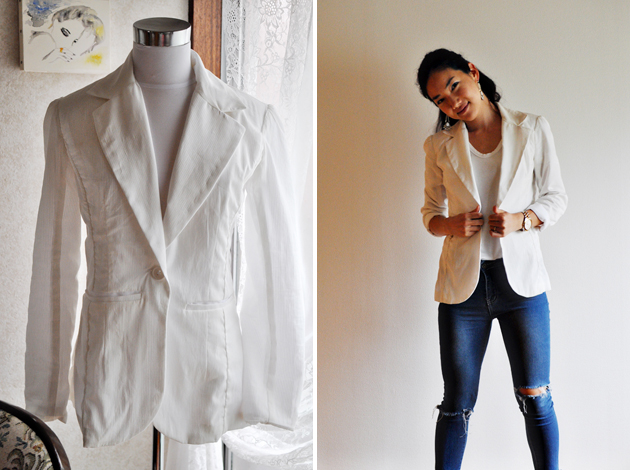 Outfit details: Jacket – Selfmade, T-shirt – T by Alexander Wang (best white T!), Earring – gu, Jeans – bought on Rakuten for cheap and destroy them myself.
I used
Butterick 4610
for this jacket. You can see my
first
and
second
tries. I'm modifying the pattern each time and hopefully, I can use the edited pattern to make a pants suit soon! I've been
collecting images
for my ideal suits quite a while.
Check out the inside of the jacket! Isn't it neat (bias finish)?
What's your most worn garment so far for this year's MMM?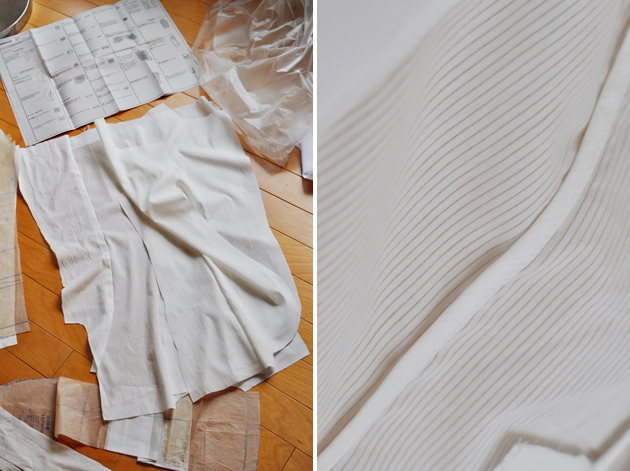 海外のソーイングコミュニティの中では、毎年Me Made Mayというイベント(?)をやります。
詳しくはこちらに記載されている通りなのですが(英語のみです)、
毎年5月は1か月間、自分の作ったものを毎日着て、写真をとってシェアする企画です。
私は毎日は余裕がなく写真を撮れないのですが、毎日1つは自分で作ったものを取り入れています!
お客様とミーティングするときなど、「これも作ったんですよ」とか言えると、ちょっとうれしいです(自己満)。
この白いジャケットは5月に一番良く着ているもの。
作ってる最中は、あーこれだめだと思いつつ作ったのですが、
なぜか毎日手に取ってしまう笑
生地など、改善点は満載なのですが、白だし、丈もちょうど良くて。
パターンはButterickの4610番を使いました。