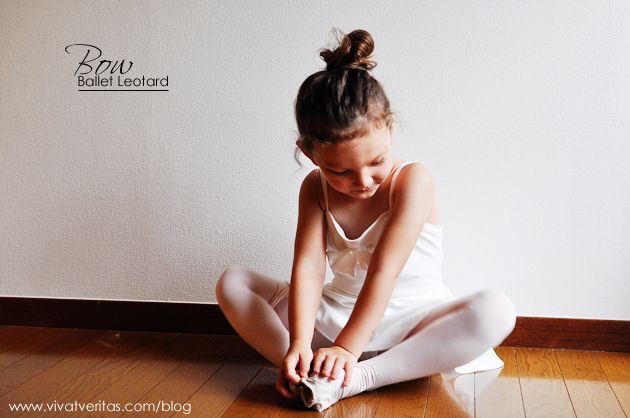 My daughter started taking ballet lessons in last October and I made a lace ballet leotard for her back then. It's been nine months and I already had to make a second one since she's grown out of the first one! Although the leotard had some stretch, at the end her nipples were exposed and its time had passed. I already made the pattern, so I made simple modifications on the pattern and didn't need to change much (here is a good alternative PDF pattern on etsy). I added 5cm in bodice and few centimeters around chest and waist. It turned out that chest is a bit big for her but I have no doubt that she will grow out of this leotard very soon.
She did not like the last dress I made for her, but thankfully she received this leotard with much love and gratitude. So funny that a child has preferences over what she wears at this young age.
The fabric is a leftover from the jazz dance costumes I made back in 2012.  It's some kind of spandex mix two way stretch fabric I bought in the second floor of Nippori Tomato, knit section. After making her leotard, I still have a ton left so I'm thinking of making myself bathing suit for this summer. I've been eyeing this vintage inspired one piece number by Ohh Lulu Sews. Has anyone made this?
9ヶ月前に始めたバレエですが、既に2着目のレオタードが必要になってしまいました。
すごい勢いで背が伸びているみたいです。
型紙は1回目に作った時に市販の水着を元におこしたものを少し調節したのみ。
サイドがちょっと大きいですが、これで何か月か着てもらえるかな♪