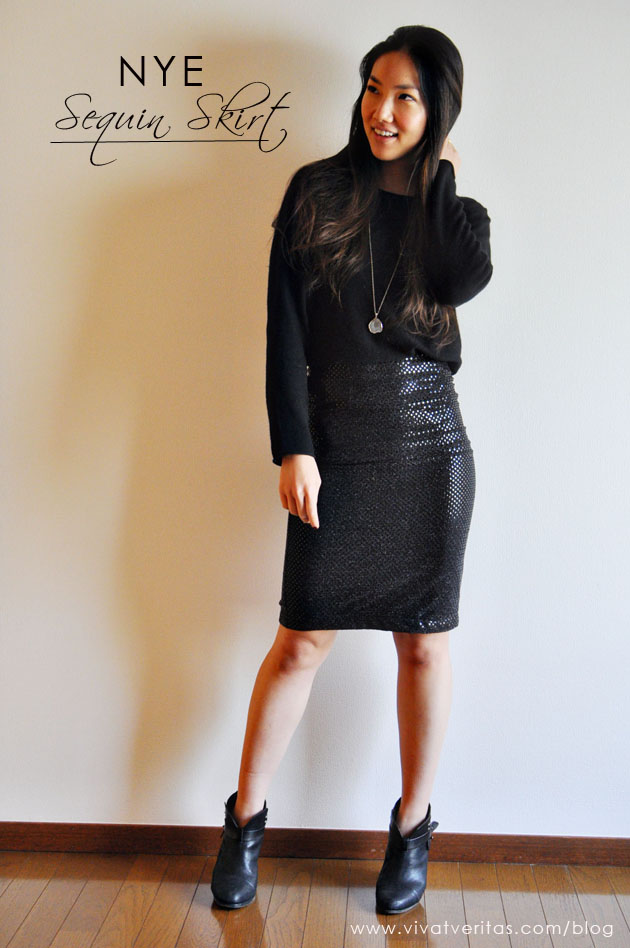 After seeing this multi color sequin maxi skirt that Maddie made, a sequin item made it into my to-sew list. I was working on a project where I help design and make concert wear for J-pop singers and the fabric I chose for them included purple and pink sequins. They blinded me while I sewed. I was initially looking for a similar fabric with sequins sewed on but the price was much more expensive, so I landed on the glued-on version in black. Unfortunately this makes the the skirt impossible to wash at home, but that shouldn't be too big of a deal because I imagine I'll only be wearing this skirt only on special occasions. The fabric has some stretch so I lined it with four-way stretch knit. No pattern was used. I cut the fabric with this knit skirt on fabric, eye balling the seam allowances as I cut. I added darts in front and back, and invisible zipper in center back. I also added a slit in center back because I had trouble walking in the last I-line dress I made.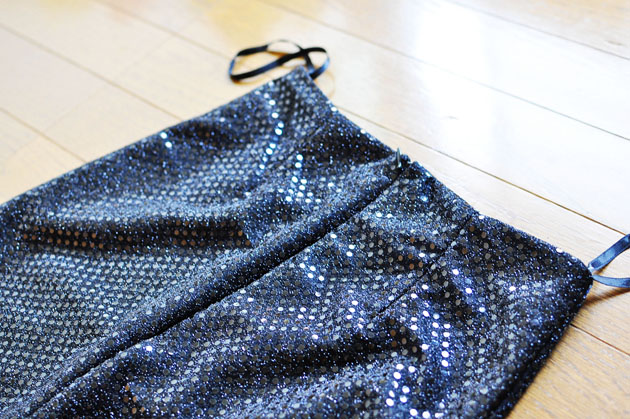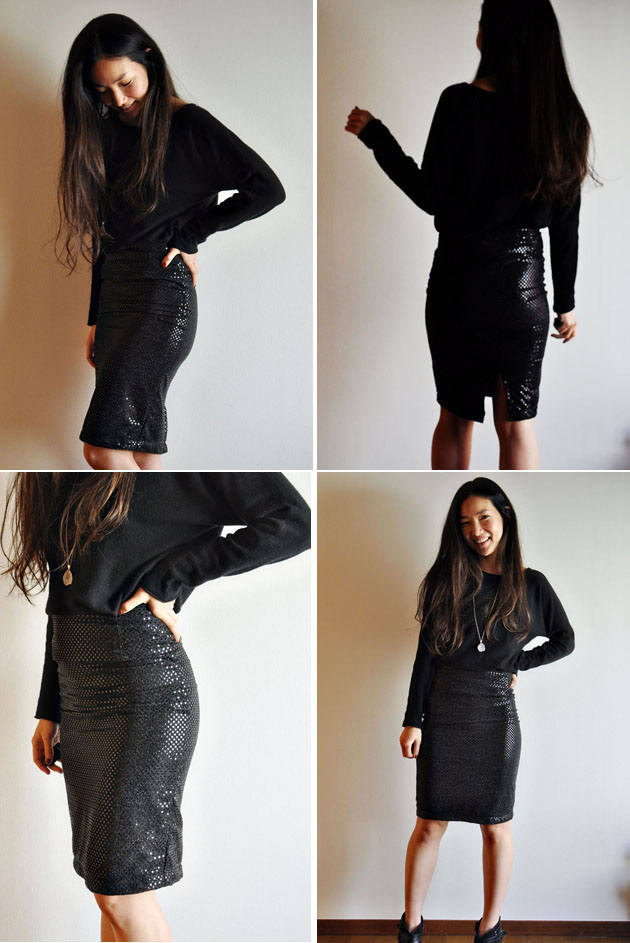 I wore it with black knit tucked in to go out with some girlfriends for Christmas. Although made for Holiday, this dress can be worn with casual graphic T or loose sweatshirt with sneakers for regular days.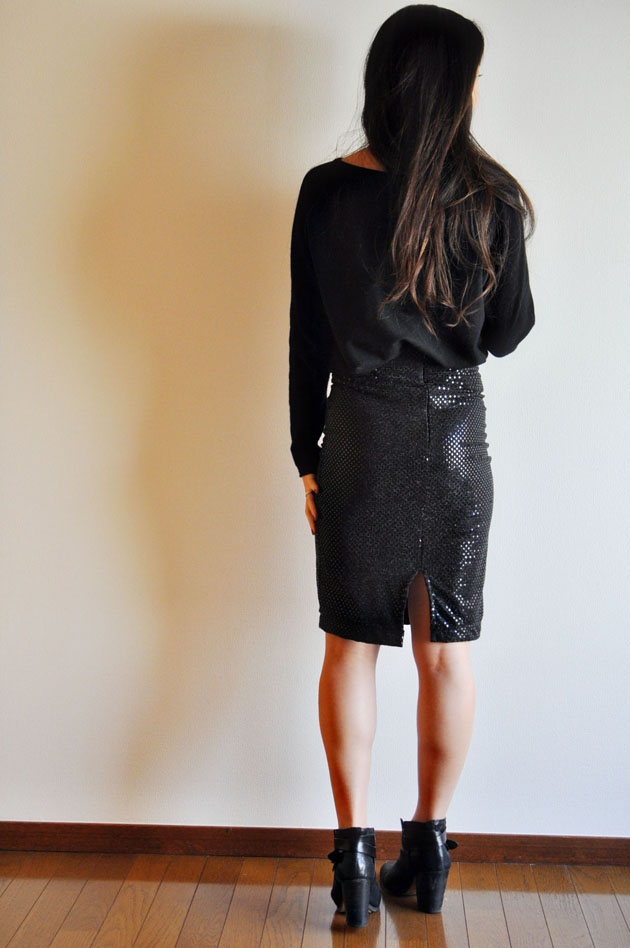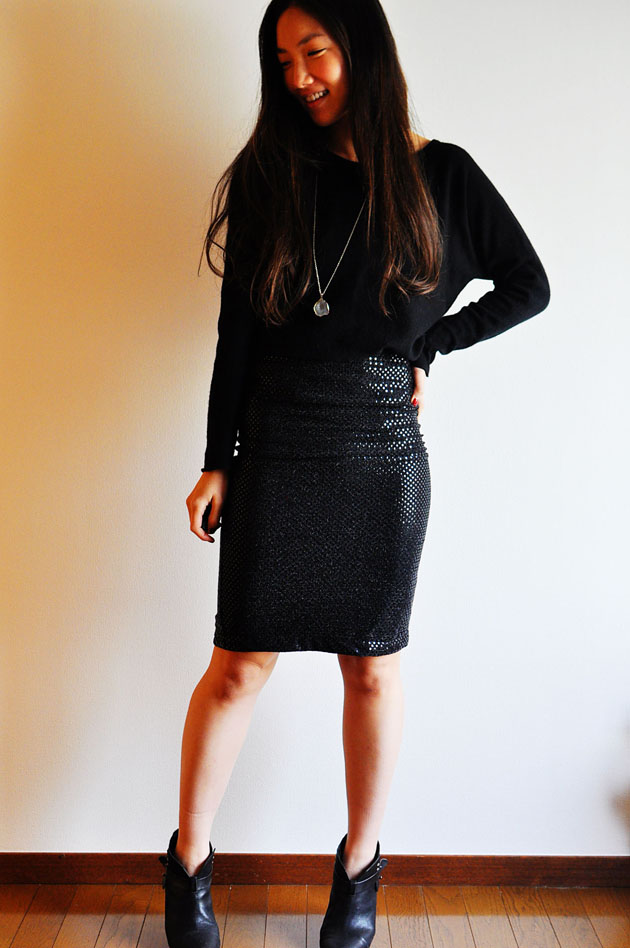 I bought 1 meter of fabric. After making my skirt, I still had enough to make for Kiko. I just gathered the top and added black elastic band for waist. Now we have  matching NYE party ready outfits!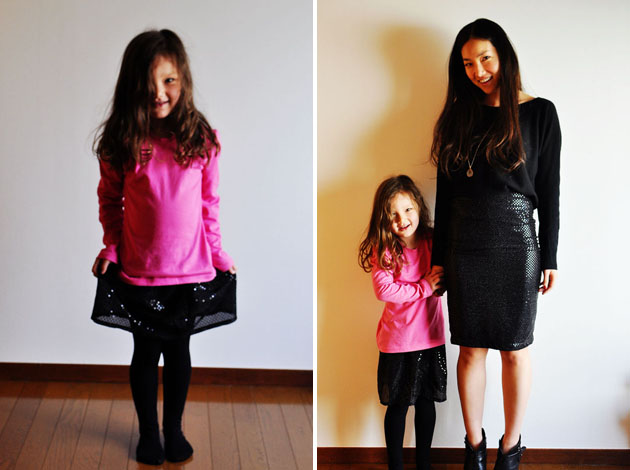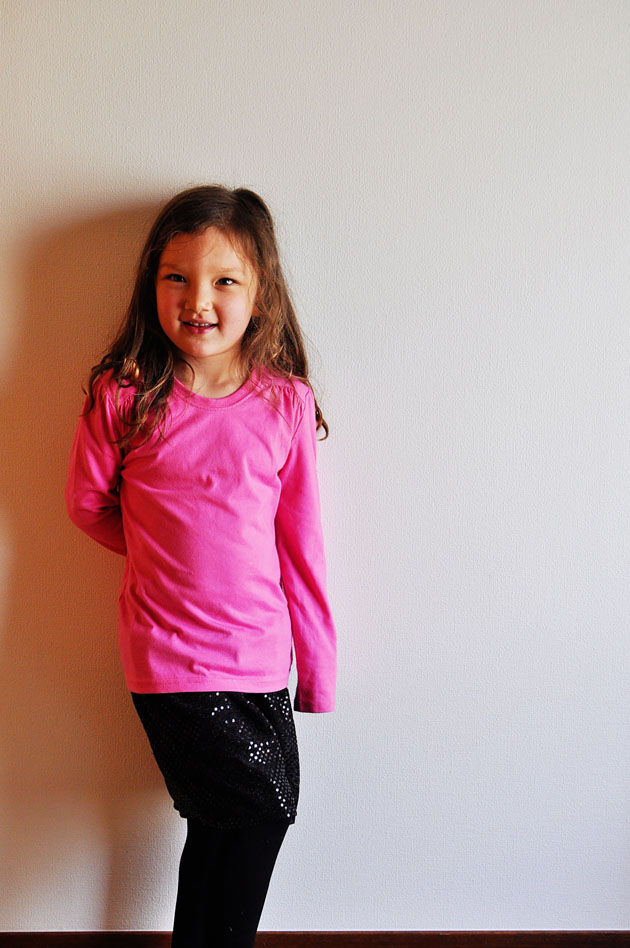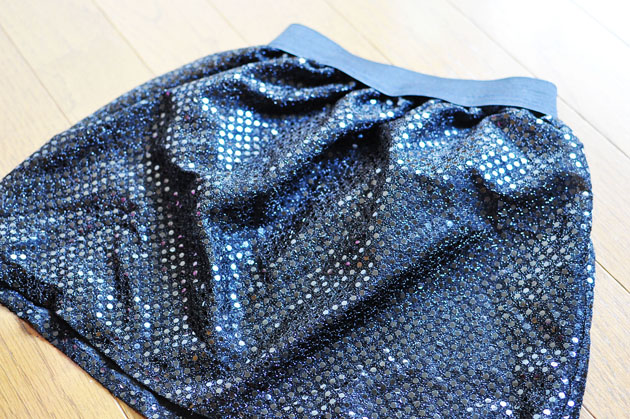 Hard to believe the year 2015 is whining down in a few hours. I will probably be in bed by 10, and my night is spent like any other day. I feel like an old woman but I like my regular schedule! Hope everyone is having a good time and thank you for all your support. See you in 2016!
今年のホリデーシーズン用に作ったスカートです。
生地はストレッチが入った黒のスパンコール生地。楽天ショップで買いました。
スパンコールが糊付けされているタイプ(縫い付けられているものではない)ので、これから着ていくうちに取れてしまうかちょっと心配ですが、取りあえず今年のパーティーシーズンは無事越せた様子 笑
1m買って、自分用に作って少し余ったので、4歳の娘にもおそろいで作りました。
今年はいろいろとありがとうございました!
ブログを読んでくださったり、コメントしてくださる皆さん、ありがとうございます。
至らないですが、来年もよろしくお願いします☆

Find me elsewhere: