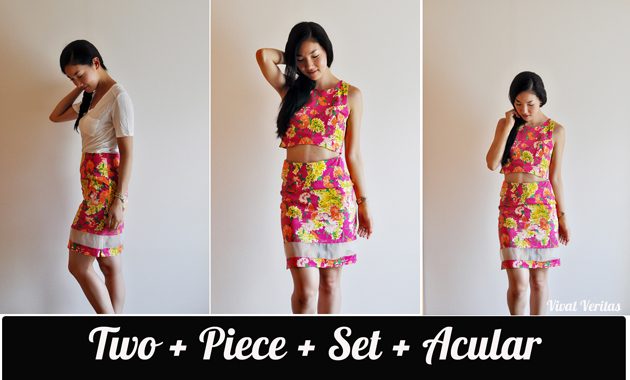 Have you seen Sophie of Ada Spragg's post on TWO + PIECE SET+ ACULAR? It's awesome. I knew two piece set or co-ords was a trend, but her post really motivated me to make myself one! A set is great because of it's versatility. You can wear them as is to make them look kind of like a dress, or wear only bottom or top. I'm really enjoying my new pink floral set.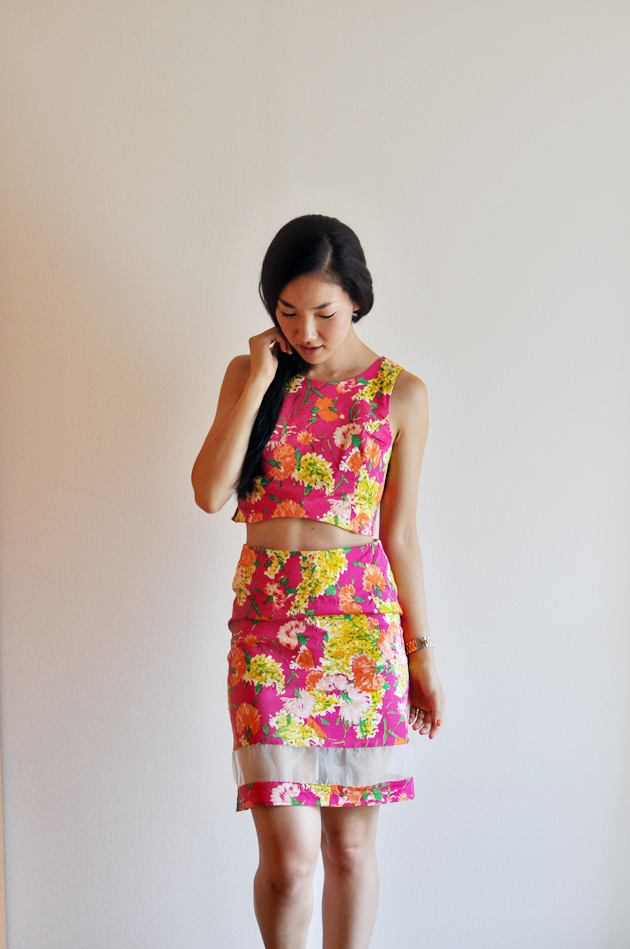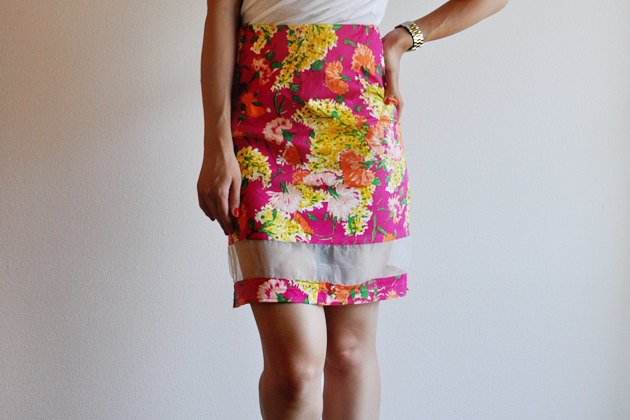 Instead of sewing the whole thing, I used an already-owned dress from forever 21 and refashioned them into two piece set.
You can see this post for how I made the dress into a cropped top.
For the skirt, I added a new invisible zipper in the center back, and added the organza insert at hem to lengthen the skirt. The dress was super short which kept me from wearing it in the original form. Now the skirt is right above the knee, it is much more appropriate for my age (30!) and wearable.

I made a quick video(about 1 min) showing how I wear them.
The video is showing three ways to wear them:
1. Wear as set
2. Wear with white T-shirt (T is from T by Alexander Wang)
3. Wear with a high waisted shorts (Shorts are from thrift shop. They were long trousers but I cut them short).
Hope you'll like the video!
I made another set out of a dress, and that is a non-cropped top version! It's made with black lace and it is another one of the sets that is going to play a major roll in my Summer wardrobe. Will be posting about them soon!
ツーピースのセット、去年ぐらいから流行ってますよね。
私は最初はセットなんて、おばあちゃんみたいって思ってたんですが、やっぱり流行るとなんか試してみたくなっちゃうたちで。。。
オーストラリアのソーイングブロガー、Ada Spraggのこのブログを見て、やっぱ作ろうと思いました!
一から作らず、前から持っていて着る機会のなかったforever21のドレスを、リメークしてセットを作りました。
上のビデオでは、ツーピースの着回しについて撮影してみました。


{find me elsewhere: shop, facebook, etsy, twitter, pinterest, instagram}