I'm doing a 10 x 10 challenge! I came across this idea on Instagram via @maya_sewinzen feed. You can check out Style Bee for more info. Here is the general concept:
"The 10 x 10 Challenge is an exercise I established in 2015 to help encourage myself to get more creative with my clothes during a 30 Day Shopping Fast. The concept is essentially a micro capsule closet that you work with for 10 days, trying new looks and styling your clothes in ways you might not otherwise try." (via Style Bee)
So you pick out 10 different pieces of clothes and mix and match the clothes for the next 10 days. Choosing the first 8 pieces was fairly easy. Four bottoms, two pairs of shoes, and two tops. But the last two, was much more difficult. There were clothes I wanted to add to the mix but their versatility was questionable so I went back and forth…In the end, here is what I came up with: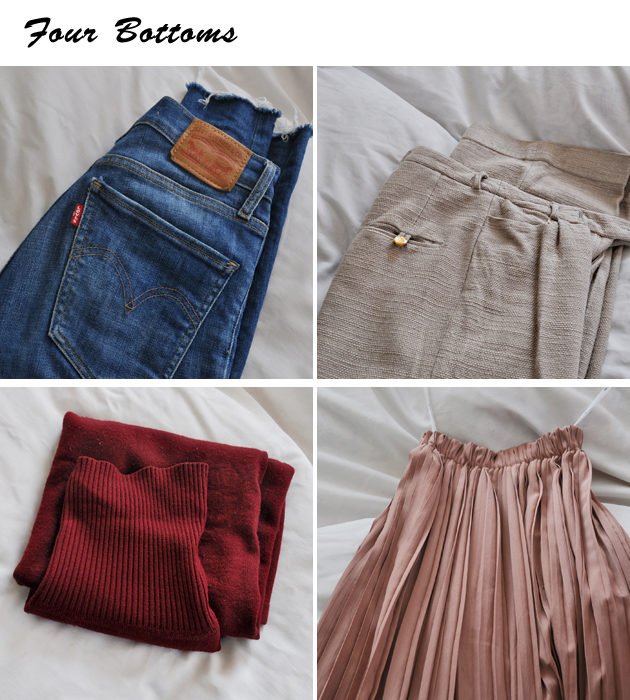 Bottoms
skinny jeans (Levi's Mile High super skinny)
tweed wide legged pants (self made)
knit maxi skirt (100 yen, thrifted)
pleated midi skirt (A gift from my sister)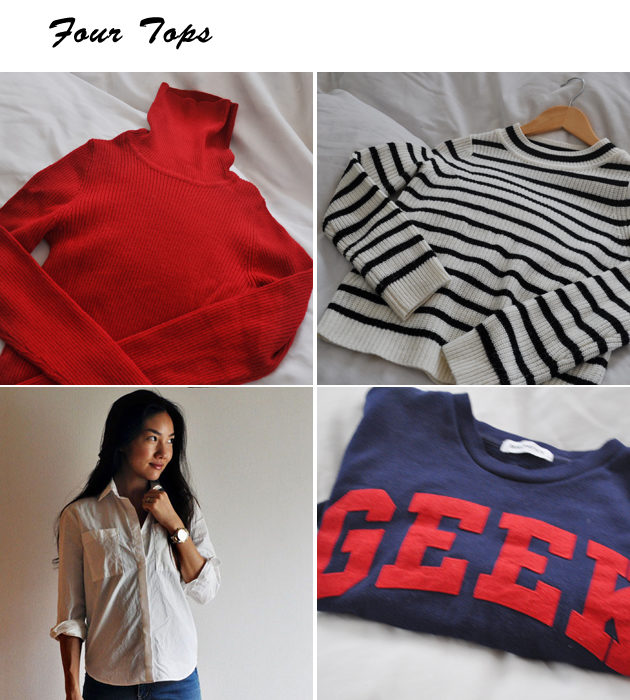 Tops
red turtleneck sweater (100 yen at thrift shop)
stripe bottleneck sweater (GU, but thrifted for 100 yen)
white buttondown shirt (self made)
GEEK sweatshirt (100 yen at thrift shop)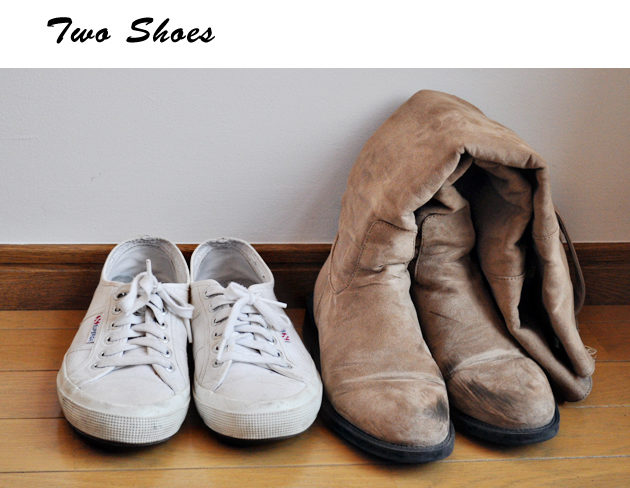 Shoes
beige suede long boots (Zara, about 5000 yen)
Superga sneakers (7200 yen on Shopbop)
I did not include coats to this 10. I'm fairly happy with my picks. Each has a different style. The tops have four different necklines (bottleneck, turtleneck, button down and round neck) so you don't have to stick with turtlenecks all week long. Same for pants. I have skinny jeans, wide leg pants, maxi skirt that is fitted style and pleated midi skirt.
My plan is to document this everyday for the next 10 days. I've already found some benefit to this challenge. First, I think this method is very useful when it comes to traveling. We do two-week trips to the U.S. every year. Whenever we go back to the States, you have limited luggage space and access to laundry. So this method of four bottoms, four tops and two shoes, including one sneaker (can be used for workout) and one dressier shoes, can come in handy. Of course, I would have to revise it a bit if we were to travel in the summer. I would add more items since you might go through more since it is hot. Second benefit is that this forces me to think about every piece of my wardrobe to see if I really need them. I have some pieces in my closet that I kind of hold on to it but should let go. When I was thinking of what items to add, I found some clothes that I just did not want to add in the mix. I just could not imagine being stuck with it for 10 days! I have not let go of them maybe becauase I bought it and it was expensive, thus I should like it still. Or it was given to me from a friend and I feel bad about letting it go. If this challenge goes well, I might do another set of 10 that are completely different from this 10, so that I can wear every pieces of my clothes in my closet and review if I really need them.